Searching for John Wayne in the Alabama Hills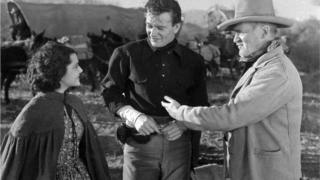 John Wayne was the archetypal screen cowboy, embodying the rough independence of the American west for generations of film fans. Now, newly discovered still photographs offer fresh insight into a western he made that was last seen more than three-quarters of a century ago.
Kent Sperring was raised in Ocala, Florida, in the 1940s by his mother, a widow who worked as a chemist's clerk.
"Money was kind of scarce," he said.
Luckily, he could see "a double-feature western for nine cents" at the Ritz theatre on Saturdays. The movies made an impression.
"You came away from the movie knowing that if you did something bad or wrong, you were going to get punished for it," he said.
Wayne and other good cowboys wore white hats. The bad ones wore black hats.
"It was almost that clear-cut," he said. "If you watched the films long enough, you'd see that those bad guys - they didn't end up too well."
The films were wildly successful. Today, Wayne ranks as one of the most popular film stars of all time, admired by Sperring and countless others.
Yet despite Wayne's iconic stature, one of his films is missing.
The Oregon Trail, released by Republic Pictures in 1936, was shown in theatres - then disappeared. There are no known remaining prints.
In the film Wayne plays John Delmont, a retired army captain who falls in love with a frontier woman played by Ann Rutherford, who later appears in Gone With the Wind. The plot hinges on the discovery of a journal bound in black that once belonged to Delmont's father.
Reading the diary, Delmont learns that his father has been killed or was left to die by a renegade - and vows to hunt down the killer.
Earlier this year Sperring, a retired telephone company manager in Duluth, Georgia, discovered 40 still photographs taken on the sets of The Oregon Trail.
He came across the photos while ordering Wayne memorabilia from a video store, Eddie Brandt's Saturday Matinee, in North Hollywood.
"They sent me the negatives," said Sperring. "I think they did it by mistake."
Decades ago, photographers would take pictures of actors, either during a scene or after it had been shot, with an 8in by 10in (20cm by 25cm) camera. The photographs, known as movie stills, were then displayed in glass cases outside of theatres.
Sperring scanned the stills into a computer and sent them to the Lone Pine Film History Museum in Lone Pine, California, so they could be stored in the archives.
These photographs and other promotional material are the film's lasting legacy. They provide insight into the film, showing the locations where it was shot and other details about the production.
The promotional materials are also striking images. Aside from the stills, three posters remain. Painted in garish colours, Wayne fords a river in a stagecoach pulled by a team of wild-eyed horses.
The Lone Pine museum, which celebrates the western film genre, hosts an annual film festival.
This year it will take place from 11-13 October and will feature Jake Thorne in The Life and Legend of John Wayne.
Lone Pine museum director Bob Sigman, former president of Republic Pictures, started his own search for the film a decade ago. He prides himself on his hard-nosed approach to the film world. He is the kind of person who says: "I've been in this business a long time."
"If we could have brought out The Oregon Trail, it would have generated a million dollars in revenue," he said, standing in a room with klieg lights at the museum last summer.
As he spoke, a Comstock Cowboys CD played in the background. The music has simple chords with lonely-guy lyrics: "I rode in the deadwood one dark, stormy evening."
Sigman said he believed The Oregon Trail was misfiled and placed in the wrong canister.
He picked up a rusted canister, a storage case for movie prints, that been lying on the floor. It was empty, except for a brochure from a 2003 film festival.
He said the canister with The Oregon Trail may be sitting in a warehouse somewhere. He has travelled to Latin America in search of the film and has spoken with film distributors in Europe and the UK.
"I looked all over the world for it," he said. "It is one of the treasures that everybody wants."
Should a print be found, it would not be the first time a lost film was rediscovered.
Another film from the 1930s featuring Wayne - a pre-censorship version of Baby Face - was missing until a curator found it at the US Library of Congress in 2004.
Too Much Johnson, a 1938 picture by Orson Welles, was discovered more recently in an Italian warehouse. The US premiere of the film will take place at the George Eastman House in Rochester, New York, on 16 October.
By 1935, when The Oregon Trail was shot, Wayne, then 28, had already appeared in dozens of films.
But his career prospects looked grim.
His 1930 star turn in Raoul Walsh's The Big Trail was artistically ambitious but flopped at the box office.
He spent the next several years appearing in poverty-row westerns, as the low-budget films were called. For a while he worked as a singing cowboy.
Yet he was not a quitter. Courage, he once said, "is being scared to death but saddling up anyway".
After The Oregon Trail, he appeared in several more films before he was propelled to stardom as the Ringo Kid in John Ford's Stagecoach in 1939.
Wayne's earlier films are now prized by collectors and studied by fans and historians.
Wayne himself described the work in simple terms. As he said in a BBC interview in 1964, the films tell "the story of the West - the story of a man fighting against the elements".
The most compelling characters, he said, were men of action.
"There's no nuance," he said in a BBC interview in 1974.
"They drive ahead," Wayne said, "usually fighting something bigger than a petty little argument with someone."
A historian at the museum, Chris Langley, is using the movie stills to track down locations where the film was shot. In this way, he hopes to deepen the public's understanding of the movie - and of Wayne.
One Saturday morning last summer, Langley tossed a manila folder into the front seat of his car and drove about 10 miles (16km) to the Alabama Hills, where The Oregon Trail was shot in December 1935.
Known as Hollywood's back lot, Alabama Hills was also the setting for Gunga Din, a 1939 movie based on a Rudyard Kipling poem, several Firestone tyre commercials, and Quentin Tarantino's recent Django Unchained.
Mt Whitney's 14,497ft (4,418m) peak loomed in the distance. Granite rocks were scattered across a lunar landscape.
Grabbing the folder, Langley climbed out of the car.
"I thought if I were ever in trouble, I'd like John Wayne to ride up," he said. "It's like a father figure, but it's more than that."
It was a wet morning, with a sharp breeze that wrapped around your legs. Chunks of broken glass jutted from the dirt, and it was quiet. One could hear raindrops splash on dark leaves, and the place smelled like sage and Marlboro Lights.
"You're now leaning exactly where John Wayne is," said Langley. He held up a movie still. In the photograph Wayne leans against a rock. He wears a white jacket with fringe, cinched with a silver buckle.
Sperring is now in Lone Pine for the film festival at the weekend. He too spent time in Alabama Hills, visiting places where Wayne acted out scenes in The Oregon Trail and other films.
"I don't want to sound goofy, but it's almost like you feel their presence," Sperring said. "It's a good feeling."
For Sperring and others, Wayne was part of their childhood. As Joan Didion wrote in a 1965 essay for The Saturday Evening Post: "He determined forever the shape of certain of our dreams."
The Oregon Trail is gone, but some things remain.
"I'll look at a rock that was there 75 years ago," Sperring said.
"It erodes, but it erodes very slowly because it's hard granite. You look, and you see that very little changes. The rocks will split and fall down, but they are still there."