Been and gone: The man who shot Christine Keeler, and James Bond's pilot double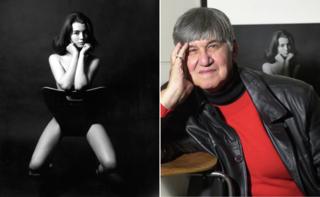 Our regular column covering the deaths of significant - but lesser-reported - people in the past month.
Some photographs become icons and Lewis Morley's shot of a partially clothed Christine Keeler astride a plywood chair is a constant reminder of the swinging sixties. It was taken in 1963, when Morley was already well known in London society, having begun shooting pictures for Tatler magazine, which brought him into contact with the showbiz world. The satirist Peter Cook offered him space for a studio in his Establishment Club in Soho where he photographed many of the period's leading lights including Jean Shrimpton, Charlotte Rampling and Twiggy. Over the years he restaged the photograph with other sitters including David Frost, Joe Orton and Barry Humphries (in character as Dame Edna Everage). Morley grew to dislike the image of Keeler, feeling it overshadowed some of his better work.
The autogyro which featured in the James Bond film, You Only Live Twice, was built and piloted by RAF veteran Ken Wallis. Dubbed Little Nellie, the machine enabled Bond, played by Sean Connery, to fight off a helicopter attack as he reconnoitred a Spectre base hidden in a Japanese volcano. The battle took more than five flying hours to film, with Wallis acting as Connery's stunt double. Such was the complexity of the shoot that on one occasion he almost crashed into a camera. A skilled mechanic, Wallis designed and built a motorcycle when aged just 11. His attempts to join the RAF in the late 1930s were constantly foiled because of poor sight in one eye. Eventually he scrambled through the test after discovering he could turn his head slightly and read the sight chart with his good eye covered. He flew with Bomber Command during WWII and turned his attention to designing autogyros when peace returned.
Director Richard C Sarafian's 1971 film Vanishing Point was panned by the critics but went on to become a cult, particularly in the UK. Sarafian was attracted by the counterculture themes in the script, so much so that he turned down the chance to direct Robert Redford in Downhill Racer. The film is a simple tale of a car delivery driver high on benzedrine, piloting a powerful Dodge Challenger across the western US pursued by the police. The ending has been a source of debate for film fans ever since. Sarafian cut his directing teeth in TV where he worked with Robert Altman, with whom he had served in the army during the Korean war. Among his other directing credits was The Man Who Loved Cat Dancing starring Burt Reynolds.
Luciano Vincenzoni's skills as a scriptwriter were a vital part of the success of spaghetti westerns. He was recruited by Sergio Leone who was planning a sequel to A Fistful of Dollars. Leone had no skill as a writer, preferring to make the dialogue up as he went along. Vincenzoni finessed the script of For a Few Dollars More, adding humour to balance some of the more violent scenes and giving extra dimensions to the characters. Unlike Leone, he was also fluent in English and played a vital part in negotiations with United Artists for an English language version which could run in the US. He fell out with Leone when the distributors demanded cuts in the film's running time but went on to write the scripts for other westerns including The Good, the Bad and the Ugly. He later believed the westerns had sullied his reputation and claimed the scripts were written as a joke.
Bassoons are not usually regarded as rock instruments but Lindsay Cooper carved out a successful career with a number of progressive ensembles. Classically trained, she played in the National Youth Orchestra, but, while living in New York, became interested in a wider range of music. On her return to the UK she became involved in the Canterbury music scene and played as a session musician, notably on Mike Oldfield's album, Hergest Ridge. After a spell in the progressive rock outfit Comus, she joined the avant garde band Henry Cow, whose output mixed jazz, prog rock and classical music, much of it improvised. Over the ensuing years she became much in demand working with a series of bands and musicians including Hatfield and the North and Steve Hillage. In 1987 she premiered her song cycle, Oh Moscow, which looked at the effects of the Cold War on a divided Europe. In the late 1990s the onset of multiple sclerosis ended her performing career.
It was Peter Kay's own experience as a drug addict and alcoholic which inspired him to help set up the Sporting Chance Clinic. Founded in partnership with the former Arsenal player, Tony Adams, himself a victim of alcoholism, the clinic set out to help footballers deal with their addictions. The son of an RAF officer, Kay initially trained as a chef and worked in Michelin-starred establishments until his constant drinking forced him to quit. For a time he lived in a squat existing on whisky and cocaine until he was rushed to hospital for the removal of part of his pancreas. Seeing this as a chance to reform, he quit drink and went back to cooking before meeting Tony Adams. However his previous lifestyle left him in constant ill health. Over the years a string of famous names have passed through the doors of Sporting Chance which also mentors footballers having problems with drink, drugs and gambling.
Among others who died in September were
David Jacobs, veteran radio broadcaster
Tom Vernon, the BBC's 'Fat Man on a Bicycle
Ray Dolby, the inventor of the eponymous sound system
Ken Norton, heavyweight boxer and actor
Anthony Lawrence, veteran BBC radio foreign correspondent