Breaking Bad: Five ways to console fans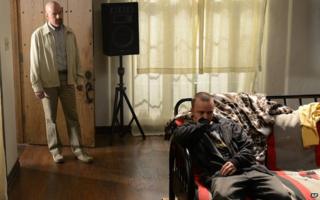 After five years and 62 episodes, one of the most-talked-about television dramas in years has come to an end. So how will Breaking Bad fans cope?
The cold turkey started across a nation at 22:16 ET (02:16 GMT) on Sunday.
As the credits rolled, the realisation dawned on six million Americans that their weekly dates with chemistry teacher-turned-crystal-meth overlord Walter White and his former classroom pupil Jesse Pinkman had come to an end.
Here are some ways they can pick themselves up.
1. There's a spin-off
One of the supporting characters, Saul Goodman, the lawyer who will use every loophole known to man to keep his crooked clients out of prison, is to star in a prequel.
Production has yet to start on the one-hour show, Better Call Saul, which will be broadcast on US channel AMC, home of Breaking Bad.
"I can see Breaking Bad fans trying to watch this because they will be loyal to [Breaking Bad creator] Vince Gilligan," says television critic Sandie Angulo Chen. "How many shows do you watch where you actually know the name of the creator? Here he was a true auteur and he's the one a lot of these fans are going to follow."
2. Re-live scenes in Albuquerque
Exploring the city in New Mexico where much of the action takes place has been hugely popular with fans, with tours on trolleys, limos and bicycles.
Mike Silva, co-owner of ABQ Trolley Company, says his weekly tours have been sold out since they launched in July 2012.
"We have plenty of international customers, it's been amazing. About three weeks ago, on one tour we had two from the Netherlands, two from Mexico, a guy from Germany and a girl from the UK. And among the out-of-towners, it's about 50-50 between those who were in Albuquerque already and those whose only reason they were in town was to do the Breaking Bad tour."
There is no doubt what the biggest highlight is among the 20 locations on the 40-mile route, says Silva. "When Walt's house comes into view, you can hear the gasps. They lose their minds. The house still looks great and sometimes the owner comes out and says hi."
The Los Pollos Hermanos restaurant is actually Twisters, part of a local burgers and burritos chain, but it still has the Chicken Brothers logo on the wall.
3. Still enjoy the talent
The acting and writing that has earned so many awards and critical acclaim can still be experienced, just without crystal meth and chicken restaurants in supporting roles.
Bryan Cranston, who plays Walter White, will be in Godzilla and it's reported he will play Lex Luthor in the next Superman. He is also set to return to sitcom How I Met Your Mother as a guest star.
Next month, Aaron Paul (Jesse Pinkman) begins filming in Ridley Scott's new project, Exodus. Paul plays Joshua opposite Christian Bale as Moses.
And Dean Norris (Hank Schrader) has already been seen in science fiction drama Under The Dome. A second series is out next year, with the first episode written by Stephen King, who wrote the novel upon which it's based.
As well as the spin-off, writer Gilligan has a new detective drama lined up called Battle Creek, set in Michigan and due to air on CBS.
4. Spend a week mourning
Loyal viewers always have a tough time, says Chen, but dramas like Breaking Bad draw fans with an even greater level of adoration.
"So there's a mourning period and you think there won't be another show that you can ever tap into in that way. Give yourself a week and revel in it. Re-watch the final episode as many times as you need to.
"Read thousands and thousands of words about that one episode - all the commentary from the well-known critics, to the neighbour who decides to put something up on a blog."
5. Then pick the next obsession
This immersive experience will help soften the landing, she says, before you pick your next obsession. Choose something quite unlike the one you're missing, so it doesn't suffer by comparison.
"With Dexter and Breaking Bad ending, I'm going to delve into something else less bloody and dramatic, Buffy The Vampire Slayer," she says.