How children of the world united at a Soviet school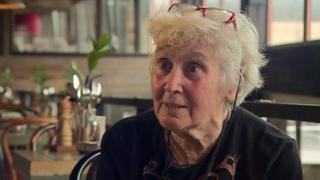 In 1933 a unique boarding school was set up in Russia to provide a home for the children of revolutionaries around the world - the children of Mao, Tito and La Pasionaria passed through its doors. It still exists, though few of its pupils today are foreign.
In 1939, a nine-year-old Palestinian girl found herself alone, sobbing her heart out in a Russian children's home.
"I remember how much I cried. It hurt," Daulia Saadi explains, more than 70 years later.
Saadi's mother was returning to Lebanon, to rejoin the communist struggle she had left a few years earlier - and to rejoin Saadi's father, who was secretary of the banned Communist Party of Syria, Lebanon and Palestine.
"I asked my mother many years later: how could you do it?"
"She said, 'Daulia, what could I do?'
"Our parents were so passionate about the revolutionary struggle that they left their children in another country.
"Their whole lives were abnormal."
So Saadi's childhood was spent at the Interdom, short for International House, in Ivanovo, 250 km (155 miles) north-east of Moscow.
Decades later, she has fond memories, like many other former students, of singing revolutionary songs, and rejoicing in the belief that their parents were making the world a better place.
The school made sure children were taught their own language, history and culture, and took pains to find teachers even of rare languages.
Unlike other Soviet children, the students received information from overseas and were allowed to travel to visit their parents.
Daulia Saadi remembers Mao's eldest son, Mao Anying, who was known in the home as Sergei Yun Fu.
His story ended tragically. On returning to China, according to some former Interdom pupils, Mao Anying clashed with his father, accusing him of creating a cult of personality. Partly for this reason, he volunteered to fight in Korea, and died there.
The idea for a boarding school for revolutionaries' children came from a Swiss activist, Mentona Moser, whose family founded the Moser watchmaking company.
When she travelled to Russia in 1926, Moser was so inspired by the communist state that she decided to donate part of her inheritance to the creation of the school.
She was helped by a fellow countryman, Fritz Platten, who was best known for assisting Russian emigres, including Lenin, to return from Switzerland to Russia in 1917.
Platten is said to have organised the sealed train that took Lenin through German-occupied Europe to St Petersburg.
At first a children's home was set up near Podolsk, to the south of Moscow, but by 1933 a new building had been built in Ivanovo, funded by the city's textile workers.
The first people to be brought here were the children of anti-fascists in Bulgaria and Germany, but in time political activists from all over the world sent their children to Ivanovo. Youngsters came from Greece, Austria, Italy, Spain, Chile, Iran, Angola, Ethiopia and Somalia.
From the list of countries, you could construct a map of the 20th Century's conflicts and political faultlines.
Children were also taken to Ivanovo during the blockade of Leningrad in World War II and after the Chernobyl nuclear accident in 1986.
In all, 5,000 children from 85 countries passed through the Interdom's doors.
What many former pupils value most is the international spirit that stemmed from this.
"The Interdom gave me a cosmopolitan outlook," says Beatrice Otigo-Potapova, whose father was a prominent Kenyan politician, and a personal friend of longstanding Soviet politburo member Anastas Mikoyan.
"I categorically refuse to accept any form of nationalism, be it black or white, it makes no difference to me. Plus honesty - you have to say things how they are, and to love people for how they are."
Two other friends, Tavanei Ayalny from Ethiopia and Varsami Aidi from Somalia, echo that view.
"We are both Africans, but there was war between our countries. However, it made no difference to us. We're brothers. That's the main thing the Interdom taught us."
The last 10 years, leading up to its 80th birthday this year, have been difficult ones for the Interdom. Plans to turn it into a military academy were only averted after the students wrote to President Vladimir Putin and staged a hunger strike. The school survived but lost its "international" status.
Now the children are mostly from Russia and former Soviet republics, often from hotspots of inter-ethnic conflict.
But an association of graduates has recently appealed to the Russian authorities to make it "international" once more.
Here, they say, one could provide a home to children from conflict zones, such as Libya or Syria, or from areas struck by earthquakes, tsunamis or other natural disasters.
Although the age of communist revolutions is long gone, another generation of children, they argue, might grow up to serve as "ambassadors of Russian culture" overseas.
Oxana Vozhdaeva's report was featured on Weekend on the BBC World Service.
You can follow the Magazine on Twitter and on Facebook
Some images have been removed due to the expiry of rights.