Giving it all up to be a Christmas Island 'beachcomber'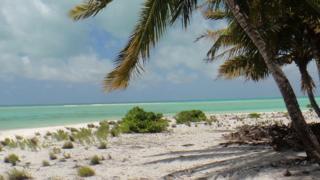 The allure of a new and different life on a South Sea island has tempted many Europeans over the past two centuries. But these so-called "beachcombers" do make sacrifices in return for their life in the sun, away from the stress and strain of the big cities.
"Come in, come in!" It is a glorious welcome, considering Perry Langston is not expecting me. He stands outside his simple home and warmly shakes my hand.
His house is near the lagoon, single storey, with a half-covered entrance yard and a corrugated tin roof.
Perry first came to Christmas Island - an isolated coral atoll in the middle of the Pacific - in 1966, just a few years after the British stopped using it for nuclear tests, which makes him one of the island's most enduring residents.
He is now 74, slightly stooping, spectacles on nose, with a sharp and intelligent face.
He has a few front teeth missing - lack of access to dentists is a drawback of island life - and a completely unselfconscious smile.
He introduces me to his silver-haired Micronesian wife. She exudes calm and grace.
They have had seven children together. One son lives next door and grandchildren are nonchalantly passing in and out as we are talking.
"Sit down, sit down," Perry says, beckoning to a battered armchair.
There is a map of the Pacific and an old map of England - both much repaired - pinned to the wall.
He shows me a photograph of the red-brick farmhouse in Warwickshire where he grew up and I think: "How far can a man travel in one lifetime?"
But this journey happened without a plan.
Perry trained as an agronomist and went out to the Solomon Islands in the twilight years of Empire to work in a technical capacity for a Catholic mission.
After that, his whole life in the South Seas involved practical work - the sharp edge of development.
He seemed to revel in his lack of material wealth. He quoted Gandhi to me: "Meet your needs and limit your wants."
He may be poor by Western standards, but surrounded by his island neighbours and his grandchildren he will never fear a lonely old age.
Twenty minutes away lives another "beachcomber" with a rather different lifestyle.
Scotsman John Bryden runs a successful grocery and provisions store and has been on the island almost as long as Perry.
He came out to visit his brother, met a local woman and did not go home.
John is 70 and looks 50. "But my teeth need fixing," he says. That missing island dentist again.
He has a microlight aircraft. The runway is a field behind his shop.
When I came to see him, he had just returned from a flight around the island. "Saw lots of turtles and sharks this morning," he says.
He keeps his microlight in a big steel-framed shed which he bought from the Kiribati government.
It is a building with quite a history. It was the bomb assembly shed during the British nuclear testing era on the island.
John Bryden and Perry Langston are very different characters but both are capable, practical men.
If pressed, they could build a house, fix a car, catch fish in the lagoon. They are not dreamers, or bookish intellectuals.
But 35 years ago, on Aitutaki in the Cook Islands, I met another sort of beachcomber.
I was making some programmes on Captain Cook and people said: "You must go and see Des Clarke, he has a wonderful library of books on the South Seas."
Des was also an island trader and married to a local woman - a queen, in fact - one of three traditional chiefs.
I remember vividly the surprise of his office at the back of his shop.
One wall was covered with books - Cook's journals, Herman Melville, Robert Louis Stevenson - a cornucopia of Polynesian scholarship, fiction and travellers' tales.
I returned to Aitutaki this year and heard that Des was still on the island. In fact, I was to be renting a small house from his wife.
The evening before they came to see me, I was sitting on the veranda reading Stevenson's In the South Seas.
The sound of the cicadas, the ocean breeze rustling the treetops, "the wide and starry sky", even the smell of the mosquito coils - not a bad place to live out your days, I was thinking.
The next morning, Des arrived in a battered truck, slowly climbed the steps to the veranda, brushed back his tousled grey hair and sat down. His wife, Gina, swatted mosquitoes as we talked.
"What about your books?" I asked. He gave me a long look.
"They are gone," he said.
"You cannot keep books in this climate. The bugs and the humidity get to them in the end and they always win."
Then he threw me another sharp-eyed look.
"If you choose this sort of life," he said, "you've got to know what you're giving up and you've got to be prepared to pay the price."
From Our Own Correspondent: Listen online or download the podcast.
BBC Radio 4: Saturdays at 11:30 and some Thursdays at 11:00
BBC World Service: Short editions Monday-Friday - see World Service programme schedule.