The parents' long goodbye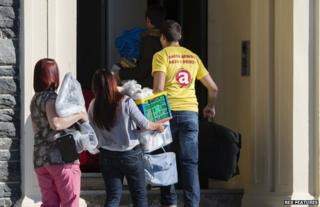 More than 400,000 youngsters are starting university in the UK this year. That means hundreds of thousands of parents saying goodbye.
The approach road to the student village is a long traffic jam of family cars, stuffed full with boxes, pillows, nervous families, memories and expectations.
This is the very first day at university - parents taking their children and getting ready to say goodbye.
It's one of those big events that never makes the headlines but will have been ringed in the diaries of hundreds of thousands of families.
On motorways and trains, more than 421,000 youngsters will be making this symbolic journey. After months of anticipation, checklists on fridge doors, last meals at home, last drink with friends, it's now here.
At the University of Sheffield, a stream of parents arrive with their sons and daughters at the Endcliffe Student Village. There are balloons, music, banners and the upbeat banter of student radio in a well-orchestrated welcome.
It's like the first day at an academic holiday resort. Parents and their teenage children look around the newly-refurbished student union bar as if they are about to begin one last family trip.
But under the South Yorkshire autumn sunshine there's no escaping the poignancy. For parents, this is what they've always wanted for their children and many will have quietly dreaded. It's a bittersweet journey.
No one wants to spoil this big first day, but it's no secret that they'll be thinking about the empty room at home.
There are T-shirted volunteers all around ready to help anyone looking lost. They know the teenagers are going to have worries.
And what do the new arrivals most want to know about? Internet connection, of course. It's their most urgent concern, say the helpers. Not so much Generation Y as Generation Wi-fi.
Meanwhile their dads, looking misty-eyed, have the conversations that they have at times of big emotions. They talk huskily about parking problems and the fleeting nature of mobile phone signals.
It's a mixture of epic understatement and Alan Partridge as parents fill the long silences by talking about the ring roads that have brought them there.
Suitcases and boxes full of gadgets are lugged along neat paths in the shade of newly planted trees. There will soon be 3,000 youngsters living here. There's a beach-themed party already lined up and a whole week of ice-breaking activities.
There's a long gaggle of arrivals waiting to check in. There are girls who have travelled with clingy soon-to-be ex-boyfriends; there are siblings suddenly close to each other instead of fighting.
But the biggest group are mothers, fathers and a teenager now taller than them. They stand together like they might have done on the first day of primary school. If there was a Club 45 to 55, it would look like this.
Their estates and people-carriers look like the cars bought a few years ago for a young family, the ghosts of child seats still pressed into the upholstery.
The university has put on a friendly face to help the new students over this threshold.
In fact, universities have had a major collective make-over in their bid to attract students. There has been a campus building boom since the increase in tuition fees.
Alongside the rigorous academic stuff, universities are also selling a leisure experience. It's part-science park, part-theme park.
The student union bar at Sheffield has been re-vamped. Forget student unions with sticky carpets and punctured leatherette. It's now all clean, airy and comfortable and the bar manager at Sheffield says these days it's driven more by food than booze.
If parents want to visit, Sheffield has just opened its own campus hotel.
Even on their first day, it won't be an entirely unfamiliar environment for the new students. Before they arrive they will have been using social networking to get to know their future flatmates. They're bringing enough computer technology to launch a space mission, so keeping in touch with home should be easier than ever before.
There is still time for some instant re-invention. Starting at university is one of the most significant changes for any young person. They will have spent several weeks deciding the big academic questions, like what they should wear in the bar.
The first night is the stuff of myth. There are people you meet and then spend three years avoiding and people you meet on a corridor and then become friends with for the rest of your life. There will be freshers' week stories of excessive drinking, ineffective cooking and misguided outfits.
These new students are entering their own soap opera of romance, friendship and ambition. It's a huge adventure that they've worked hard for years to achieve and for which they'll be paying for many years afterwards.
But after the small talk over cups of coffee and a constant stream of text messages, there is no escaping where this is heading. For many families, if childhood has a final moment, this is it.
The door closes on a student's room and parents and children go their separate ways.