How halloumi took over the UK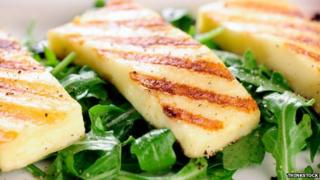 Until recently halloumi was a niche food in the UK. Now it's a staple of the British barbecue season. How did it become so popular?
To some it is "squeaky cheese".
To others it is a pleasantly rubbery addition to salads, while for vegetarians it's that thing on barbecue skewers that they have to double-check isn't chicken before tucking in.
This salty cheese from Cyprus - made from sheep's, goat's and often cow's milk - has a high melting point, allowing it to be grilled or even fried.
Halloumi has made a classic British culinary journey from ethnic speciality to commonplace item.
Its charms have long been recognised in its homeland of Cyprus, where the average resident gets through an average of 8kg (17lbs) of it each year.
But now Britons are said to consume more halloumi than any other European country outside Cyprus, with Sweden coming in behind.
It's a far cry from just a decade ago, when a request for the cheese in a mainstream supermarket would probably have been met with blank looks.
Now every chain stocks the stuff. Tesco is a useful barometer - it sells six varieties.
Its halloumi sales rose 35% for the year 2011-2012, with its Tesco Finest line increasing by 132% over the same period. Similarly, a spokesman for Waitrose reported that their sales were up 104%.
So why is halloumi having a moment? Daily Telegraph food columnist Rose Prince believes it's "a reflection of three things - our love for Mediterranean cuisine, our eagerness to try whatever is new and the effect of TV chefs".
She adds: "It only has to be used by Jamie Oliver in a recipe and it goes stratospheric."
Indeed, it seems halloumi is no longer exclusively enjoyed as an ingredient in Mediterranean or Middle Eastern cooking but has been incorporated into a variety of British and European dishes.
It has become a very popular choice in many restaurants such as Nando's, which serve slices of halloumi as a side order. Its sales have risen 138% since 2010.
Halloumi also features on the menu of Pret a Manger in the form of a falafel and halloumi hot wrap, and a halloumi and red pepper toastie, as well as on the Leon menu, served at lunch time in a grilled halloumi wrap or halloumi burger, but also at dinner time in a grilled halloumi dinner pot.
Greek cheese companies such as Yamas have also capitalised on its status as a barbecue favourite, selling prepared halloumi burger slices.
Key to its success has been its convenience and its versatility.
The fact that it is kept in brine allows it to be stored unopened in the fridge for up to a year whilst giving it a satisfying salty taste.
"You can do so many things with it," says Antonis Evangelou, owner of London's Lemonia restaurant.
Evangelou recalls selling it in the delicatessen he opened when he moved to the UK in 1958, but says the dish wasn't nearly as popular as it is today.
Evangelou's Lemonia restaurant sells 60kg (132lbs) of halloumi per week. "More people are requesting it now," he says.
"It's not just growing in Britain but everywhere - in the US, in Europe. I was in Dubai recently and they served it in the breakfast lounge, it was very popular, they ate all of it.
"It's a unique taste. You can't compare it with any other cheese. It's just unique."
Harry Nicola, proprietor of London's Kolossi Grill Cypriot restaurant, says halloumi is one of his most popular starters, with "about a third" of their customers now ordering it.
Anecdotal evidence for this growing taste among Britons for halloumi comes from a story told by Nicola where he oversaw the catering for an annual Church of England event at a local church.
"We supplied them with plates of taramasalata, hummus, olives, halloumi and watermelon. By the end there was no halloumi left on the trays at all, it had all been eaten."
It is also, as Nicola tells, a hugely popular breakfast option in Cyprus, served with olives, bread and fresh watermelon, with a sizeable part of Cypriot culture based around the cheese.
Keen to capitalise on the halloumi boom, producers in Cyprus are fighting to gain a protected designation of origin (PDO) status from the European Union. This would lay down criteria which a cheese would have to meet in order to be labelled as "halloumi" and protect the Cypriot industry from foreign competitors.
Efforts thus far to secure a PDO for halloumi have been unsuccessful, meaning the correct way to prepare the dish is subject to dispute.
Traditionally it is made with milk from a sheep or goat, but with no PDO to ensure that any cheese labelled as halloumi adheres to this, many variants are made with a mixture of cow's and sheep's milk. Some UK companies such as Milky's have even started producing the cheese exclusively from British cow's milk.
A further complication is northern Cyprus. Turkey, and indeed Turkish dairy farmers in Cyprus, also produce the cheese, calling it hellim.
This means that if Cyprus were granted a PDO for the production of halloumi it wouldn't necessarily apply to the hellim in the north.
Whatever its legal status, the dish looks certain to remain a permanent fixture on British dinner tables.