Who are vigilante group Letzgo Hunting?
By Vanessa Barford
BBC News Magazine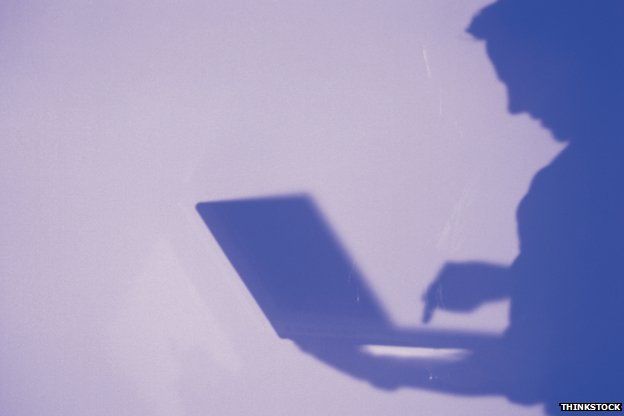 Internet vigilante group Letzgo Hunting has been criticised for some of its efforts to expose paedophiles. What is this group and who's behind it?
Letzgo Hunting's website currently just displays a sign saying "maintenance mode" with no details of this mysterious group's activities.
But on a cached version it says: "Letzgo Hunting is a dedicated group of individuals who make it their business to flush out devious and unscrupulous individuals like paedophiles and child molesters, or anyone who may be a threat to our children."
The website boasted of a "hit team" with pseudonyms like Scumm Buster, Facee Buster and Keeboo Buster.
Members pose as girls between the ages of 12 and 15 and chat to men online, particularly those apparently seeking sexual conversation. They save the conversations as evidence.
The group then arranges to meet the men in public places and films them while they are confronted about their alleged actions. The video, photographs and social media messages are then published online and passed to the police.
The leader of the group, Scumm Buster, has told the BBC: "We're not there to hurt anybody. We are there to get an explanation."
He said the purpose of the encounters was "to show their intent", and to demonstrate that the men were breaking the law under the Sexual Offences Act 2003 by inciting a child to participate in a sexual act. The group - all parents - operate from the Hinckley area of Leicestershire in the UK, according to the Leicester Mercury.
They have denied being to blame for the the recent suicide of a man. Gary Cleary was found hanged at his Leicestershire home on 13 May - four days after he was arrested by police and released on bail without being charged. The group claimed it had gathered evidence after contacting him online and posing as a 14-year-old girl.
Letzgo Hunting has also claimed that its investigation into a Nottingham man, James Stone, led to him being convicted of sexual offences against a 15-year-old girl. Nottinghamshire Police said Stone was arrested after the girl's mother contacted them.
The group further claims there have been 12 arrests because of its activities, but Leicestershire Police says it is not aware of any cases where the involvement of Letzgo Hunting has led to any offenders being charged. Police advise anyone with information about criminal activity to contact their local station rather than carrying out their own investigation.
"This enables us to gather evidence to meet the strict rules demanded by the courts. There is a danger that the activities of others could interfere with this," Leicestershire Police says.
There are major concerns about the way vigilante groups operate. Jim Gamble, the former chief executive of the Child Exploitation and Online Protection Centre (Ceop), said the "deeply disturbing" activities could result in the group "putting themselves in extremely vulnerable situations".
"I understand that parents become frustrated and want to take action into their own hands but they are not equipped to do it. We need more police resources to deal with the root cause of paedophilia."
Ceop itself also warns vigilante investigations could even cause an abuser to harm a child if they feel threatened.
But Letzgo Hunting's activity is far from unique.
In the US there was controversy over television show To Catch a Predator, which confronted would-be paedophiles after impersonating under-age people on the internet. The programme team collaborated with the Perverted-Justice group, whose modus operandi had marked similarities to Letzgo Hunting.
The show was abandoned in 2007 after a Texan lawyer shot himself dead during filming when he was confronted in his home by police.
Germany's television programme Tatort Internet, which aired in 2010, also attempted to trap paedophiles. The show involved an actor impersonating a teenager on chat rooms to communicate with men searching for under-age sex, followed by a meeting with the "girl" and a confrontation with a journalist posing as her mother.
The programme came under fire from child protection groups and lawyers after an alleged child abuser it exposed went underground.
But it's not just TV shows that are taking things into their own hands. Former detective and criminologist Mark Williams-Thomas, the investigator behind the ITV documentary that exposed Jimmy Savile, says he's aware of at least four groups, as well as individuals, who are identifying offenders online and passing information to police.
"There's a growing frustration among the public. Online paedophiles are at epidemic levels - police forces have seized about 300 million child abuse images over the past two years, which shows the scale of it.
The feeling that the issue is not being properly tackled by the authorities leads to people trying to get involved themselves, he says.
"People at home often have more knowledge of the internet than police officers. They think they can add value, whereas you don't often see people go out to catch thieves," he says.
But while Williams-Thomas understands why people might want to intervene - not least because child abuse is the most emotive crime - he agrees there are downsides.
"You normally only ever get one opportunity to catch offenders. If they get caught and aren't prosecuted they'll be doubly careful - they won't talk in the same way, or use the same social networks again.
"And when it comes to people who are arranging to meet children, they are the most dangerous child sex offenders," he says.
It's a sentiment that David Wall, professor of criminology at the University of Durham, shares. He says police put a huge amount of manpower into investigating paedophile networks - which often "lie very low, deep in networks" - until there is conclusive evidence, and vigilante groups run the risk of providing evidence that isn't admissible in court.
Naming and shaming paedophiles results in them changing their identity and driving them underground, he argues. "Paedophiles will do all they can to evade being caught, that's part of the thrill," he says.
Williams-Thomas thinks the way police deal with online child abuse needs to be radically changed.
"At the moment there are 42 police forces with different resources and financial restraints. But criminals don't just offend within force areas - a child might be in a bedroom in one force area and offender be in another.
"Regional hubs need to be set up to tackle child abuse investigations," he says.
Wall has one final warning for vigilantes who might be acting out of an "understandable moral outrage".
"Think of the Boston bombing - a wrong individual was identified and it became a witch-hunt which drew attention away from a critical line at a critical moment.
"Witch-hunts don't always catch the witches," he says.