Are there really 'rules' to what to wear?
By Denise Winterman
BBC News Magazine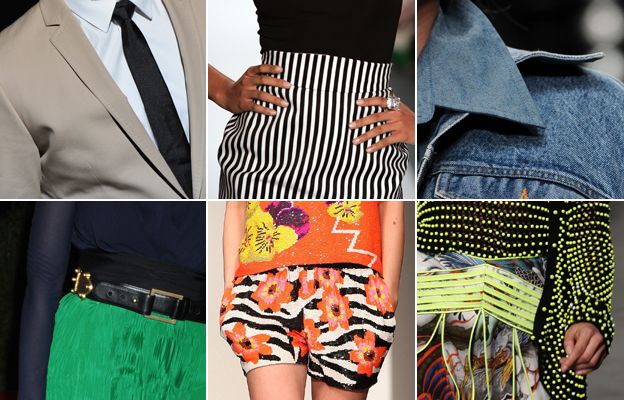 Blue and green should never be seen, or should they? Do the traditional rules of dressing still apply?
The world of high fashion always claims to be about breaking rules. Take a look at the catwalks at London Fashion Week, which starts today.
But when it comes to our everyday choice of clothes there's always someone piping up about some longstanding rule. The rules have such longevity because most people like having guidance about how to dress, says Andrew Groves, who heads the University of Westminster's fashion department. "We all like to think we're individuals but rules give people a certain security when it comes to fashion."
So are they arbitrary and outdated or do they still apply?
1. Don't do denim with denim
It's a look that "contravenes all known laws of human decency" says the Guardian's fashion commentator Hadley Freeman.
She's not alone in her disgust but despite all the haters double denim has made a comeback on the catwalks this year, even appearing on the cover of Vogue.
That's exactly where it should stay, says Groves. "Only a young, beautiful, 6ft model can make double denim look vaguely OK. That's because it's just not right."
If you insist on giving it a go, mix things up, say the pundits.
"Wear different washes rather than denims that are too matchy, matchy," says Poppy Dinsey, founder of outfit sharing site What I Wore Today (WIWT).
But remember, when double denim goes wrong it goes really wrong. See image to the right. Enough said.
2. Men shouldn't wear white socks
If there is one rule all men should still follow, this is it, say some in the fashion industry. The only outfit white socks don't ruin is a sports kit, they add.
"Unless you're exercising there is absolutely no appropriate moment to wear white socks," says Alex Bilmes, editor of Esquire magazine. "These types of rules exist to make sure fashion innocents don't make such a bad mistake." Certain people in the Netherlands seem to think so.
As well as attracting attention because of the colour, white socks are usually made of bulkier material and ribbed because they are mainly for sport. They look cheap and nasty with normal clothes, say fashion experts.
"Don't even try to wear them ironically, they're horrific," says Groves. "Coloured and patterned socks are the big trend."
3. Legs or cleavage - never both
If there is one rule all women should follow, this is it, say the same fashion experts. "It's the absolute golden rule," says celebrity stylist Martine Alexander.
"One or the other, never, ever both. It looks cheap, simple as that. No-one with any sense of style likes to see it all at once," she says.
The rule is about having one focal point, says Groves. "You don't want different parts of your outfit competing for attention."
It's even emerging as a rule for men, says Alexander. The deep V-neck T-shirt, modelled by the likes of Russell Brand, is becoming increasingly popular and a way for males to show off their chest muscle. "Please don't wear one with shorts, it's too much flesh," she says.
4. Vertical stripes are slimming
The scientific world, as well as the fashion one, have been trying to work this out for years.
In the 19th Century, Prussian physiologist Hermann von Helmholtz studied the effect of stripes on our visual perception.
He recommended women wear horizontal stripes to look taller.
A study by perception expert Dr Peter Thompson in 2008 supported this, saying horizontal stripes which go across the body are more slimming.
But this was challenged in 2012 by an amateur scientist taking part in Radio 4's "So You Want to Be a Scientist?". Val Watham, whose mentor for the programme was Thompson, did a study that supported the theory vertical stripes are slimming.
The results, documented on her Facebook research diary, suggested vertical stripes make people look taller, while horizontal hoops make them look wide.
"My advice is to wear black," says Thompson.
Fashion experts say any stripe that is stretched across curves, be it big bosoms or big hips, will make you look fatter.
"The clean lines are pulled out of shape," says Alexander. "My advice is to approach stripes with caution."
5. The tip of a tie should always cover the last button of a shirt but never go below your belt
The sartorial rules when it comes to ties, shirts, jackets and buttons are a minefield, say those in men's fashion.
They're also set in stone and for good reason - men often need a lot of guidance, says Bilmes. "The rules when it comes to menswear are arcane but they work."
The tip of a tie covering the last button of a shirt but never going below your belt still absolutely applies to those in the industry.
"Any longer and any shorter and it just looks like a mistake," says Bilmes.
The primary purpose of buttoning things a certain way is show off good tailoring and lines. But they also serve another purpose.
"The rules are all about sending out a subtle message," says Groves. "Leaving strategic buttons undone shows the button holes on your suit or shirt are functional and what you're wearing is good quality.
"With cheaper clothes often buttons are sewn on but don't actually work."
Clashing prints might make Coco Chanel spin in her grave but it is one of the hottest looks of the moment, says Dinsey. See Peter Pilotto, Mary Katrantzou, Jonathan Saunders and Givenchy. Mixing fabrics is also big news.
"It's edgy," says Alexander. "Matching everything makes you look like you've tried too hard. Style should look effortless."
Again, a bit of caution needs to be applied or you might make people's eyes go funny.
"While we may remember our mothers or grandmothers espousing these socio-stylistic tenets of fashionable rule keeping, these days, often they are no more meaningful than any other personal preference when it comes to dressing," says fashion historian Rebecca C Tuite.
7. Straight men should only pierce their left ear
The ear a man pierced was once thought to suggest his sexual orientation, the left meaning he was straight and the right meaning he was gay, say piercers.
It was an urban myth, they add, but it doesn't matter anyway as men now get every part of both their ears pierced, from the concha to the tragus.
"Ear piercing has gone past being symbolic of anything in this country," says Brendan Mellor, manager of Holier Than Thou piercing and body modification studio in Manchester.
The favourite part of the ear for men to get pierced is currently the helix, he says. That's the rim at the top of the ear.
What's now debated is the age a man should stop wearing an earring, say those in fashion. "Anyone over 50 looks ridiculous, it's a mid-life crisis earring," says Bilmes. "Harrison Ford had his ear pierced in his 50s and even he couldn't make it look good."
8. Shoes and bags/shoes and belts should always match
They should match, but only if you want to look like a time traveller from a bygone decade, say experts. "This look really smacks of the 1950s when a sleek, matchy-matchy look was all the rage," says fashion historian and trend forecaster Amber Jane Butchart.
"The Baby boomer, counter-culture generation really rebelled against it and it's never really made a full recovery, except for some brief occasions in power dressing during the 80s."
The look is too contrived for 2013, says Groves. "Nowadays being fashionable is all about being individual, quirky and eccentric - the Alexa Chung look."
Anyway, women's bags come in all sorts of crazy colours, fabrics and sizes now, you'd be hard pressed to get complementing shoes, he adds.
9. Blue and green should never be seen
It's not the only colour combination traditionally frowned upon, brown and black, navy and black and pink and red are also a no-no if the old rules are to be believed.
Then there is red and green which "should only be seen upon an Irish queen" and "never be seen without a colour in between", according to traditional sayings.
"Often these rules come from how similar in tone and hue the colours are supposed to be," says Butchart.
"People generally think there are clashing combinations, like pink and red. I don't think anyone adheres to them now, blue and green can look great together."
Navy and black is fast becoming a fashion red-carpet favourite, says Alexander.
"Black and a midnight blue look so opulent together. It's what I suggest for a lot of my clients when they are picking out a dress for a big event."
10. Never mix gold and silver jewellery
The fashion jury is out. It offends some. "Dreadful," says Groves.
Others are more open to it. "It's down to personal choice," says Alexander. "I think it can work in a statement necklace but when it comes to fine jewellery I'd stick to one metal."
Definitely match the metals of earrings and a necklace, says Dinsey.
Related Internet Links
The BBC is not responsible for the content of external sites.