Tweets of the week: Rosh Hashanah, Syria and Diana Nyad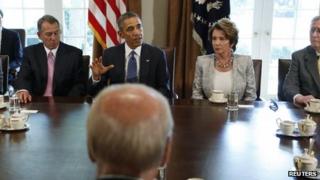 In the week ending 6 September, when Syria dominated the news in the US and around the world, was it possible to find humour in the civil war there and the looming US military strike? We find out.
1. I have faith that our elected leaders can put aside their partisan differences and get us in a war we don't want.
Political cartoonist Matt Bors (@MattBors) alludes to the still-looming shadow of the Iraq war and forecasts a similar outcome in Syria.
2. Obama 4-point Syria plan: 1) surprise Congress by asking for war authority. 2) play golf. 3) make some phone calls. 4) leave country.
Washington Examiner columnist Byron York (@ByronYork) highlights President Obama's actions since deciding to seek congressional approval on military action in Syria.
3. Only 29% of Americans want to attack Syria. On the plus side 29% of Americans know there is a place called 'Syria'
Political satirist Stephen Colbert (@StephenAtHome). As the Senate and Congress debate Syria, public support for military action remains low.
4. "Boots on the ground" or not, let's not forget about sandals, pumps and loafers.
Shoe designer Kenneth Cole (@KennethCole) takes a light-hearted approach to the Syria issue.
5. Apple schedules Sept 10 event, thereby relegating any Syria attack to Page A7 of the nation's newspapers.
The Wall Street Journal's Thomas Catan (@tomcatan) knows what's really important to Americans.
6. After losing Syria vote, Obama's chances of passing agenda through Congress would go from about 0% to approximately 0%. #hugesetback
New York magazine senior editor Dan Amira mocks analysts who say a loss in Congress on the Syria military strike authorisation would cripple Barack Obama's presidency.
7. Which brand of shark repellent does Diana Nyad endorse?
Daily Beast writer and former Bush speechwriter David Frum (@davidfrum) was stunned when the 64-year-old American became the first person to swim from Cuba to Florida without a shark cage.
8. Anybody hit by Rosh Hashanah celebratory gunfire?
Daily Kos contributing editor and chronicler of US firearms accidents David Waldman (@KagroX) marks the Jewish new year.
9. Real mavericks only play poker in a dark back alley, McCain.
BuzzFeed's Michael Hayes (@MichaelHayes) teases the Republican senator with a reputation as a "maverick" who breaks from his party and who was caught playing poker on his phone during a recent Senate hearing.
10. Dear America, two quick things: 1) happy Labor Day 2) it's actually spelt LABOUR. As ever your loving Queen.
A parody account for the Queen (@Queen_UK) explains a US holiday, the traditional end to the summer season, to her former American colonists.