George Lowen: From refugee to black rights champion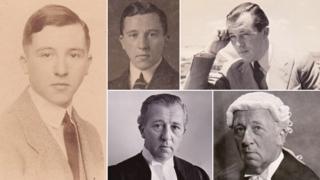 Reporting from South Africa as Nelson Mandela was discharged from hospital in Pretoria, the BBC's Mark Lowen took the opportunity to learn more about his grandfather - a distinguished anti-apartheid lawyer who died before he was born.
He was presumably unaware of the activity at the gates, the coming-and-going, the hum of satellite dishes as television reports were filed.
Inside the Pretoria hospital, for almost three months he lay, an ailing Nelson Mandela who few expected to emerge.
But he has to be cared for at home, still critical but, by all accounts, peaceful.
Before his release, I visited the hospital to read the messages of love for the 95-year-old former president - a man who fought the scourge of apartheid, who led South Africa to democracy and whose lack of rancour after 27 years in prison has practically made him a living saint.
Outside was a young man from the northern province of Limpopo. "I am studying, I am free because of him," said Jacob, his smile as warm as that midday sun.
As I left, I shook his hand. He held my palm and laughed. "This is the first time that I have had a white hand in mine," he said.
It is rare to hear such things in modern South Africa, especially in a big city.
He, aged 21, never knew apartheid. The four dark decades of racial segregation ended before he was born, and yet the legacy will take a generation or more to shake off.
The history of those who fought it has been written. The leader of the struggle in and out of that hospital but also the white, often Jewish campaigners like Helen Suzman and Joe Slovo.
I met their families and friends on my trip to hear their stories - and to find out about a lesser-known anti-apartheid figure whom I never met - my grandfather George Lowen, who died in 1969 before I was born.
A senior lawyer from Berlin, George Loewenthal, as he originally was, had a history of opposing authority.
He was to be defence counsel for the Dutch Communist, Marinus Van der Lubbe, charged with burning down the German parliament in 1933.
The Nazis used that to ban the Communist party and entrench their grip on power. When the Gestapo heard that my grandfather, a German Jew, was defending, they went to his home. George was warned by his neighbours.
And so he fled, to Paris and then to Amsterdam. In 1935 he boarded a ship without knowing its destination. It was bound for South Africa.
The young barrister, who spoke no English, worked as a petrol pump assistant in Johannesburg to fund language school and legal training.
In 1938 the law was changed so my grandfather could become the first German refugee to swear allegiance to King George VI and practise in South Africa, simplifying his surname to Lowen.
As advocate and then Queen's Counsel, George fought apartheid laws, often instructed by the solicitors Nelson Mandela and Oliver Tambo, later leader of the African National Congress.
George worked pro bono for blacks and coloureds evicted. His speciality was the Group Areas Act that dictated where races could live.
He acted for the family of Looksmart Ngudle, an ANC activist tortured to death in detention, the first person to die in custody under apartheid.
In 1963, he represented Harold Rubin, a jazz musician and artist charged with blasphemy for painting Christ on the cross as a naked bestial figure.
Rubin, himself an anti-apartheid dissenter, was acquitted after George successfully argued for the right to artistic freedom in a case that attracted huge media attention.
And he defended Jimmy Kantor, acquitted in the Rivonia trial, which convicted Mandela and others, sentencing them to life in prison.
George Bizos, Mandela's lawyer, later wrote: "The suave, flamboyant Lowen brooked no nonsense and often informed magistrates of this quite directly."
I went to see George Bizos to better understand my grandfather.
"He was elegant," he said. "I was sometimes his junior. In fact, I thought of myself as a poor man's George Lowen."
He told me about the day when 200 black residents of Alexandra township walked into Johannesburg to protest against the Pass Laws, limiting their movement.
They were arrested and my grandfather represented them.
"Have my clients had lunch?" he asked the magistrate. "No," came the answer.
"It is outrageous to try these people without feeding them," George insisted. The magistrate, unwilling to provide food for 200 defendants, promptly dismissed the case.
That, I found, was the grandfather I never knew. A man unafraid of confrontation, who went from Jewish refugee to a champion of black rights.
I visited His Majesty's Building, a Johannesburg office block that housed his first chambers.
When I asked the guard to see room 813, once occupied by George, he radioed his boss: "A Mr Lowen would like access to the 8th floor. A white man."
I was duly taken up - but to a bare office with no sign of its great history.
Before I left South Africa, I enjoyed a spectacular evening concert of the young black soprano Pretty Yende. She grew up in a village near Swaziland and now sings at La Scala in Milan.
Her voice is as dazzling as her story. And in the audience sat a mix of all races and ages charmed by a home-grown fairy tale.
That is the vibrant, democratic South Africa emerging from its unhappy past - and it is one of which my grandfather would have been proud.
How to listen to From Our Own Correspondent:
BBC Radio 4: Saturdays at 11:30 and some Thursdays at 11:00
Listen online or download the podcast.
BBC World Service: Short editions Monday-Friday - see World Service programme schedule.