The rise of the triathlon holiday
By Vanessa Barford
BBC News Magazine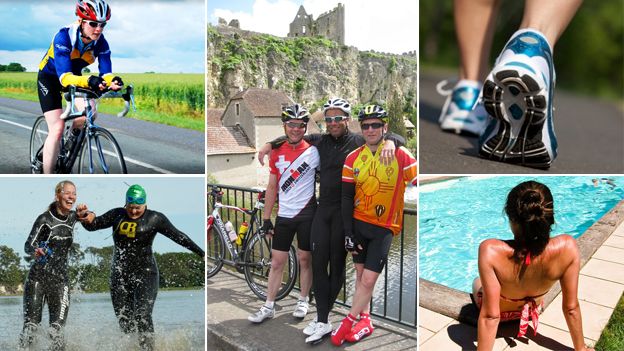 The rise of the triathlon - which combines swimming, cycling and running - has been well-documented. British Triathlon says it's the fastest-growing sport in the UK. But it's not just the events that are on the up. Triathlon holidays are also gaining popularity. Why?
For some people, the thought of spending a holiday swimming in cold, fresh water lakes, cycling up mountains and running along rivers would be enough to make them want to cancel the trip and stay at home.
They might belong to the beach holiday fan club. Or be of the cultural, sight-seeing school of thought.
But just as triathlon - which made its debut as an Olympic sport in Sydney in 2000, and at Olympic distance involves a 1.5km (0.9 mile) swim, a 42km (25 mile) bike ride and a 10km (6.2 mile) run - has seen its popularity soar, triathlon holidays, which encourage people to work on all three disciplines, are taking off too.
Training Escapes, which promotes cycling and triathlon training holidays, says there has been a 35% increase in triathlon holiday providers over the past three years, with holiday goers up by 30-35%.
Neilson, which launched its first triathlon training camp, run by RnR Tri Camps, in 2003, offered two triathlon holidays a year in 2012 due to increased demand. In 2013, it's offering four operated by RnR Tri Camps.
In the UK, triathlon's profile was given a boost by 2012 British Olympic champions Alistair and Jonathan Brownlee, who won gold and bronze medals respectively. The brothers are currently number one and two in the 2013 ITU World Triathlon Series, which finishes in London on 15 September.
But the rise of triathlon holidays isn't down to demand from professional triathletes. They have schedules dictated by their coaches.
This is amateurs in their 20s, 30s and 40s trading in their typical summer holiday for a "tri holiday".
So what makes people give up precious holiday time to put themselves through triathlon training?
Research shows the sport tends to attract competitive alpha types - mostly men - who, with an average salary of £45,000 and an average age of 40, are willing and able to invest both time and money in their hobby.
The same survey found one in five triathletes in 2012 travelled overseas to compete, with almost three quarters saying they would consider doing so in the future. Some combined an event with a triathlon holiday.
So it would be easy to assume triathlon holidays are full of middle-aged men in lycra who want to swim stronger, cycle harder and run faster.
Matthew Hartley, 46, from Sheffield, fits the stereotype.
The self-confessed "ambitious forty-something" and father of four took part in his first triathlon with a friend for fun in 2009. Four years later, he says he's "hooked" on the sport and has even completed two ironmans.
He says he went on his first triathlon holiday with Tri-Topia, near the Brenne National Park in France, in May, so that he could focus on training, which varied from a 106-mile bike ride - with coaching tips and cafe stops - one day, to swimming tips another.
"My family were, bizarrely, pleased that I could go on a triathlon training holiday and just train in comfort, peace and confidence without the burden of daily chores to get in the way," he says.
He credits the holiday with helping to knock 43 minutes off the subsequent ironman race.
But not all triathlon holidaymakers are so hardcore.
Joerg Metzner, a 27-year-old German living in London, says he opted for one with Tri4theAlps, in the French Alps, because he liked the idea of a holiday which combined sports, beautiful surroundings and meeting new people.
"I did my first race a year ago and really enjoyed being back in a competitive event, with all the tension and nervousness around it. Since then, I have been training every now and then. As my wife was very busy at work, I was looking for a holiday that I could do by myself.
"It was a great experience and I really enjoyed 'feeling like an athlete' again after so many years of working late, doing the occasional gym visit and trying to be careful around food. I could finally eat again as much as I wanted, felt energised and inspired and had a truly wonderful time," he says.
The success of triathlon holidays is largely down to their ability to cater for both types of triathlete, according to Tri247 magazine editor John Levison.
He says 10 years ago people into triathlons would to go to "dedicated purpose-built sports facilities" such as Club La Santa in Lanzarote. "If you didn't do sport and went there, you'd question your sanity," he says.
Now smaller operations are tailoring triathlon weeks to people's demands.
"Some people who go on them aren't trying to live like athletes in a training camp, where the only goal is performance - they might just want to spend the majority of the day cycling and come back to cold beer without the stress of cooking in the evening," he says.
To a certain extent, the diversification is simply a reflection of the increasing range of triathlon participants.
"There's a growing subset of triathletes who are taking part because they want to do a challenge, or be part of the camaraderie of an event, rather than it being about the racing or miles per minute and personal bests.
"It's similar to the growth in Tough Mudder or the Spartan Race - more people are taking part, just not so competitively," says Levison.
David Castle, editor of Running Fitness magazine, agrees the growth in triathlon holidays is part of a wider trend in organised events and training camps such as running and multi-sport camps.
"People want to work with credible coaches who can structure their training in an environment that is wholly geared towards their performance," he says.
But although triathlon holidays are on the rise, Castle believes the requirements of triathlon, and particularly the kit needed for them, will stop them from ever being mainstream.
"You can spend £600 on a bike without even thinking about it. Add a wetsuit, entrance fees into the mix and it all adds up. Then there are people that don't like to swim, or cycle.
"Compared with running, the competitive numbers are minuscule. Running is still the cheapest and most inclusive sport," he says.