Australia election: Asylum debate cooks up anger and uncertainty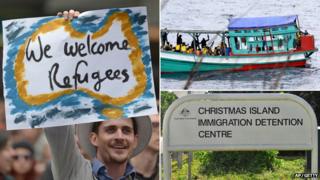 The issue of asylum seekers trying to reach Australia's shores has been prominent in the current general election campaign. Both main parties have declared tough policies, from resettling new arrivals in Papua New Guinea to revoking the visas of existing refugees.
Where do you see yourself in five years' time? That classic, cold-sweat-inducing question asked by mothers and prospective employers.
I'd be intrigued to hear how Kobra, a cheerful woman I recently met in Sydney might have answered a few years back.
Not long ago she was living in Syria amid the increasingly bloody civil war. Today she works at Australian Woman's Weekly helping test cooking recipes. Life can be full of twists and turns. Kobra's more than most.
Sitting cross-legged amid Middle Eastern style cushions in her small flat, she tells me her story.
Originally from Afghanistan, Kobra's family fled in the 1970s, blaming a rise in Islamic fundamentalism: No longer a place to raise a young girl, her parents told her.
She went to Iran, another repressive regime, she says, before ending up in Syria where she lived for more than 20 years.
But as the ongoing war claimed more lives, Kobra decided to find a new home where her family could be safe.
Leaving behind her husband and children, hoping they might one day be able to follow, she set off for Australia, a world away. Kobra travelled more than 10,000 miles, taking in Iran, Dubai, Malaysia and Indonesia.
She borrowed money to pay people smugglers $5,000 for the final leg of the journey to Australia's Christmas Island: a terrifying 11-day voyage across the Indian ocean, packed onto a tiny boat with little to eat and no life jackets.
Kobra remembers the moment when the Australian Navy picked up the battered vessel.
"So happy," she beams switching from Arabic into broken English. "They gave me new clothes and a headscarf, food and a shower. Australians are good people," she remembers.
Kobra was taken to a detention camp on Christmas Island before travelling to Sydney having been given refugee status. You get the feeling she's the kind of person who makes her own luck, but Kobra has fallen on her feet.
She was accepted into a homestay programme where Australians volunteer to take in refugees while they get set up. Kobra went to live with Xanthe Roberts, a food writer at Woman's Weekly.
They make a perhaps unusual pair; Xanthe tall and blonde, you might say classically Australian; Kobra, more pocket-sized in traditional Islamic dress.
But they've become firm friends. Kobra now works in the magazine's kitchens where recipes are tasted and tested. When we visit she's frying up some spicy lamb.
"Xanthe very good," Kobra beams.
But not all Australians are so welcoming. For this election, "Stop the boats" has been the mantra of both the Prime Minister Kevin Rudd and the opposition leader Tony Abbott.
They've seemingly been trying to out-tough each other, clearly thinking a hard line is a vote winner.
Both men deny accusations their policies are inhumane. Instead, they say it's about tackling people-smugglers and stopping refugees from drowning on the treacherous journey.
But there's also a nasty edge to the debate.
You don't have to look far to find overtly racist views from some supporters of both Mr Rudd and Mr Abbott.
"I'd put a rope around them and drag them back out to sea," one man told me outside a pub in Sydney. "They pump out children, live off a bag of rice and scrounge off the dole."
Such extreme views are of course a minority and could be heard in Britain or indeed many countries.
Both Mr Rudd and Mr Abbott would condemn such opinions but their policies suggest there's a broader anti asylum seeker vote they feel they need to talk to.
The number of people trying to seek asylum here is rising according to the United Nations - more than 15,000 last year. That number will be higher in 2013. But the numbers are still relatively small compared to elsewhere. France had 55,000 claims last year. Britain 27,000.
And people like Xanthe Roberts accuse the party leaders of playing politics with desperate people.
She points out that apart from Australia's aborigine population everyone here has immigrant roots. Xanthe says she's worried about the country's international reputation.
As for Kobra, the policies of both leaders in this election mean she has little chance of seeing her family here soon.
Before we say goodbye, I ask if she's happy. "Yes and no. I love, love Australia," Kobra says. "But at night I come home and cry."
She's worried she'll get the news her children have been killed in Syria. She says some days she takes 10 or more paracetamol to try to get rid of the stress and headaches.
Her 13-year-old daughter Betoul wants to be a lawyer. Kobra says if she could one day join her here, Betoul would be able to work hard and repay Australia for the generosity and kindness the country has shown to her mother.
How to listen to From Our Own Correspondent:
BBC Radio 4: Saturdays at 11:30 and some Thursdays at 11:00
Listen online or download the podcast.
BBC World Service: Short editions Monday-Friday - see World Service programme schedule.