Been and Gone: Star Wars cameraman and the man who made all the pies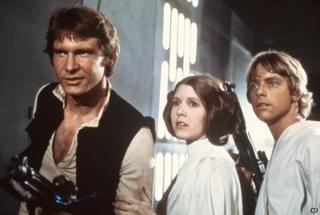 Our regular column covering the deaths of significant - but lesser-reported - people in the past month.
Director Ted Post was responsible for many of the US TV series of the 1950s and 60s which made their way across the Atlantic and onto British TV screens. Among his many credits were episodes of Perry Mason and Peyton Place. But he was particularly associated with westerns including The Virginian, Gunsmoke and Rawhide. The latter series introduced him to a young Clint Eastwood who called on Post to direct his 1968 film Hang 'Em High, the first to be produced by Eastwood's own Malpaso production company. The two teamed up again in 1972 for Magnum Force, the sequel to Dirty Harry, in which Eastwood reprised the role of Inspector Callahan. Post caught the directing bug while working as an usher in a local theatre before moving onto directing. On one memorable occasion in 1948 he directed an ageing Bela Lugosi in a stage version of Dracula during a summer theatre season in Connecticut.
The custodian of what is believed to be the world's longest running scientific experiment died without witnessing the results of his labours. John Mainstone began overseeing the so-called Pitch Drop Experiment shortly after joining the University of Queensland physics department as a lecturer in 1961. The experiment, originally set up in 1927, was designed to show that even a material that seems to be solid could flow given enough time. Pitch had been allowed to harden in a glass funnel which had the bottom cut off. In the eight decades that the experiment has been running there have only been eight drops, five of which were on Mainstone's watch. Unfortunately he missed all of them, one by just a few minutes while he went to get a cup of coffee. He continued to oversee the experiment beyond his retirement as head of the physics department in 1996.
Cinematographer Gilbert Taylor worked on some of the best known films of the 20th Century, the most famous being the first in the Star Wars series, A New Hope. He had an uneasy relationship with the film's director, George Lucas, a notoriously uncommunicative individual, so Taylor was left to his own devices as to how to shoot the scenes. He declared himself unimpressed with the film, particularly the special effects and was surprised when it became such a hit. He began his career with Gainsborough Pictures in 1929, overcoming his father's objections that the film world was made up of harridans, whores and gipsies. During the war he flew with Bomber Command, photographing the results of British raids on German cities. He worked on the Beatles' first film A Hard Day's Night and produced the spectacular lighting effects in Stanley Kubrick's satire Dr Strangelove.
It was Bill McIllroy's upbringing in the fiercely sectarian Northern Ireland of the 1930s which helped drive him towards the concept of secularism. He became Secretary of the National Secular Society in 1963 and found himself at the forefront of the campaign to overturn laws which banned many sporting activities as well as the opening of shops and places of entertainment on a Sunday. It brought him into conflict with the Lord's Day Observance Society, now known as Day One, which fought to maintain Sunday restrictions. He was a prominent campaigner against the laws on blasphemy which had been used in 1977 by the campaigner Mary Whitehouse, to prosecute the editor of Gay News. He was also active in promoting the 1967 Act which legalised homosexual activity between consenting males and campaigned against theatre censorship. He edited the atheist magazine The Freethinker for almost a quarter of a century.
A pie is an essential part of the football match day experience and Trevor Storer provided plenty of them in grounds across the country. He began his working life delivering products from his family's bakery using a horse and cart. When the firm was taken over by Allied Bakeries, he became an executive but hankered after running his own business. In 1963 he sold his car to provide enough cash to begin making steak and kidney pies in his home near Leicester. His wife suggested the name Pukka because of the word's connotation with quality. Eager customers suggested different fillings and the company rapidly grew to a multi-million pound business. His pies can be found at a range of football grounds including Aston Villa, Southampton and Rotherham, the latter's fans having a reputation for eating more pies per head than any other English club.
The world's oldest known wild bear has died in Minnesota. The black bear, known to researchers as Bear 56, had been fitted with a radio collar in 1981 when she was seven. Over the next 32 years she provided scientists with vital information about how black bears live, feed and reproduce. She was the first bear being studied by the Minnesota Department of Natural Resources to die of old age. Due to the activities of trigger-happy hunters, scientists believe most of her cubs were dead by the age of six. Her remains were found by Karen Noyce, one of the researchers who had studied her. "She was just lying in a wooded spot, next to a little bit of a low area, a shady area." Noyce reported. "It was a kind of place a bear would lay down and take a midday nap."
Among others who died in August were:
Seamus Heaney, Irish poet and Nobel laureate
Mike Winters, half of comedy duo Mike and Bernie Winters
John Amis, broadcaster and writer and panel member on Radio 4's My Music
Admiral 'Sandy' Woodward, commander of the Falklands Task Force
Welsh Paralympian Chris Hallam
Elmore Leonard, US crime writer
Welsh rugby international and broadcaster Cliff Morgan
Sky News cameraman Mick Dean, killed while filming in Egypt