Tinned pineapple in the Pacific Islands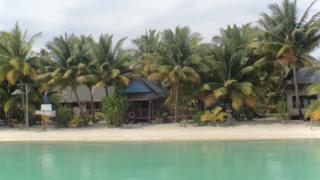 Mosquitoes, tinned tropical fruit and war graves indicate how the once remote islands of the Pacific are linked to the wider world.
If I'd been in a car I wouldn't have noticed the pile of stones by the roadside. But at bicycle speed you realise there's something worth stopping for. It is not just a pile of stones. It's a cairn, someone's grave, with a polished headstone on top.
The day is hot, still and sticky. The only sound is the distant crowing of a cock from the last village I cycled through. This is a beautifully tranquil corner of the island. I think of the distance, two oceans and a continent, between this spot and the street where I live in London.
There's an inscription on the headstone: "Great War Veteran, 81502 Private Lako Piru, Cook Islands Contingent, died 9th June 1920". A cross is etched in the stone and below it two more words: "Aged Nineteen".
World War I ended in 1918 so this young man must have been well under-age when he volunteered to fight for the British Empire. His roadside grave couldn't be more remote from the killing fields where he might have fought - Gallipoli in modern Turkey, Mesopotamia (now Iraq), or even a muddy trench on the Western Front in France.
My chance encounter with Pte Piru's epitaph came early in my travels in Polynesia and over the weeks that followed I was constantly surprised by the "connectedness" of the most remote islands with worlds far away, until after a while it stopped being a surprise.
Back on Aitutaki in 2013, I am looking for the blue house next to a mango tree with orchids growing beside the road. I am on my way to meet Mamaruru Marsters, now in her early 60s, and one of the stalwarts of her community.
For 39 years and five months, she tells me with pride, she was the island's welfare officer. But this morning it's her personal connection with Hollywood in its heyday that I want to talk to her about.
Air travel in the Pacific began with big flying boats, using lagoons and harbours as runways. Every two weeks through the 1950s, Tasman Empire Airways Ltd (Teal as it was called) used Shorts Solent flying boats to connect Auckland in New Zealand with Tahiti, via Fiji and Samoa, with Aitutaki and its large and beautiful lagoon as a refuelling stop.
This was the legendary Coral Route, combining glamour and luxury with a frisson of adventure.
Mamaruru's father owned the motu, a small lagoon island, where a jetty was built for the passengers to disembark, and sometimes on arrival days he would take her over in his canoe to watch the plane come in.
It's a sunny, breezy day and I'm crossing the lagoon with Mamaruru in an aluminium boat, with her husband Carl on the outboard. She has a tiara of flowers in her hair and a beaming smile, and as she talks I feel as if I'm back there with her 60 years ago, sharing the excitement of a child.
The flying boat's approach was always low and slow, she tells me, so you could see it far off, and very quiet. And as it entered the lagoon it looked like a big bird, landing with its breast on the water.
One day "a big, tall man", as she puts it, came off the plane. She recognised him from films she'd seen at the island's open-air cinema. It was John Wayne, on his way to make a movie in Tahiti. He lifted her up in his arms. What did she say to him? "I wasn't talking," she recalls. "I was just a young giggling girl, laughing and enjoying myself. To me he was a huge man and very handsome."
Occasionally, mechanical faults led to unscheduled stopovers and some very rich and famous people saw more of the Pacific night sky than they'd bargained for. Few complained for long - there were no mosquitoes on the motus 60 years ago. They've arrived recently with visiting tourist boats.
It's one of many changes brought from outside that have spoilt the life of the people here, Mamaruru says. When she was growing up there was a 7pm curfew, imposed by the church authorities. "And we still managed to have fun..." I note the twinkle in her eye.
Today there is no curfew. "People just sit in their houses with their TVs and DVDs and never talk to their kids," she says ruefully.
It means there's less transmission of knowledge across the generations. There's a lot about the past the young don't know, and don't want to know.
One morning a couple of days later, I'm sitting outside the little two-room house where I'm staying. If the island is a lush garden, which it is, this is a garden within a garden, suffused with the heady scents and brilliant colours of the South Seas.
My reverie is broken by the putt-putt of a small motorcycle. Koringo, another grandmother of the island, has arrived to do some cleaning. She's had eight children but rarely sees any of them. Three have died, one is on the main island, Rarotonga, and the others are in Australia and New Zealand.
Mothering remains part of her life though. She's bringing up her grandson and she tells me she's having a bit of a problem with what he wants to eat at school.
Aitutaki is a fertile island. It used to grow bananas and vegetables for export, a trade that's been destroyed by global competition. But there's still plenty of food available from the bush at no cost.
When she was a girl, Koringo remembers collecting food for her school lunch - coconuts, breadfruit, mango, papaya - all available and free. They still are, but her grandson has turned his back on them. He expects to be given money to buy his school lunch of chicken sandwiches, crisps, fizzy drinks. "Western food," she snorts. "They turn their noses up at local food."
The most pervasive connection between Polynesia and the wider world relates to food and diet. When Europeans arrived, Aitutaki was self-sufficient. Today the taste for "Western food", as Koringo calls it, has created a massive dependency on shipments from overseas.
Go into a grocery store on any Polynesian island and you'll see the reality of this on the shelves. Tinned corned beef, tinned pineapple chunks, spaghetti sauce, strawberry cake mix, with suppliers in New Zealand, Australia, the United States, even the Philippines.
Tinned corned beef seems an odd substitute for lagoon fish but people have developed a taste for it, and you don't have to go out and catch it.
A nutritionally inadequate diet is a major cause of diabetes and obesity across Polynesia, but remedying that would involve a huge and at present unlikely upheaval in the current pattern of trade, consumption and expectation.
It's my last Sunday in Aitutaki and I'm propping my bike against the mission school wall before going into church when someone calls out, "Good morning, John."
It is Mamaruru in yet another of her island roles, this time as leader of the Church Brigade. She has a troupe of girls with her, holding various flags from the Cook Islands, New Zealand, the UK. She marches them into church, like a broody hen with her chicks.
Towards the end of the service, the pastor makes an announcement. "We are honoured to have in our midst today a 101-year-old lady of the island," he tells the congregation.
Her name is Mama Caroline. She stands up, smiles, bows, a figure of grace and poise and clearly very much alive. She was once betrothed, I learn later, to the King of Samoa.
Looking from this beautiful old lady to the young girls giggling and fidgeting behind Mamaruru, I wonder how many of them will reach their second century on that diet of corned beef.
How to listen to From Our Own Correspondent:
BBC Radio 4: Saturdays at 11:30 and some Thursdays at 11:00
Listen online or download the podcast.
BBC World Service: Short editions Monday-Friday - see World Service programme schedule.