Bradley Manning's disrupted family life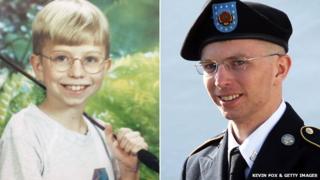 The trial of Bradley Manning has cast light on how he came to leak thousands of classified documents, and on his troubled childhood in a family splintered by divorce and alcoholism.
Susan Manning liked vodka - it was easier to hide. "If you put vodka in certain drinks, you can't really smell it," said her daughter, Casey Major, in a courtroom in Fort Meade, Maryland, last week.
She also liked rum and beer - and, really, whatever was in the house.
When she got pregnant for the second time, friends and family had mixed feelings. One relative, Debra Van Alstyne, testifying in court, said: "At first I said, 'Oh great.' Then I thought, 'Oh no.'"
At the time, Major was 11. Sitting in the witness stand, Major, now 36 and a homemaker who lives in Oklahoma City, counted on her fingers - adding up the weeks that her mother was pregnant - and drinking. She put her hands in her lap.
"At least through the first trimester," she said. Her brother weighed about 6lb (2.7kg) when he was born.
Pte First Class Bradley Manning, 25, showed signs of foetal alcohol syndrome, said Capt David Moulton, a clinical psychiatrist, who testified in court that day.
Moulton described Manning's facial features that characterised the syndrome, such as his smooth, thin upper lip, and looked over at him in the courtroom.
Manning has been found guilty of 20 charges, including multiple counts of espionage, theft of government data and computer fraud. He will be demoted to E1, a lower rank of private and the lowest rank in the military.
On Tuesday he was sentenced to 35 years, significantly less than the 90 that he could have spent in prison.
It is not clear to what extent, if any, the testimony about his upbringing affected the decision of the military judge, Denise Lind.
By then, she may have had a good idea what she planned to do. As retired military judge Gary Solis explained, she had already "heard the facts and the arguments from both sides".
Nevertheless, the stories about his upbringing leave an impression.
And regardless of the impact they may have had on the judge, this testimony helps to flesh out Manning's story, revealing what his childhood and adolescence in Oklahoma and Wales were like.
His mother naturally played a role in shaping him during those years. The descriptions of her life and her role as a parent help to show how he became the person he is today - for some, a traitor; to others, a hero.
Whether he is seen as cowardly or courageous, he is known around the world. For most of the controversy over the past three years, however, his mother has remained off stage.
Susan Manning, 59, who lives in Wales, gave an interview to the Daily Mail earlier this month, but otherwise has said little or nothing to journalists.
Efforts to reach her through friends and family for this article have been unsuccessful.
For Tim Price, author of The Radicalisation of Bradley Manning, who has had tea at her house, she is "just a Welsh mum who loves her children very much".
This was not the picture painted of her in the courtroom.
Susan Fox, as she was known before her marriage, is from Haverfordwest, Pembrokeshire, in south-west Wales. She grew up with eight brothers and sisters. In the 1970s, Brian Manning, a US Navy man, was stationed at nearby Cawdor Barracks.
One day in the early to mid-1970s, she was shopping at Woolworths and met Brian. They fell for each other and eventually decided to move to the US.
She had grown up in a noisy, crowded house and lived near cousins and other relatives in Wales. Suddenly she found herself in rural Oklahoma, with no close family, and in many ways cut off from the world around her.
Brian Manning worked as a project manager for Hertz, and they lived on five acres of land outside Crescent, a town in Logan County. They had a pond, a swing, two horses and a dog, recalled Major in court.
The nearest neighbour lived a quarter of a mile away, and her mother did not know how to drive.
In addition, it is not clear if she was fully literate. "I know she can read," said Major. "I'm not too sure about the writing part."
She talked with friends and family on the phone - and drank. When she was pregnant, she continued to drink, "but not as much", said Major. After her son was born, she went back to her routine.
She was "very friendly" when she started drinking in the middle of the day, her daughter recalled. "As the evening wore on, she would become sad. She would drink until she passed out or went to bed. In the morning she was mean, very mean. She would yell from the other room to get her cigarettes or to make her a cup of tea."
Major took care of her brother when he was a baby, bringing him milk at night when he cried. Her mother did not get up.
As Major testified about their childhood, her brother's face, marked with pimples, was expressionless. He fiddled with a ballpoint pen, his hands bony and pale.
Bradley had been a "happy kid", she told the court. "He had little trucks that he played with in the dirt."
As a photo of him as a child was shown on an overhead screen, a smile flickered across his face. He clicked his pen. Major choked up and reached for a tissue.
Their parents' marriage started to crumble in the 1990s, and one night her mother hit a low point.
"My mom took a full bottle of Valium and then she woke me up in the middle of the night and told me she had done it to kill herself," Major said.
She called 911 and was told it would take too long for the ambulance to arrive. She helped her mother into the back seat of the car and told her father to sit with her and make sure she was breathing. He climbed in the front.
"Unfortunately my 12-year-old brother had to get in the back and make sure our mother was still alive," she said.
The couple separated in 2000, and afterwards their mother moved back to Haverfordwest with her son.
Manning joined the US Army in 2007 and was sent to Iraq, where he floundered.
At one point, he was found on the floor of a supply room, "curled up in a ball with a Gerber knife", said Moulton. In May 2010, he released the classified material to Wikileaks and was arrested.
Two years ago, his mother sent a letter to UK Foreign Secretary William Hague, asking consular officials to visit him in a military jail in the US. In her letter, she said she had travelled to Quantico, Virginia, to see him.
During the sentencing hearings last week, however, she was not in court.