Does it make statistical sense to sack a football manager?
Hannah Barnes
BBC News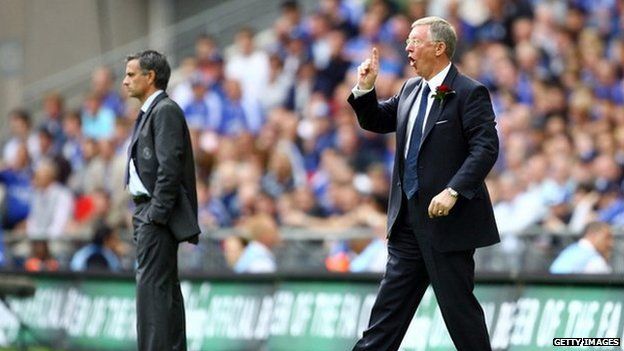 The top three clubs in the Premier League have new managers. But statistically speaking, do managers really make a difference to a team's performance?
Paolo Di Canio's enthusiasm was cited by the press as the reason Sunderland remained in the top flight last season.
When he took over the reins at the club, they were teetering on the edge of relegation and without a win in nine matches. Sunderland's future was not looking good.
After defeat to Chelsea in his opening game in charge, Di Canio secured back-to-back wins, first against local north-east of England rivals Newcastle and then Everton. But how much of this seemingly miraculous turnaround in form can be attributed to Di Canio himself?
Not much, according to Dutch economist Dr Bas ter Weel.
"Changing a manager during a crisis in the season does improve the results in the short term," he says. "But this is a misleading statistic because not changing the manager would have had the same result."
Ter Weel analysed managerial turnover across 18 seasons (1986-2004) of the Dutch premier division, the Eredivisie. As well as looking at what happened to teams who sacked their manager when the going got tough, he looked at those who had faced a similar slump in form but who stood by their boss to ride out the crisis.
He found that both groups faced a similar pattern of declines and improvements in form.
While Ter Weel's research focused on Dutch football, he argues that this finding is not specific to the Netherlands. Major football leagues in Europe, including England, Germany, Italy and Spain also bore out the same conclusion - teams suffering an uncharacteristic slump in form will bounce back and return to their normal long-term position in the league, regardless of whether they replace their manager or not.
And his theory seems to work if you look at what happened to other clubs in the English Premier League last season. The same week in March which spurred Sunderland to change the personnel in charge, Aston Villa were sitting at 17th in the table, struggling against relegation.
Villa too had been struggling to find form. Instead of dispensing with the services of manager Paul Lambert, however, the Villa board hung on and witnessed a turnaround in form. Over the same period of five matches Villa notched up two wins, a draw and two losses - exactly the same results that Paolo Di Canio achieved in his first five games in charge.
So how can this be explained? It's an age-old statistical phenomenon known as regression to the mean.
"In the same way that water seeks its own level, numbers and series of numbers will move towards the average, move towards the ordinary," David Sally, co-author of the football statistics book The Numbers Game, explains.
"The extraordinary, numbers-wise, is followed by the ordinary; the ordinary is followed by the ordinary; the ordinary is what happens. The average is what happens more often than not."
It's this phenomenon which is taking place when we witness a small bounce-back in performance immediately after a new manager is appointed. But crucially, it would have happened anyway, and may well have been much cheaper for clubs who sacked their managers to hang on rather than be faced with a hefty pay-off.
To put it bluntly, according to Sally "a short term decline in performance is not a good reason to be firing your manager".
And of course, there are some football clubs who change manager and continue to see a lousy run of form.
Languishing in the relegation zone last season, Reading dispensed with their manager, and brought in new blood - Nigel Adkins. Unlike Sunderland's turnaround though, Reading continued their dire run, recording three losses and two draws in Adkins' first five matches in charge. They were relegated.
If slumps in form are often naturally corrected, does it make no difference at all who's at the helm?
Ter Weel suggests that selection is at play.
"Managers and players sort in such a way that the best end up at the best clubs and the worst at the worst clubs. It is not a coincidence that Mourinho is with Chelsea and Guardiola with Bayern Munich. These clubs only attract the best managers. However, changing managers does not seem to improve the result. After releasing Villas-Boas [in March 2012] the performance of Chelsea did not improve."
Chelsea were fifth when AVB was sacked and ended the season in sixth. New manager Roberto Di Matteo did unexpectedly lead the club to Champions League glory. But Ter Weel's research looks only at league performance, not cups.
According to Sally, football clubs can be seen as any other business or company. Business research suggests that structural factors - such as how long it has been operating and which industry it is part of - are much more important than who the chief executive is. In money terms, around 15% profitability can be determined by the quality of the man or woman in charge and the same can be said for football managers, Sally estimates.
So back to this season of the English Premier League and the all-important question of whether Manchester United will retain the title. Sally is withholding judgement.
"The things that are set in stone at a club like United - that has a great stadium, a great tradition, all the facilities you would want - are very fixed in the long run and will ensure its success. But the performance of the manager - in this case Ferguson moving to Moyes - will be an important factor in its short term position in the table."