Could cricket have a big future in China?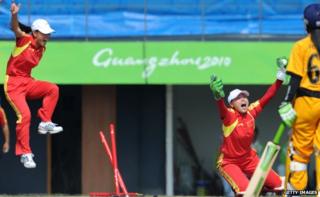 This weekend, sports fans in England and Australia are likely to be gripped by the Ashes. In China, they are more likely to be watching basketball. But could that be about to change?
"It's a paddle. For a canoe. Isn't it?" We had just shown a cricket bat to a lady in a park to see if she knew what it was.
Night was falling, and many people were strolling among the trees, enjoying cooler evening temperatures. From nearby came the rousing chorus of revolutionary songs, sung by dozens of men and women, who could remember different times in China.
Other passers-by, shown the bat, were similarly perplexed. But there was some recognition - one boy said he had seen some cricket coaching at his school.
That was reassuring, because this little unscientific experiment was taking place in the north-eastern city of Shenyang, described by some as the "cricketing capital of China".
Both the men's and women's national champions are based at the local sports university so I was to see some of those top players in action there. Before that though - and this will come as no surprise to any cricketer - it rained, on and off, all day. But fortunately, the huge pitch was all astroturf, with a green mat as the wicket.
Apart from grounds in private clubs and international schools in major cities, there is currently only one proper grass wicket in all of China, and that is in Guangzhou in the far south, in a cricket stadium purpose-built for the 2010 Asian Games.
So how good was the cricket I saw in Shenyang? There was certainly no lack of passion and commitment, and the sports university's women's 11 looked well-organised; their fielding was sharp, their sure-gloved wicketkeeper in particular impressed me.
She is part of China's national team, which, just seven years after the first courses to train Chinese coaches, is now near the top of the second tier of women's cricket in Asia.
China's men's squad lags behind the women, but I did get a chance to watch two of the men in action. I saw one of them, Sun Li, take a catch any Test cricketer would be proud of - sprinting towards the boundary, wet ball looping high over his shoulder.
The other was Shuyao. When I asked him what he loved about the game, he said: "It's like being in a family". Shuyao does not have wealthy parents - I was told he sometimes earns himself some money by going round student halls selling socks - but despite that, enough was raised for him to spend the summer of 2012 playing for Cleethorpes Cricket Club in the English county of Lincolnshire.
His top score there was 98. His score the day I saw him play: just two. He was out, leg before wicket.
His comment afterwards: "That was never LBW; the ball hit me far too high." Spoken like a true batsman, of course; another glimpse of how cricket and its traditions are being absorbed by those who have taken up the game in China.
Nevertheless, the obstacles facing the international bodies and local enthusiasts trying to develop cricket in China are enormous. Lack of tradition, equipment, and - given the apartment towers and shopping malls springing up everywhere - urban space.
I was also repeatedly told people in China do not really participate in team games. They watch, they consume. And while Chinese children may do sports at primary school, after that, academic and parental pressure leaves little, if any, time for sport as leisure, until they get to university.
Of course, this being China, much depends on official government policy. It seems cricket has now been included among optional sports for primary schools.
Who knows what interest that might generate? China's huge population means that if only one in 10,000 people there took up cricket, that would mean well over a 100,000 players.
What would change everything would be cricket regaining the Olympic status it had more than 100 years ago. As the official in charge of cricket at the Sports Ministry in Beijing told me, if Olympic medals were up for grabs, the ministry would swing into action.
Across China, boys and girls would be identified as potential Olympic cricketers, brought together and trained by top international coaches. China's national teams would rise up the world rankings. Only, though, in the short form of the game. T20 cricket is probably the only format that could be played at the Olympics.
As for China becoming a Test match-playing nation, let's just say that when I asked the man at the sports ministry whether he had ever sat through a five-day Test match, his response said it all: "Oh no, that would be torture."
How to listen to From Our Own Correspondent: BBC Radio 4: Saturdays at 11:30 and some Thursdays at 11:00. You can also listen online or download the podcast.
BBC World Service: Short editions Monday-Friday - see the World Service programme schedule.