Been and gone: Co-inventor of Twister and the father of fracking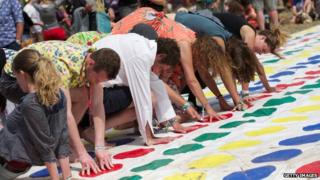 Our regular column covering the deaths of significant - but lesser-reported - people in the past month.
The game of Twister, co-invented by Charles Foley, has been responsible for a number of embarrassing social situations over the years. Foley had shown a genius for invention from an early age. He relinquished a job as a salesman to work for a toy company in Minneapolis in the early 1960s. Together with Neil Rabens he came up with the idea of a mat, with different colour circles, on which players would have to put their feet and their hands depending on the directions of a spinner. The craze took off after TV host Johnny Carson played it live on air with glamorous actress, Eva Gabor. The success of the game was based on the fact it could be played innocently by children, or less innocently by adults; indeed the company that made it was once accused of selling "sex in a box". Foley made very little money from Twister but, according to his family, that never dampened his enthusiasm.
Kay Matheson was one of four Scottish students who, on Christmas Day 1950, removed the Stone of Scone (also known as the Stone of Destiny) from Westminster Abbey. They were all members of the Scottish Covenant Association, an organisation campaigning for greater devolution for Scotland. The Stone, traditionally used in the coronation of Scottish monarchs, had been transported to England by Edward I in 1296 and its presence in London was seen by many Scots as a symbol of English dominance.
Matheson waited in a car while the three others broke into the Abbey and brought out the stone, which broke in two during its removal. Matheson took one piece and left it with a friend in the Midlands. She was also left with a permanent reminder of her exploits after dropping a piece of stone on her foot and breaking two toes. She remained an ardent Scottish Nationalist and was the only one of the four present when the Stone was officially returned to Scotland in 1996.
When, in 1960, Penguin Books was prosecuted for publishing Lady Chatterley's Lover, the defence solicitor Michael Rubenstein asked a friend if his daughter, Bernardine Wall, could give evidence. The charge was that the book tended to "corrupt and deprave" and Rubenstein correctly calculated that the 20-year-old graduate, who had read the book, would show that she had certainly not been corrupted by the experience. In the event, her testimony proved crucial in having the case dismissed in what is now seen as a landmark in the campaign for freedom of expression. Her picture appeared across the media during the trial and she was later invited to appear on the BBC's literary quiz programme, Take It or Leave It. As Bernardine Bishop she published two novels in the 1960s, then nothing else until the autobiographical Unexpected Lessons in Love, which described her battle with cancer.
Actress Eileen Brennan had been in the business for 20 years when she appeared as the unforgiving Capt Lewis in Private Benjamin. She excelled in the role as she gleefully explained to Goldie Hawn's eponymous character that her pampered existence was over and that she was no one's little princess anymore. Benjamin's revenge was to put indelible blue dye in the captain's shower, leading to Lewis appearing on morning parade in white pancake makeup. Brennan cut her teeth on the stage before becoming a regular but often unsung supporting actress in films, where she became noted for her trademark husky voice. She received praise for her role as the brothel madam in 1973 film The Sting, and Private Benjamin earned her an Oscar nomination.
George Mitchell pioneered the process of hydraulic fracturing, or "fracking" as it became more commonly known, a method of extracting gas from shale. He was also an active environmentalist who supported a large number of green projects, including an ecologically sensitive new town, now home to 100,000 inhabitants. The son of Greek immigrants to the US, he worked as a "wildcatter" in Texas drilling speculative holes in areas where oil had not formerly been found. Small-scale fracking was going on in Kansas in the 1940s but Mitchell perfected the technique, which enabled him to go much deeper into the shale holding the gas. During his career it was estimated that he had drilled 10,000 oil wells but had enough success to make a $2bn (£1.3bn) fortune, much of which he gave away through his own charitable trust.
The phenomenon of the supermodel owes much to entrepreneur John Casablancas. His Elite model agency, founded in the early 1970s, broke all the rules of the modelling game. He set out to turn his models into stars in their own right and ruthlessly poached the best-looking girls from other agencies by offering fees way above the level they had received before. Where established businesses had mothered their girls, Casablancas shamelessly pandered to their egos, promising them a glamorous lifestyle and much media exposure. He attracted some of the world's best-known catwalk faces, including Naomi Campbell, Cindy Crawford, Claudia Schiffer and Linda Evangelista. Casablancas admitted he took full advantage of being surrounded by beautiful women and had numerous affairs with his protegees. He quit the business in 2000 after a BBC investigation showed one of his senior managers propositioning a young model, although Casablancas himself was never implicated.
Also missed in July: