The quiet death of the alcopop
By Finlo Rohrer & Tom de Castella
BBC News Magazine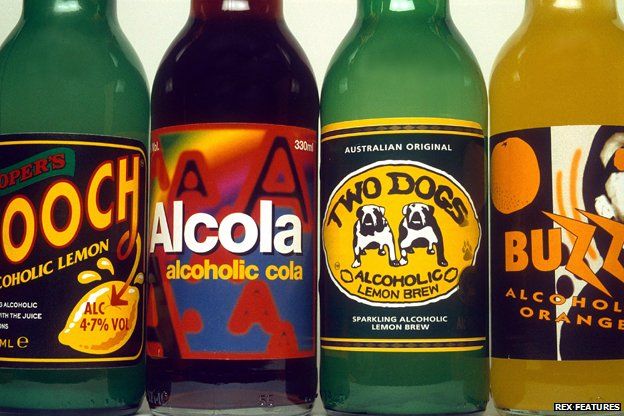 Two decades ago alcopops caused a wave of concern that led to increased taxes and new regulations for drinks makers. Was the panic justified?
The names and the labels were garish.
But not as garish as the colours and flavours. Lurid green might be lime. Carmine red might be cherry or watermelon. They were sugary and, in the mid-1990s, they were suddenly everywhere.
Walk into a student union in that period and you would see dozens of freshly initiated drinkers making "blastaways" by mixing Castaway and Diamond White cider. Slumping followed shortly thereafter.
Bacardi Breezer, launched in the UK in 1993, and Smirnoff Ice were the heavyweights of the alcopop sector. But surrounding them were an ever-growing coterie of brash siblings.
There was Hooper's Hooch, Two Dogs, Alcola, Vault, Tilt, and Lemonhead. There was WKD, launched in 1996, and later the progenitor of wave after wave of laddish advertising. Later there was VK, Red Square, and Reef.
The drinks industry might have preferred to call them "flavoured beverages", but in every British newspaper they were simply alcopops.
After the first arrivals in 1993 concern grew until, by 1996, the term was in widespread use.
Newspaper headlines screamed of the danger that children would be inveigled into drinking by clever marketing and branding. Headlines like "Alcopop Drug Barons", "Purge on 'Pop' Booze" and "Boozy Cola Rule Canned" were typical.
"We think that the creation of alcopops was a pretty cynical attempt to recruit young drinkers who don't naturally like the taste of alcohol by tempting them with flavours more likely to be found in soft drinks," recounts Emily Robinson deputy chief executive of Alcohol Concern.
"Marketing and branding these drinks in a style that appealed to young people was key to the success."
The mounting concern led to consequences. Supermarkets, like Iceland, took a stand by withdrawing alcopops. In the autumn of 1996, Chancellor Kenneth Clarke increased the tax on them by 40%.
The drinks industry had to respond to the deluge of negative publicity.
The Portman Group, funded by alcohol producers, had been set up in 1989 to encourage responsible drinking. But its first code of practice was directly prompted by the alcopop furore in 1996.
One of the first complaints was from Alcohol Concern. They argued that the cartoon lemon on Hooper's Hooch appealed to under-18s. Owners Bass accepted the findings and changed their packaging.
In the years since, the majority of complaints to the group have been about the "ready-to-drink" category, which includes alcopops.
But even with industry self-regulation, for the critics, the damage was already done.
"We're seeing the effects of the alcopops culture now among people in their 30s and 40s - those from the 'alcopops generation'," says Robinson. "Admissions to hospital for alcoholic liver disease for the under 30s has increased by 112% over the past 10 years. We're seeing people dying from liver disease now in their twenties and thirties which used to be completely unheard of."
But not everyone agrees that alcopops had a corrosive effect on the young.
Consumption of alcohol, having reached a peak in 2000, is declining in the UK. The number of people who never drink is rising. Alcohol sales are falling, with a drop of as much as 6-10% in the past 12 months, according to retail analyst Mintel.
Sociologist Dr Alasdair Forsyth believes that even in the 1990s the impact of alcopops on young drinkers was greatly exaggerated. During his research in that period he asked young people what alcohol they had consumed and whether they became drunk on that occasion.
"The proportion saying they were drinking [alcopops] increased but the proportion saying they were getting drunk decreased."
Forsyth and fellow researchers found vodka and white cider were the real culprits.
"It was the complete opposite of what was said in the panic," he argues. "The alcopops were too expensive for the teenagers. They wanted vodka. They weren't interested in lemonade."
Alcopop sales have been in freefall. According to Mintel, the whole of the ready-to-drink sector was worth £1bn a year in 2005 and has fallen to half that now. Much of that decline has been in alcopops.
"The problem came down to image - they stopped being seen as aspirational," says Chris Wisson, senior drinks analyst at Mintel.
"It was a particular problem for male drinkers - WKD is still marketed at men but most men have moved on from alcopops."
There are still plenty of drinks aimed at the palates of drinkers who don't want a strong boozy taste - such as the likes of Crabbies Ginger Beer, Ginger Grouse and Mike's Hard Lemonade.
The flavoured cider market is booming. Brands like Kopparberg (flavours include elderflower and lime and mixed fruit) and Rekorderlig (flavours include mango-raspberry and strawberry-lime) have rapidly become prominent. "You could say they are a direct descendant of alcopops," says Rob Willock, editor of the Publican Morning Advertiser.
The tastes of young people have changed.
"The image of the younger drinker going out and getting drunk is not very cool anymore," says Wisson.
Lower alcohol drinks are becoming popular, suggests Wisson, with both Jacob's Creek and Blossom Hill marketing 5.5% wines.
"[Alcopops] enjoyed a classic product life cycle," says Willock. "When they burst on to the scene they were very popular. The moral panic that ensued did damage their prospects. They disappeared almost as quickly as they arrived."
The decline in alcohol consumption has been particularly sharp among those aged 16-24. But a critic might note that consumption among the same group rose rapidly during the alcopops boom years in the 1990s.
However, for Forsyth, the alcopops furore was a classic scare. "It has to be something new, something scary, that can be levelled at children, that gets people's backs up."
It's unlikely that alcopops will make a comeback, suggests Wisson.
"Part of the problem is they've almost become demonised as something leading to binge drinking especially among younger consumers.
"The name itself is part of the problem - alcopops suggested an element of juvenile immaturity."