The bitter battle over Alaska's salmon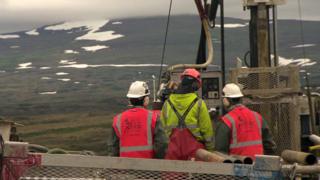 Alaska's fishing community and mining industry are engaged in a bitter battle, with fishermen arguing that a planned gold mine risks poisoning the waters where Pacific salmon spawn. The debate has forced Alaskans to consider what kind of future they want for their wild and sparsely-populated state.
In summer camps across America youngsters hike, swim and toast marshmallows by the fire. But they play by different rules in south west Alaska.
In Dillingham, a small town at the mouth of the Ishugak river, children as young as six go to camp to learn how to gut and bone a sockeye salmon.
Youngsters who show promise with the filleting knife are introduced to the joys of the smokehouse. Nobody goes home without a strip of dried salmon to chew on.
Kim Williams, mother of six, camp leader, subsistence fisherwoman and stalwart of the Yupik tribe, says it is vital to pass on practical skills to the next generation.
"Our people have lived off fishing for thousands of years," she tells me, as a rich aroma of woodsmoke and singed salmon meat hangs in the air. "It's our past and our future."
Kim and her family catch salmon the old-fashioned way. They string up a net close to the bank of the Ishugak and haul it in when they see fish thrashing in the mesh.
It is a satisfyingly simple art, and it works.
But the salmon harvest is also a billion-dollar business. Commercial fishermen from Seattle and beyond haul in tens of millions of fish between June and September.
The catch is sliced, diced, canned, frozen, smoked and salted with relentless efficiency in processing plants along the Kvichak estuary. Then it is shipped all over the world.
The indigenous fishermen, the commercial fleet and even the sports anglers who breeze into Dillingham in their private planes all abide by the strict rules imposed by Alaska's fish management team.
If the numbers of salmon reaching the spawning grounds are down, then fishing permits are suspended. First priority is always given to the long term sustainability of the world's greatest wild salmon run.
But for how much longer can that be guaranteed?
A cloud of uncertainty hangs over this corner of Alaska.
It comes in the form of a plan to dig one of the world's biggest copper and gold mines in the upper reaches of the Bristol Bay catchment area.
The Pebble mining company - part owned by the British minerals giant Anglo American - wants to extract billions of tons of copper ore from a hole in the ground at least two miles wide and half a mile deep.
The mine could be worth up to half a trillion dollars.
Pebble's boss John Shively invites me into his helicopter to tour the site. We swoop over an intricate tapestry of lakes, hills and narrow streams.
An empty land where bears, caribou and wolves have no need to fear human predators.
"The pit will be over there" he says pointing along a shallow valley. "And the waste will be held in reservoirs over there."
John Shively believes a giant copper mine generating billions of tons of potentially toxic waste is exactly what this wilderness needs.
"If I thought this mine would poison the water, and harm the fishery do you think I'd be here?" he asks.
"This mine will give the local tribes what they really need. Jobs and the chance of a better life."
That is not the way the fishing folk of Bristol Bay see it.
They have heard independent scientists question the wisdom of storing billions of tons of dangerous waste in vast reservoirs close to a geological fault line.
And they worry about the leaching of copper compounds and sulphuric acid into the river network.
Outside her smokehouse on the Nushagak river Kim Williams puts it simply: "The salmon is our source of life. We cannot put it at risk."
She has even been to London to tell Anglo American's board to dump its interest in Pebble mine.
The battle between fishing community and mining industry has divided opinion. Even the dominant Republican Party is hopelessly split.
Rick Halford, a former president of the state senate and architect of a raft of pro-mining legal reforms has had a change of heart.
"I never met a mine I didn't like" he tells me ruefully, "until now".
He invites me to enjoy the magnificent view from his lakeside home outside Dillingham.
"I'm no tree-hugger," he says "but Pebble is the wrong mine, in the wrong place".
A proud and sustainable fishing community locked in a conflict with a mining industry promising a once in a lifetime opportunity bonanza.
Alaska has a choice to make, which will do much to define the future of America's last frontier.
Stephen Sackur travelled to Alaska for HARDtalk on the Road. Watch part one on climate change on Thursday 25 July 2013 at 10:35 BST on BBC Two, and part two which looks at salmon and mining on Tuesday 30 July 2013 at 10:35 BST on BBC Two.
How to listen to From Our Own Correspondent:
BBC Radio 4: Saturdays at 11:30 and some Thursdays at 11:00
Listen online or download the podcast.
BBC World Service: Short editions Monday-Friday - see World Service programme schedule.