Who, what, why: Where are all the wasps?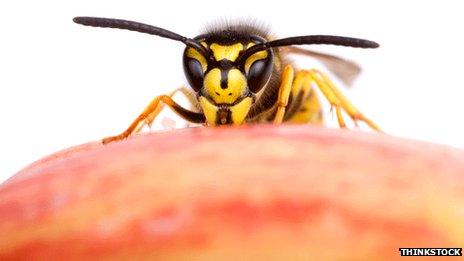 It's summer, the sun is shining across the UK, but there don't seem to be many wasps around. Why?
Summer has finally arrived and people have decamped to gardens, beaches and parks en masse. But something seems to be missing this year. By July people are usually swatting wasps away from picnics, barbecues and ice creams at an annoying rate.
Wasps usually start appearing in the UK around the beginning of May, depending on the species. So why are there so few of them around?
Numbers are low so far this year because of a huge decline in the wasp population in 2012, say experts. That drop was the result of fluctuating temperatures earlier in the year.
No quantitative data is available for wasp numbers in the UK. Unlike butterflies and bees, there is no official recording scheme, but many experts working in the fields of entomology, biodiversity and conservation say numbers appear to be significantly down.
An unseasonal spell of good weather in late February last year is being blamed. It resulted in mated queen wasps coming out of hibernation early, experts say. Temperatures soon dropped again and many of them died because of a lack of food.
"A stop-start spring is not good for wasps," says Alan Stubbs of Buglife conservation charity. "The one we had last year was a disaster for them. Low wasp numbers so far this year are a hangover from that. There are not so many queens to establish new colonies."
When it comes to wasps it's all about the queen. She establishes colonies and lays the eggs. At the end of summer a nest can contain up to 5,000 wasps on average. If it has been a particularly hot summer this number can increase to around 10,000.
Usually the young queens come out of hibernation when the weather starts getting warmer. If the weather continues to stay fine they build a nest and lay their eggs. The first larvae they lay become sterile female workers who take over the hunting and feeding duties for the growing colony. The queen then restricts her activities to egg production.
Towards the end of the summer, she is at her peak and begins producing the next generation of queen wasps and males or drones. When these mature they leave the nest to mate with wasps from other colonies. As the weather cools, the male wasps die and the mated queens go into hibernation to get ready for building a new nest the following spring.
After last year's big drop in numbers, it could take several years before wasps fully recover, says Brian Eversham of the Wildlife Trust for Bedfordshire, Cambridgeshire and Northamptonshire.
"It could take four to five years before we see numbers recover."
But some experts say there is a chance that wasp numbers could pick up later this summer, as nature is running a little bit late due to the cold spring.
"We are nowhere near the peak time for worker wasp numbers yet," says Stuart Roberts from the Bees, Wasps and Ants Recording Society (BWARS), a volunteer recording society which collects data on the insects.
"Things are running about three weeks behind schedule due to the late spring. It's likely that numbers will be down this year, but I think it is a bit too early to say for sure."
While people might not miss wasps buzzing around them, a decline numbers is not good for nature.
"Wasps are part of the balance of nature," says Stubbs. "For example, they eat insects that many people consider to be pests."
But pest control companies say there was a huge drop in call outs for wasp infestations in 2012, and numbers have remained low so far this year.
"Usually from June to September you would expect to get one call out a day about wasp nests," says a spokesman for PPC Environmental Limited in Northern Ireland.
"Last year there was a huge drop in people contacting us about wasps. I know of some companies that didn't get one single call in the whole 12 months."
It's not all bad news for wasps. This year's late spring could actually help build up wasp numbers in 2014, say experts.
"It's been cold but it's been consistently cold," says Stubbs. "It means queens who have survived will have stayed in hibernation for longer and will have emerged when the warm weather started with lots of energy to lay eggs."
There could also be a bumper crop of fruit in September for wasps to feed on. The cool weather earlier in the year also meant apple trees remained dormant for longer and are now putting that stored energy into producing fruit.
Related Internet Links
The BBC is not responsible for the content of external sites.