Soldier deaths: How dangerous is military training allowed to be?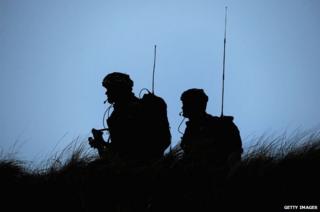 Two Territorial Army soldiers have died while training in the Brecon Beacons on the hottest day of the year. How dangerous are training and selection exercises allowed to be?
As temperatures reached 30C (86F) on Saturday, a group of soldiers was on exercise in the unforgiving terrain of the Brecon Beacons.
The mountains are often used for military training, but on this occasion two soldiers died. A third serviceman remains in a serious condition in hospital.
It is understood that the three were taking part in a selection process for the Territorial SAS, although this has not been confirmed by the Ministry of Defence (MoD).
But just how gruelling is the training?
Essentially soldiers prove their physical aptitude by carrying large amounts of equipment up and down mountains for three weeks, says former British Army Col Lincoln Jopp MC, who has taken part in the training himself.
"It's like an Olympic event - you've got to make it in a certain time depending on the conditions," he says. "If you make it through to the end of the day you make it through to the next day."
The MoD says there are rules and risk assessments for all training and selection exercises, whether it involves live fire exercises, hill walking or simply going for a run. But it's not easy for outsiders to find out what the rules are or how they are applied.
Two major SAS selection processes take place in the Beacons - one in summer and one in winter. Both pose serious challenges for the candidates, says Nick Brown, editor-in-chief of Jane's International Defence Review.
Soldiers have died there in the past, a number of those have been in winter snows, he adds. The most recent death of a soldier there was in January. The Daily Mail reported that Capt Rob Carnegie, 30, of the Royal Signals, had been on a march as part of an SAS selection, in freezing conditions.
The army holds figures on non-operational deaths but these are not specifically broken down to show whether soldiers were off-duty or on training exercises at the time of death.
Brown says fatalities are "very, very rare".
"There are ultimately no limits on training if the ends justify the requirement, but every element has to be risk-assessed and - like any employer - the MoD has a duty of care for its personnel," he says.
"There are health and safety requirements for all phases of training."
At its most basic level, military training is "aggressive camping" - no use of live rounds or explosives but with soldiers orienteering and carrying gear.
The training is ramped up depending on its aims and the closer troops get to deployment.
"There is always an element of danger with any exercise or training event, but during the SAS selection and early training phases, much of the emphasis is on endurance rather than peril," Brown says.
Generally soldiers on SAS selection would be expected to carry a significant load a long way over steep and broken ground, says Brown.
Exact details of SAS selection and training are not publicly recorded, but many sources cite 40 miles of navigation and ground-covering exercises carrying a pack weighing a minimum of 25kg, minus weapon, water and food, explains Brown.
"That sounds like a lot, but all soldiers are expected to shoulder a serious burden these days. Despite several major programmes to cut weight over the last decade, British Army infantrymen still regularly patrol Afghanistan with 55-66kg of equipment."
Some have even carried up to 70kg, he says.
"The major difference is that the soldiers in Wales are under pressure to move fast, covering those 40 miles in under 20 hours with no support vehicles or en route resupply," says Brown.
In 2000, the death of an army cadet prompted criticism over the army's training policies. Graham Holmes, 23, from Edinburgh, died after taking part in a fast march followed by an assault course.
Dr Alan Porter, a retired GP, said in the Lancet medical journal that training exercises responsible for heat illness were "not only irrelevant but also foolhardy and irresponsible".
Col Richard Kemp, a retired commander who trained on the Beacons throughout his career, says nowadays the safety aspect of training is usually "really well looked after".
But when it comes down to it, these soldiers want to achieve their ultimate goal, says ex-army officer, Hugh Andree.
"It comes back to that old adage of having to train hard to fight easy."