Rachel Bruno: My dad Frank, bipolar disorder and me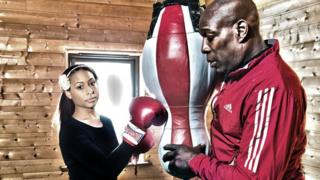 Around one in every 100 adults is diagnosed with bipolar disorder or manic depression. Former boxer Frank Bruno has battled the illness and his daughter Rachel explains the effect this had on her and her family over the years.
I knew who Frank Bruno was, but I didn't really know who my dad was. I'd lost him for a lot of years because of his illness.
When he's poorly, he can't be a dad and it took a big chunk of our relationship away.
He was crowned heavyweight champion of the world in 1995 and became a television personality and national treasure, but then his world was turned upside down. He was defeated by Mike Tyson in a fight the following year that was to end his career.
His eye had been badly injured and he was told by doctors that if he continued to fight, he risked going blind, so retired from the sport.
Although he had been struggling before, retirement hit him hard, and a marriage breakdown and lack of routine and fights to prepare for meant everything started to spiral out of control.
His behaviour became more and more unpredictable. He had a massive boxing ring in the garden that he sometimes slept in, started hearing voices and thought he was other people at times.
His behaviour got so erratic that he was sectioned under the Mental Health Act in 2003, aged 41, and admitted to a mental health unit in Essex. I was only 16 years old at the time and my elder sister Nicola, who was 20, had to sign the papers to have him sectioned. She still feels guilty about this but says she doesn't know where he would be now if he hadn't received help.
It took nine hours to get him into the ambulance and it was so sad because he was begging us not to do it. I think it was the first time a celebrity had ever been sectioned and we were hounded by the press who camped outside our house.
People think celebrities are totally different to everyone else, but my dad is just the same as any other man out there. He was sectioned in exactly the same way as anyone else would be.
The next time I saw him in the hospital, he was heavily sedated and like a zombie. He was diagnosed with bipolar disorder and prescribed medication.
My dad's illness affected us all differently. The saddest thing was my dad always wanted a son and my brother Franklin was conceived via IVF, but the year he was born was the year my dad became really unwell. I wish that Franklin had got a chance to see my dad the way my sister and I did.
When my dad was manic, he never needed to sleep or eat, he was really restless and lost a lot of weight, because all he knows is to go to the gym, but going to the gym once or twice is not enough, he has to go three or four times.
He has this look of mania in his eyes when he's really poorly and I think he had psychosis at times as well, but other people are different with bipolar and they can be very low.
I wanted to find out more about the illness so that I could understand it better and spoke to psychiatrist Dr Mark Salter who told me that the condition affects a person's moods, which can swing from one extreme to another.
"The chemical side of treating manic depression seems to be about stabilising or preventing major mood swings or emotional storms from welling up from the [part of the brain that affects your mood].
"That emotion you see at the bottom of the brain pushes ideas out of you when you're manic. It gives you so much energy. It's almost as though when you're high there is a disinhibition of all your raw desires and instincts."
I asked my dad how he used to feel during a manic episode and he described it to me.
"Sometimes when you get high… you're rushing and you're tripping over yourself, you know what I mean. Your brain is speedy, more than you should be speedy and you may lose control."
Stressful or life-changing events can sometimes trigger the symptoms of bipolar disorder and it is likely that my dad's retina injury and retirement could have been a trigger. My dad was sectioned again twice last year, but after leaving hospital this time knows he needs to take his medication. I think it took a long time for him to realise he was actually poorly.
Mark Salter says that having bipolar disorder doesn't mean your condition can't improve.
"We say in this business nothing predicts the future like the past. If a person has had illness and come out of it, they will come out of it again. It might sound silly but each one of [his] relapses is a chance to learn how to do it better next time. You can bounce back."
I think unless you've been through it yourself, or your family has been through it, people don't really understand what bipolar disorder is, how difficult it is to manage and how it can break up a family.
My sister and I found out about a support group where we could meet other people with bipolar and their families who were going through the same emotions as us.
I did worry that bipolar disorder is thought to be linked to genetics and that family members have an increased risk of developing the condition. I have always been hyperactive, but I know the signs, and it's never got to a point where I'm too hyper or too low. I know that I don't have it and Dr Salter has reassured me that genetics only plays a small part.
"You'll hear an awful lot of things talked [about] especially on the internet where you get some quite sensationalist people that say it's 10 times greater risk, but that's not 10 times greater chance of getting the illness, because genetics is only one small part of the story. It's the life you live, it's the things you do, it's the stuff that happens to you."
When I go on to have kids, it does worry me that they might have the condition, but it's something I will have to deal with at the time.
Finding out more about bipolar disorder has meant we have grown closer as a family and we have started to be more honest with each other. This is the first time since my dad's diagnosis that he's actually following a plan and he's stuck to it.
He's on medication, and I know it's not the dosage that he wants to be on, but he's still following the programme and that's a real positive. There is such a lot of love for my dad and I'm always going to be there to support him.