In defence of the Valleys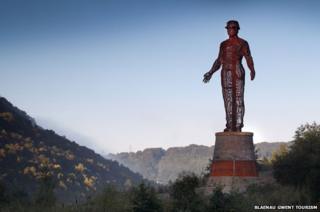 Mark Easton's recent article on deprivation in Blaenau Gwent provoked debate. Here, one resident, Sarah Bees, explains why she thinks the south Wales valleys have had an unfair press.
The instant the words "I am from the Valleys" leaves a person's lips an image is created. The image coincides with deprivation, depression and desolation.
As a person who has grown up in the centre of the south Wales valleys, this image is not something that I associate with my home town of Ebbw Vale.
When I look around the town that I live in, I see many things - beautiful mountains that seem to go on forever and many friendly faces that are always happy to say hello.
I am a short journey away from Cardiff or Swansea and within 15 minutes I am able to enjoy the idyllic surroundings of the Brecon Beacons national park. The town is peaceful, tranquil and has the picturesque beauty that only Wales can provide.
But as I have grown older, I have become more and more aware of a sense of negativity surrounding my town - especially when I moved away to university. I suddenly felt labelled with an image that was completely different to the person I was. People would seem surprised that I was from the Valleys and actually in university.
I completed my degree and continued to study towards a professional qualification, determined to achieve the career that I always dreamed of.
What is most sad and disappointing about the image that has been imposed upon Ebbw Vale is that it does not reflect anything positive about our community. If people took the time to look at the whole picture, without a tainted, stereotypical view they would see so much positive work that is being carried out in Ebbw Vale on a daily basis.
I am not the only person that has attended university. Many of my classmates and students in the year above and below me attended university and now have successful careers in a range of professions from doctors and nurses, to accountants and architects.
Deprivation in the area doesn't mean that higher education is only for those who have parents able to financially support them. There are many grants and opportunities of support within the community.
An example of this is "Teach First" which looks to challenge stereotypes surrounding children who come from poorer backgrounds by supplying funds for further education. There is no doubting that there are many issues with deprivation in the Valleys but there is help to hand and opportunities to further education.
I am not naive in knowing that there are many issues to be resolved in the Valleys and particularly Blaenau Gwent. One huge problem that the town faces, aside from deprivation, is a lack of aspiration in young people.
The stereotypes that are forced upon the residents of Valley towns are a major part of this problem. Whereas the residents of wealthy areas are expected to succeed in life and develop impressive careers, the residents of Valley towns are expected to only aspire to minimum wage jobs or to just simply to fail.
If the positive work carried out in the Valleys towns and the success stories of those with impressive careers were highlighted, instead of the continuous drone of negativity, then maybe more young people would be inspired to become successful professionals.
There are so many positive examples in the Valleys that do not receive the recognition they deserve and should be used to inspire people instead of constantly concentrating on the negative stories that come out of the area.
The communities of Blaenau Gwent have nurtured many talented individuals (a recent example being artist Nathan Wyburn) and fantastic community groups such as Abertillery Youth Drama and Music Society, which has won many awards for their exceptional work.
What was once the centre of life in Ebbw Vale - the steel works - is now the site of a brand new school, tertiary college, theatre, leisure centre and hospital.
The modern buildings are a perfect example of what the future of Valley towns can be - industry may have left but that does not mean our towns have to die and if we learn new skills, invest in education and aspire for more then there are no limits to the possibilities and improvements that lie ahead.