Who, what, why: When can you legally travel without a passport?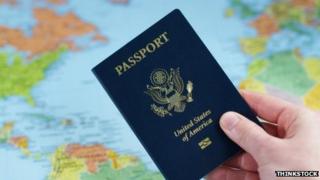 Fugitive Edward Snowden is hoping to get to Ecuador, despite not having a valid passport. So when can you legally travel without one?
The US state department has revoked Snowden's passport and asked other countries to prevent him from travelling.
Wanted on espionage charges, the American flew from Hong Kong to Moscow on 23 June - using his US passport, according to one of his lawyers - and has applied for asylum in Ecuador.
On Monday, a seat was booked in his name on a flight to Cuba, but he was not seen on board.
A passport is usually a condition of international travel, so under what circumstances can one travel without one?
Wikileaks founder Julian Assange claimed that Snowden had a "special refugee travel document" issued by Ecuador, though the South American nation has since denied that any such document was authorised by Quito.
Millions of refugees cross borders without passports as they flee persecution or fighting.
In 2012, more than seven million people became refugees, according to the United Nations.
Without passports, people would be expected to present some other form of identification, says Larry Yungk, a UNHCR resettlement officer. Some refugees can be registered at a border with no identification at all.
"It's really up to the receiving country whether they wish to accept someone into their country without a passport," says Lavinia Limon, president and chief executive officer of the US Committee for Refugees and Immigrants.
The US admits about 60,000 refugees a year from all over the world, she says, and only a handful have passports.
They are each interviewed overseas face-to-face by officials from the Department of Homeland Security to establish whether they are genuine refugees and meet admission criteria.
A document called an I-94 is issued in lieu of a passport and travel to the US is arranged for each one.
"Let's say we're taking people from Malaysia and they have to stop in Hong Kong before they can get to LA," she says. "Hong Kong recognises these are US travel documents and lets them through."
Other countries such as the UK and Canada issue similar documents, as does the International Red Cross.
If a particular state wants to allow someone to travel on a state-owned airline, they have the right to do that without even issuing papers, says extradition lawyer Douglas McNabb, if the receiving country agrees.
You can also travel without a passport if it is stolen or lost while abroad.
"You can hang around for days waiting for a new passport," says Simon Calder, travel editor of the Independent newspaper. "Or you can get on a plane with something from your consulate that says 'this person is OK, let him or her take a one-way flight to their destination.'
"But it's rare and any kind of document like that is a get-out-of-jail-free card - go straight to your destination and don't mess around."
There are also special relationships between countries that entitle their citizens to travel between them without a passport.
For example, US citizens can travel to US territories like Puerto Rico and Guam with approved photo ID.
Beyond that, Americans always need a passport to travel by air, although US and Canadian citizens can visit each other's countries with pre-approved Nexus cards.
There are some exceptions to the mandatory passport rule if American citizens are visiting other North American countries by land or sea, according to the US State Department website.
So if they are going to the Caribbean or Bermuda, for example, then a passport card, rather than the passport book, will be accepted. And an enhanced driving licence or military identification can also be sufficient.
The UK and the Republic of Ireland have formed the Common Travel Area, in which photo ID is usually sufficient for citizens of both countries. Immigration officers can ask for proof of nationality, so government advice is to carry one.
In 1995, 26 European countries formed the Schengen area of free travel without border controls. But passenger carriers such as airlines can still impose identity checks that may include a passport.
National identity cards are also accepted in place of passports for member countries of some regional alliances.
These include the Economic Community of West African States, the European Union and some neighbouring countries, the Cooperation Council for the Arab States of the Gulf, and Mercosur in South America.
Not that Queen Elizabeth II has ever to worry about carrying one. As the person who officially issues them, she is the only Briton who is exempt.