Peter Day: A decade of not reclining in flight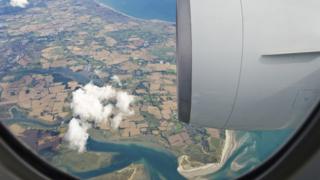 Not so very long ago, air travel seemed impossibly glamorous. Today, it's more associated with long queues, a scramble for seats and a chronic lack of legroom. But flight still has moments of magic, for those who look for them.
Nearly 10 years ago, I made a rash vow in a report for From Our Own Correspondent on BBC radio.
I had been on a reporting project that had taken me twice round the world. I had queued at dozens of airports, taken lots of planes.
But the worst thing about air travel (I then determined) was what happens in row 21, when the seat belt signs are switched off and passengers are free to move around.
Immediately, zonk! Back comes the seat as the person in front assumes relax mode as a default position.
The mean battery hen space already allotted to an economy class passenger is clipped even further.
You are suddenly presented with eight or 12 hours of prison.
So, faced with the anonymous unpleasantness of the passenger in front of me, I made a public vow. Never again - I promised listeners - would I press that tempting shiny button on the right hand side of the armrest.
And ever since, I have not (unless, that is, I happened to be right at the back of one of those planes that allow the seats with only the lavatories behind them to be reclined, not all do).
Musing on this penitential servitude the other day led me to think about the changes in in-flight experience that have happened over the decades.
Go back 30 years and the idea of air travel as some kind of luxury was still in place, even in economy class.
The "luxury" status was reflected mainly in booze.
Pre-meal drinks served as soon as the seatbelt lights went out often included those silly tiny bottles of Champagne, sealed with a mock plastic cork, sometimes for a small premium charge.
And after the aperitifs came the second round of drinks served with the meal.
And then with the coffee came a choice of liqueurs, as though it was everybody's absolutely normal mealtime practice to finish off with a sticky treat.
A weird reliance on alcohol as a signifier - the way you knew you were up in the air and having a good time.
But this was in the days before much in-flight entertainment.
Anyway, the days of getting high in the sky on airline alcohol are now somewhat diminished, but not yet abolished like smoking.
One curious privilege remains to be enjoyed pretty exclusively by the economy class passenger, which BBC reporters are eternally obliged to be.
It is a seat with a view, and I call it curious because for the most part it is denied to travellers in more exalted and expensive classes.
The configuration of first class and those dormitory-like business class cabins thrust the flyer away from the windows so their flight is viewless.
If you want to look out on the magnificence of the Himalayas you have to kneel upright and hang your head over the back of the business class seat.
First class flights achieve an illusion of exclusivity by pushing the seats towards the centre of the cabin so it is almost impossible to lean towards the window and look out.
And as for that fairly new revenue-earner called premium economy plus or some such, well the extra legroom would be welcome (and perhaps even worth paying for), but for the fact that most premium economy seats seem to be positioned over the wings, denying you a view in exchange for your premium ticket.
And more and more as I travel, a view is the only thing I want: the splendours of a daytime flight home from Beijing, over the snowy Gobi desert and Ulan Bator from 37,000 feet and then the Urals and the magnificence of a snowbound St Petersburg laid out like a map below are genuinely thrilling.
Or the temporary glory of the Aurora Borealis, glimpsed on an overnight flight to London from San Francisco, great green curtains of shimmering Northern Lights, encountered only because I defied the insistence of the stewardesses who like the window blinds kept down at night, and sneaked a view of the Arctic sky.
I wanted to alert the whole cabin to the extraordinary spectacle that was going on just outside the window, but they were immersed in the movie or fitful sleep.
I kept my silence and the shimmering magnificence dwindled to nothing after a wonderful 10-minute display.
The reward of flying is a simple one. Not a tangle of frequent-flier miles, but a seat with a view at 35,000 feet, clear weather and a decent flight map to tell you where you are, not one of those where the plane stretches out its silhouette out across half a continent.
A seat with a view is even worth the unpleasantness of sticking to my 10-year-old vow of abstinence from tilting my seat back to relax.
Relaxation is an over-rated activity, anyway.
How to listen to From Our Own Correspondent:
BBC Radio 4: Saturdays at 11:30 and some Thursdays at 11:00
Listen online or download the podcast.
BBC World Service: Short editions Monday-Friday - see World Service programme schedule.