Readers' photos of faces glimpsed in things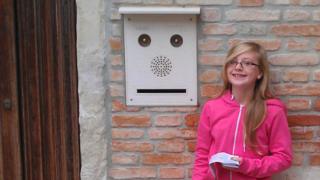 A recent Magazine article looked into the phenomenon of pareidolia - where people see faces in inanimate objects.
In response to the piece, readers have been sending their own examples of faces glimpsed in the landscape, in objects and even in food left-overs. Here is a selection of some of the best:
1. Patrick Allen took the picture above of his daughter Daisy on holiday - he says: "Venice is full of faces in strange places. None more so than the combined letter-box/door-bell 'faces' that can be found outside many houses."
2. A face in my salad. Davina
3. We found this image of the face of a little elf in our wooden floorboards. Molly Edbrooke
4. Tomato grown in summer 2012. Andrea Hatley
5. Found this on Google Maps. The face is situated near the village of Eversley on the Hants/Berks border. Gary Slade
6. I spotted this in Warkworth, Northumberland in April this year. Amanda Cockburn
7. It's a sad omelette... which I ate. Does that make me a bad person? Its mood didn't appear to spoil the taste in any way, although I guess my feeling of guilt may have tainted the whole meal a little. Mike Jones
8. I found this cat's eye thrown into the ditch at the side of the road in Perthshire. Years of being driven over has clearly had an effect on his mental wellbeing. Antony Phin
9. I baked this wonderfully crusty loaf last week. When I flipped it over it looked remarkably like ET. I have to say, it tasted wonderful. Brian Docherty
10. Here is a crisp with a face. Unfortunately, I don't see a resemblance to any famous person - other than Mr Happy, perhaps. Graham Elder
11. My son saw this face staring out after having a bowl of chips liberally laced with ketchup. Spookily, it looks a bit like me. Tony Hainsworth
12. Mountain troll's head seen at the side of Skogarfoss waterfall in Iceland. Jennifer Peers
13. Bird images on a tree in a friend's garden. Terry Bass
And, as a bonus, one spotted by the Magazine - a watering can which made a small child scream "Man! Man!" owing to its resemblance to an Easter Island-esque face.