An awkward brush with the Dubai expat vodka set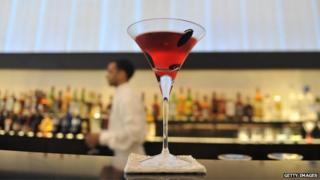 Boom times in Dubai are attracting more and more Westerners - but a night with the expat elite was an awkward experience for the BBC's Paul Moss.
It was lucky, really, that I was too late for dinner - the bill at the restaurant came to $210 (£137) per head, service not included.
And the guests seemed to pay up without so much as blinking.
But this was my first full evening in Dubai. I had things to sort out. And so it was not until 23:00 that I found myself being shown to the table, dessert already finished, post-prandial drinking now in full swing.
"More vodka!" my host was yelling. It was hard to see whether this was an order, a suggestion, or maybe just a statement of achievement: "More vodka!"
A bottle of Russia's finest was quickly consumed, and then we moved on to gratuitously-complex cocktails, mine made up of tequila, grapefruit juice, freshly-ground ginger, coffee, and whipped cream.
I should not have been surprised really. Even the directions to the restaurant smacked of excess.
"Take a cab to the Boulevard, walk past Bulgari, past The Ivy, take a right at Cartier, and you can't miss it."
I found myself wondering if one might have to pay a fee just for having the audacity to show up there.
And they were right, you could not miss the restaurant.
Its decor was straight out of an interior design magazine, as if the owners had started with a touched-up photograph, and then magically rendered it into three dimensions.
"Isn't this so perfect?" purred my host, who came from Iran. "Definitely the best place in town, no?"
The question was clearly rhetorical, but in fact the woman sitting opposite at the table begged to differ.
"We were at Teatro last night," she said. "I just love that place."
It was the opening salvo in a contest of connoisseurship, but a contest that was won surprisingly fast.
"Oh," said my host, suddenly crestfallen. "Maybe we should have gone to Teatro tonight."
She looked like she was going to cry, and hurried away to the toilet.
One heel had broken off her very high-heeled shoes, making her drunken gait even more unsteady - as if Charlie Chaplin had a lesser-known, and even more comical sister.
I found myself with a new neighbour, her opening conversational line designed to offend.
"I can't stand dirty people," she told me, apropos of nothing. "I can't stand poor people either. I went to India once. How those people smell."
What was I supposed to say? It is not the sort of comment that invites grown-up discussion. But I felt incriminated if I said nothing. In fact I began to feel incriminated just by being there. What was I doing there anyway?
The answer was simple enough. A weekend stopover in Dubai - a friend had asked some of her friends who live there to take me out.
So, here I was being taken out. But what are the obligations in such a situation?
What do you say to people kind enough to host a stranger, yet characters so improbable not even the wildest of satirists would dare invent them?
In fact they seemed to crave a writer's attention.
"You're a journalist," said another woman. "Why don't you write something about Dubai? Everyone is always so horrible about us."
She had come here from Australia, she explained, to work as an air-hostess. But then she met her businessman husband, and had now settled down to family life.
"People always bang on about there being so much wealth and luxury here alongside poverty. But that isn't true. I mean, I don't see any poverty."
Her friend agreed: "It's true that construction workers in Dubai used to have to sleep in shipping containers. But that doesn't happen now."
Well perhaps, but labourers here do still work long hours in temperatures of up to 50 degrees, and then go back to crammed hostels, often with no windows or air conditioning.
I was considering how best to explain this, but then another bottle of vodka arrived, amid much cheering.
It somehow did not feel like the right moment to discuss migrant worker housing conditions.
Instead, I found myself being questioned about my life back home in London.
"Do you go to Hakkasan?" I was asked, by a Dutch woman sat at the end of the table. "It's in Mayfair."
She then named several other places I hadn't heard of, let alone frequented.
I might have been tempted to bluff my way through this, to pretend that I was in fact a regular at Fluffs, and Yo-Yo's, or whatever they were called.
But I did not even know what kind of establishments they were - other restaurants perhaps, a nightclub? Or maybe just a particularly up-market chiropodist?
"No," I said. "I've never been to any of them."
The Dutch woman looked at me, as though I had just confessed that I never went to school, or had never actually owned a pair of underpants.
And it struck me then that she had no sense her questions might be considered intimidating.
On the contrary, she was feeling intimidated - because if she could not talk about Hakkasan, or other restaurants, or how much she adored eating carpaccio of guava, what on earth could she talk about?
There was an awkward silence, a gaping black-hole of conversational failure. But then the former air-hostess piped up to remind me of her request.
"You won't forget, will you?" she asked. "You'll write something about Dubai, about all of us?"
I promised her that I would certainly consider it.
How to listen to From Our Own Correspondent:
BBC Radio 4: Saturdays at 11:30 and some Thursdays at 11:00
Listen online or download the podcast.
BBC World Service: Short editions Monday-Friday - see World Service programme schedule.