The life and times of a BBC clock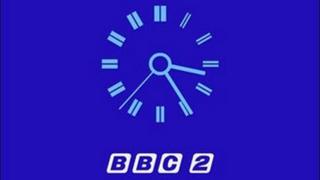 A clock on the BBC homepage is to be removed after the BBC Trust upheld a complaint that it was "inaccurate and misleading". The clock has some serious heritage.
It first appeared on the website's homepage in 2008. But it would probably be most familiar to television viewers over a certain age.
It was the baby of in-house graphic designer Alan Jeapes in 1969, archive specialist Lucy Woodward recalls. It coincided with the first use of colour television on BBC One. BBC Two had already had colour for two years.
The clock held out on both channels until 1984, when it was replaced by something a bit more electronic.
It seems rather strange now to fill the 36 seconds between programmes with a bit of clock. But that is what used to happen.
Now viewers are typically used to seeing as many trailers as can possibly be squeezed in. Or elaborate "idents" of hippos swimming in circles, or surfers in the midst of a crashing wave.
But before it became customary to even talk over the credits at the end of a show, BBC One and BBC Two viewers were treated to a much simpler clock interface.
Viewers were treated to a soothing voice-over, politely notifying them where and when upcoming shows would be on.
And prior to the onset of 24-hour TV channels, the same voice-over would regularly wish viewers a "very good night", often at a peculiarly precise time.
"The last late-night look of the clock confirms that it's very nearly nine minutes past 1am - definitely time for bed. And I hope, for your sake, you don't have to be up too early tomorrow morning," was one announcement by Peter Bolgar in the late 1970s.
Announcements like this even prompted a spoof version by Rowan Atkinson on Not the Nine O'Clock News.
The clock itself was a mechanical clock kept inside the "Noddy" room, says Woodward.
In that room were also other presentation symbols, such as the spinning globe that accompanied BBC broadcasts for years.
From this "Noddy" room, a monochrome camera would film the mechanical clock and then feed the image into a colour synthesiser.
This synthesiser then allowed one colour to be put in the background, and two in the foreground - the typical combination being a blue background, with a yellow clock face and white "BBC One" writing.
In those days every BBC clock in either Broadcasting House or Television Centre was set in time to one "master clock", says Woodward.
The clock system would then send a pulse generated by the master clock to every part of the BBC, keeping everything in synchronisation.
Tick tock.