'Plus-size' readers and the body image dilemmas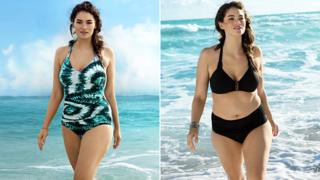 A recent article by American "plus-size" model Jennie Runk prompted a large response from our readers.
When Runk was hired by H&M to show off the range of sizes for its beachwear, the ad campaign caused much discussion.
In her article, Runk discussed her career as a "plus-size" model, arguing that it's time we stopped obsessing about size.
Here are some of our readers' comments.
Laura, London, UK: Being considerably larger than Jennie, I consider her an ideal size to try and reach - being "curvy" like I used to be and not just "fat". Not only do I firmly believe I am not built to be a size 10/12, but I don't want to run the risk of losing my husband when he has nothing to hold on to!
VB, Bath, UK: I agree with Jennie Runk. I feel happier now at a UK size 14 than when I was a UK size 10. The pressure of staying at that size meant that I was constantly obsessing with what I ate, drank and how much exercise I got. I was enjoying none of it, and of top of everything, I was feeling fat because I was a size 10 and not 8. I am actually healthier now too, never skipping meals, eating a balanced diet - with occasional treats - and exercising three times a week - and enjoying it. There's only one life to live, so we'd better stop worrying about what's irrelevant, really.
Niamh, Edinburgh, Scotland: Reading Jennie's article brought my 11-year-old sister to tears. She has hit puberty at a time when all her peers still have their pre-pubescent, skinny bodies, and as a result often feels self-conscious and inadequate. Apparently Jennie's article has prompted her to join the school triathlon without worrying about any negativity about her shape in a swimming costume.
Lucy Drew, Fleet, Hampshire: I am a 20-year-old girl, and a UK size 10. My little sister is a UK size 6. People close to me are constantly having a go at what I am eating and how I look because they believe that I am fat. I have tried to stand up for myself because I feel comfortable with my size and comfortable with what I eat as I keep a balanced diet. I hate having the pressure at home because it makes me depressed and ashamed of myself. At school there was always pressure on how you looked and I have always believed that the "Marilyn Monroe" look is a better and more healthier look for women. I hate the fact that all models have to be a size zero, it is unfair and it makes everyone else feel ashamed about their weight. I am glad that H&M have a "plus-size" model and I think more label brands should too, as it will advise people of my size and higher what to wear and be comfortable with how I look in them. It will also drive more sales for the clothing brand. Why don't they get that?
Lea Windsor, Beaverton, Ontario: I am a 17-year-old student, currently in high school. This article actually made me realise I should stop trying to be someone I'm not. I am a [North American] size 9, and I'm damn well proud of it. Personally I think teenage girls go under so much pressure in trying to be skinny because every way you turn there is skin and bone, with maybe the odd two chunky girls. Well it's time for us teenagers to accept who we are and live with it. If we were meant to be skinny then we would be, but we're not, we were meant to be the size we are. I am 17 and I finally realise I love my body the way it is.
Melanie Vondrau, Hitchin, UK: As a "plus-size" singer I found it incredibly difficult to find outfits to wear on stage which not only looked good but would actually fit me. I was approached by a couturiers and designers to wear their clothing whenever I performed live. My performance improved. I feel that being "plus-size" is not a curse but a blessing. I love my curves and I know that I am never going to squeeze or diet myself into a size 10 or 12 outfit. I go to the gym every morning and after an hour's workout I swim 20 lengths and yet I am still a size 20. But that is just my body shape and I am happy with that. If only dressmakers and designers would embrace all shapes and sizes and stop discriminating against us larger women (honestly, there are some amazing clothes being sold but they only go up to a size 16). I was just one of the very lucky ones who was "dressed" by couturiers who have the nous to know exactly what feels and looks good on a larger woman like me.
Tonya Smith, East Orange, NJ: Unfortunately, it was my family's failings not to foster my self-esteem and they did constantly comment on my weight and how big I was. And I always saw myself as huge. But I am also beautiful, smart and talented. When I thought I looked good my first college summer and everyone thought I looked great - they poked and picked. I hide it, but they made me feel horrible and that I should go and cover up. I was 125lb at 5ft 4.5in. Now, when I see my young cousin at that weight, [North American] size 8, I think "My goodness, why would anybody ever think that size is 'big'?". And now, Victoria's Secret has started only selling clothes up to size 12, 14 (I am a 16). I feel betrayed because they really were my secret for great looking clothes for a curvy woman but now I have been sized out.
Marinella Mezzanotte, London, UK: Jennie, how I wish you'd been on TV and in magazines when I was a bulimic teenager. The reasons for my eating disorder were many and mostly to do with an abusive upbringing, but to see a woman like you would have increased my confidence and really helped. Oddly for someone who grew up wishing she could slice bits off herself, I started working as a life model in my mid-thirties and now make a living out of being naked in front of people - which I still find easier than being on the beach in a bikini, so your photo shoot hasn't come too late after all.
Anneka, Dorchester, UK: This is truly inspiring, I'm one of the "bigger girls" at school and to be really honest, I am a little embarrassed about it. This has really helped me to think how I should embrace who I am and live life as it comes. Thank you for this amazing article.
Evie Wolfe, Nottingham, UK: As a plus-size model myself, I agree that the obsession with size is a rather odd one to have in a society such as ours. People don't want to be healthy, they want to be thin, and that is not always the same thing. I started out as a straight-size model, but developed a thyroid problem and it has been the best career move my body could have made. More and more designers want women with a larger body size, and magazines are more enthusiastic about publishing plus-size women. There are still plenty of people who accuse anyone who supports plus-size models as "supporting obesity", (which to me says these people have a very strange idea of what obesity is) but more worrying is the self-hatred I see in the women who talk to me about my job. They outwardly support the plus-size movement, and still condemn themselves and their own bodies. It's only one opinion, but I think if people tried to be healthy and happy instead of thin, we might not have such a problem with an unhealthy population.
Elizabeth Pacitti, Edinburgh, Scotland: Finally, a realisation that body size does not dictate "happiness" or "beauty". I work as a visual manager for a large retailer and find it increasingly frustrating that even some of our smaller sizes still have to be "pinned" in order to fit the mannequins. We have a long way to go in convincing "the media" that women of all shapes, sizes and ages can sell magazines, and likewise "retailers" can sell their products.
Nicoll Roberts, Chichester, West Sussex: I am a sales assistant for a fashion retailer that specialises in "plus-size" fashion, but it is great to see a company such as H&M promoting other body shapes, rather than the skinny size-zero catwalk "twiglets" we have become used to seeing. A few years ago we were told that the average dress size in the UK is a 16, but there is no evidence of this in magazines or other media that promote fashion. I myself am an 18/20 where I work, or a 22/24 in the rest of the high street. The disparity in sizes is a joke really, so I am very happy to work for a fashion company that understands women's figures. However, it's probably because the company is owned by a woman who cares, not a bunch of corporate men just worried about making money.
Loraine, Oakland, California, US: Finally, an article that acknowledges negative connotations with thinness. My natural body size is a US size 4 and has been all my adult life - I can't tell you how many times I've had to put up with "Oh you're so skinny" or "You thin people". We all know it's inappropriate to tell someone they've put on weight but why don't the same rules of politeness apply to everyone? Sick and tired of people thinking they have any right at all to comment on my body. I'm a size 4, I have been all my life, I eat really well, and I'm totally fine with it. So get over it!
Denise Richardson, Potters Bar, UK: I have always struggled with my weight, mainly because I love my food. During the menopause I ballooned to 14st 7lb, this really depressed me. In 2004 I joined Weight Watchers and slowly over the years my weight has dropped to 12st. However, although I am happy with my size, I have to drop even more so have never got to my goal. I am really trying to get there and visit my WW meeting every week as I know if I stop going my weight will slowly creep up. I know I will never be a size 12 or 14 but am looking forward to the day when I can comfortably fit into a size 16. At the moment, because I have a large bust I am a size 18-20 on top and a size 18 on the bottom half of my body. It is so refreshing to read such positive comments about plus-size women.
Kim Bates, Liverpool, UK: As a size 14, to see such a gorgeous female showing off in her swimwear is such an inspiration and in my eyes is bound to sell more. Companies should realise the best way to sell an item is by giving consumers what is within the public reach. "If she can wear that so can I" - that's what my thoughts were. Aside from health, it is not always easy for women to remain the perfect weight but if you promote something that some women can aim for there is more of a probability that bigger women will feel again that they can reach this goal. Which is about average in today's society. We need to see more gorgeous models like this. It may help our children out as well. She looks fit and healthy but not scared of a bar of chocolate!
Jackie Staniforth, Sheffield, UK: How refreshing to see some sense in the fashion world. A pretty girl who is in proportion for her height. All my life I've felt fat, had to buy XL or XXL, had no confidence in my looks. Now (aged 72) I realise my BMI was bang on normal. I think it's wicked to give youngsters such a negative view of themselves. As a start, clothes for the average should be "M" for medium and progress up and down from there.
Roberta, Sydney, Australia: In all over the world there is a silly perception of beauty. Especially about a model's beauty. For example, I am from Lithuania and when I lived in my country I never thought that I could even try to be a model. In Lithuania only skinny girls can become models. If you are not, forget about a modelling career. When I came to Australia I became a plus-size model. But I still feel a lot of complexes which stop me and don't let me move on.
Jenny Kuderer, Iowa City, US: It is phenomenal to have females of all sizes represented on the pages of fashion and clothing adverts. I myself have fluctuated in size throughout my life and the topic of bathing suits has always been fraught with unease. On the one hand, I wanted to feel empowered to wear whatever struck my fancy. On the other hand, cultural messages I had imbibed since youth, accompanied by genuine social pressure to shrink before shining in a two-piece, always seemed to trump my desire to freely roam the sand in a stylish bikini. This delicate dance is familiar to millions of women so it is no surprise to me that Jennie's adverts have garnered so much praise and attention.