What can we learn from children's writing?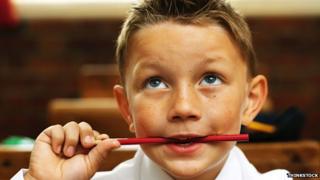 A BBC Radio 2 short story competition aimed at children up to the age of 13 has had 90,000 entries. It's an exercise in creativity but the words they used have also been put into a database which gives us an insight into the way they think.
Every one of the 40 million words from the story-writing competition has been collated and analysed by lexicographers at the Oxford University Press, in order to monitor and track children's language.
It is the third edition of the 500 Words competition, organised by the Chris Evans Breakfast Show, and the second year the OUP has analysed the entrants.
Here are some of the findings.
Kids write "mum" more than "dad"
The most common word of all was "mum" - or some variation of it, such as "mam" or "mar" - with a total of 115,627 mentions.
"Dad" trailed behind, only just scraping into the top 15 most common words, with about half of the mentions of "mum".
It probably reflects the more central role that mothers play at a young age, says Vineeta Gupta, one of the head publishers at Oxford Children's Dictionaries.
In many stories the dad acted as some sort of action man, says Gupta.
He can be found fighting aliens, exploding, and building a time machine in the top 50 shortlisted stories.
Kids go wild with similes
There were more than 16,000 similes used in the stories submitted.
Girls were more likely to use similes than boys, with older children also using more. Here are some examples:
As trustworthy as a fox with a chicken feather poking out of its mouth
As slow as a snail with 25 shells on its back
As boring as a cake with no candles
My heart fades like a balloon with a hole in it
"WHAT? Noooooooooo!" howled Lydiea, like a werewolf with a toothache
Her face looked like a pig with chickenpox
He's crying out like a grasshopper with a burnt leg
Children make up some strange words
There were new words for creatures, gadgets and phobias.
"Disflomaticinator"
He made a disflomaticinator. It would make stuff from the past come into the present and stuff from the future come into the present. I will sell this on eBay, he said. I will sell this for 123456789123456789 million billion trillion dollars.
"Hairthlessquipadoliciousphobioa"
My fear was hairthlessquipadoliciousphobioa (fear of beards) but people don't believe me what so ever.
"Lumbagain"
I told them that this ghost is one of a kind called a lumbagain ghost who makes people dull and boring. Shockingly he only gets children but when it gets mad he could get teachers and only comes to schools.
"Dulbodogfragonaffe"
Dulbodogfragonaffe is very big animal with the head of a duck and the mane of a lion. The neck of a giraffe and the body of a horse. The wings of a bee and the front legs of a dog. The back legs of a from and the tail of a dragon. The spikes on its back of a hedgehog and the ears of a rabbit. All over it is an orangey-pinky coloured.
Kids are experimenting with language, says Gupta, often using their existing knowledge to form the basis of new words, such as "fridgemarine" or "shrinkinganator".
Boys describe cars in more detail than girls
The word "car" surfaced more than 25,000 times in this year's competition, with a roughly 60/40 split in favour of boys.
But girls were more likely to use the word "car", whereas boys tended to go into greater detail, says Gupta. "So for example they will name a car as being a Ford RS Turbo or a 1964 Ford Mustang."
One boy wrote: When he went the police were not here so he got in his BMW 3.8 Petrol sports trim turbo car and he went.
But the most frequently mentioned car for both boys and girls is a Ferrari.
"Children are more aspirational, they will dream and adults are sensible," says Gupta.
There's another version of the OUP database that analyses adults' language. They write about Fords.
Textspeak isn't as common as you'd think
The database analysis throws up some newish slang. Some of the writers used "totes", "yolo" (you only live once), "amazeballs", and "rofl" (roll on the floor laughing).
The use of "lol" increased by 93% from the first year of the study. But these words still only appeared a handful of times.
"They know where to use them and how to use them," says Gupta. "They use them in informal dialogue to create an effect."
One girl wrote: "Girls, check out me new iPhone 5, totes up to date!" Snow bragged.
Shorter words can be harder to spell than longer words
Children do need more support with their spelling but particularly when it comes to shorter words with apostrophes, says Gupta.
Very common words like "doesn't", "he'd", or "couldn't", often cause more trouble than longer words.
Mixing up difficult vowel-sounds in words such as "minute" or "weird" is also relatively common, says Gupta.
But vocabulary is seemingly not a major worry, at least for these young entrants:
Its hazy malachite skin gleamed with an amber slime, its emaciated tail propelling it through the tingling sea. It glanced only forward, its atramentous citron eyes fixating on its prey.
I approached an altitudinous manor, that looked like a blackened statue of a ghost, damaged by the years of betrayal.
Diaphanous ghosts circled it endlessly longing for a visitor brave enough to enter.
Blackberries are still usually blackberries
The researchers also looked at words with more than one possible meaning, particularly with regard to technology.
The analysis of the children's stories found that "blackberries" was still more commonly used to refer to the fruit rather than the phone. Just.
But when they say "text", they mean SMS. And "mobile" doesn't refer to something hanging in their room.
Cats lose out to dogs (and dragons and monsters)
Despite the omnipresence of internet cat memes, they lagged far behind dogs in terms of mentions.
Monsters and dragons were also more commonly referenced than cats.
Fantasy still rules over technology
Everyone knows young children master technology easily. But surprisingly few gadgets appeared in the 90,000 stories submitted.
References to iPhones, iPads and games consoles numbered in the hundreds. And there were only 144 mentions of apps - even then they were the likes of a time travel app and a rocket-finding app.
But fantasy and fairy tale themes are booming. Use of the word "magic" rose by 7.5%, while witches, fairies, and giants all had more than 5,000 mentions.
"Fantasy and fairy tales" was easily the most common genre, with "Horror, supernatural and ghost stories" coming in second.
"It's a genre that takes children out of their humdrum lives and into a world where their imagination can run free," says Bea Ferguson of the Scottish Storytelling Centre.
Jack and Lucy are the most popular names
As with the first year of the study, Jack and Lucy were the most popular names in children's stories.
Jack was the most common baby name and Lucy the eighth most common girl's name in 2002, according to the website Babycentre.co.uk.
That would make that generation of babies about 11 years old now, so it could be that young storytellers are getting their inspiration from the many Jacks and Lucys among their peers.
Kids choose zanier nouns
Among the top five two-noun words for kids were "time machine", "space ship", and "tree house".
By the time people reach adulthood, these words have been replaced by the more mundane, functional terms like "car park" and "kitchen sink", according to OUP's adult version of the language database.
We tend to become more humdrum about our lives, says Ferguson. "We read more literature based about the here and now, kitchen sink type stuff."
Children's worlds are constantly expanding, the world is their oyster, she says.
However if we're looking for the missing link that unites generations, it appears to be "ice cream", which reaches the top five for both kids and adults.
The Olympics are still fresh in the mind
It seems Team GB's success has made an imprint on young minds. But despite the Olympics being staged in London, the Olympics were mostly written about by children living outside London.
Mentions of diver Tom Daley went up by 1200%, while other Olympic heroes such as Jessica Ennis, Bradley Wiggins, and Chris Hoy also rose in prominence compared with the first year of the study.
The Paralympics seem to have resonated too, with more than double the number of mentions in 2012's competition.
Usain Bolt more than doubled his number of mentions to become the joint top sportsperson with Wayne Rooney.
The versatility of being able to use Bolt as a simile may go some way to explain his popularity:
Kerri darted out of the house as fast as Usain Bolt, clinging on to a packet of plain crisps that she was planning to munch in RE.
Gender differences occur in music, sport, and games
Girls wrote about singers and pop stars in their writing more than boys do, the research shows.
One Direction dominates the pre-teen musical world, with almost twice as many mentions as the second-placed Tulisa from N-Dubz.
Harry Styles was the most popular member of the boy band, even earning a few mentions from boys - the other members were almost exclusively written about by girls.
The only singers that boys mention more than girls were Psy - of Gangnam Style fame - Cheryl Cole, and Tom Jones.
Football is primarily talked about by boys. Wayne Rooney was the most popular footballer, with 309 mentions by boys and 33 by girls.
David Beckham and Steven Gerrard were the only footballers to occur more often in girls' writing than in boys.
Boys more frequently revert to violent terminology such as "gun", "sword", "battle", "attack", or "shoot".
Ferguson says boys' preoccupation with violence during her storytelling workshops has made her introduce a rule that if a child kills someone off they have to replace them with a new character.
"Otherwise they'd kill off every character."
500 Words live final will be broadcast on BBC Radio 2 on Friday 31 May, 06:00-09:00 BST