Why do England fans sing No Surrender?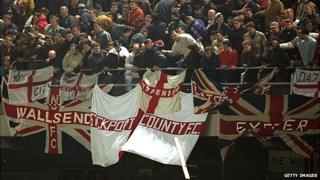 The Football Association is emailing England fans asking them not to indulge in "offensive songs" when their team play the Republic of Ireland at Wembley on Wednesday night. It's safe to assume there's one song they have particularly in mind.
"With St George in my heart keep me English, with St George in my heart I pray, with St George in my heart keep me English, keep me English till my dying day.
"No surrender, no surrender, no surrender to the IRA. Scum."
It is not just sung when England play Ireland. The song - to the tune of the hymn Give Me Joy In My Heart - abounds among a hardcore of England fans virtually whatever the occasion.
If England are playing a qualifier against Azerbaijan or Andorra you will still hear it drifting over the Home End, the section of Wembley reserved for members of englandfans, the official supporters club. At away matches it is typically more distinct.
It's only ever a minority of fans but it is always audible at some point.
To young fans, the song must be baffling. It's 15 years since the Good Friday Agreement was signed, a massive step in the peace process.
But the song continues. The same fans who sing it also like to squeeze in a "no surrender" just before the line "send her victorious" in God Save The Queen.
So why and when did some fans adopt No Surrender?
No-one seems to have an exact explanation. It probably doesn't go as far back as the first flush of British football hooliganism in the 1970s, says Andy Lyons, editor of fanzine When Saturday Comes.
It is assumed that the adoption of the song came from mixing between Rangers fans - some of whom had loyalist sympathies - and English fans in the 1980s, says Lyons. After 1985, English clubs were banned from European competition after the deaths of 39 Juventus fans in a European Cup final with Liverpool.
During the ban, some English fans started to follow Rangers in Europe and there were Rangers fans who supported England. The song - which seems linked to Northern Irish unionist or loyalist politics - may have been adopted at this point, says Lyons.
While this theory is a common one, there's no concrete evidence, notes Lyons.
"Some England fans, particularly newer fans, probably don't understand the connection. They just think it's a thing you do if you are an England fan."
Mark Perryman, author of Ingerland: Travels With A Football Nation, has heard it ever since he started following England in 1996. It's not a song he would ever sing.
"It isn't part of what I want to celebrate. I want to sing about football."
But Perryman does worry that the FA has opted for "gesture politics" having suddenly turned against the song after years of taking no action. The authorities are concerned about the Ireland game because of accusations of racism arising from anti-Rio Ferdinand songs aired at the recent game against San Marino.
The "no surrender" slogan has been co-opted by the English Defence League. But Perryman says it is lazy for journalists to definitively link the continued singing by England fans to far-right groups. He says the reasons for singing No Surrender vary from fan to fan and are complicated.
"To a lot of the fans [the song] is actually no surrender to terrorism, no surrender to al-Qaeda. I even know people for whom it is no surrender to the IMF [International Monetary Fund], to the EU, to the Troika [EU, European Central Bank and IMF]."
But many fans would choose not to sing it because they see it as a code, obscuring deeper and more unpleasant meanings - perhaps a kind of generic xenophobia.
On the surface of it, expressing historic resentment towards an organisation that killed civilians and soldiers in the UK could hardly be construed as a breach of section five of the Public Order Act. Or indeed "offensive" in any meaningful sense of the word.
But the way the song persists so long after the Good Friday Agreement is more than a little odd. Perryman says it fails to recognise the compromise - the "surrender" by all sides - that effectively ended the worst of the violence in Northern Ireland.
There will have been some people worried in the run-up to the Ireland friendly that there could be some sort of repeat of the terrible scenes at Lansdowne Road, Dublin, in 1995 when rioting English fans caused the match to be cancelled.
But trouble is no longer expected at England matches, home or away.
"There has not been widespread disorder involving England fans for nearly 13 years," notes Perryman.
The song will be sung, but everyone will hope that trouble continues to be avoided.