The healing power of music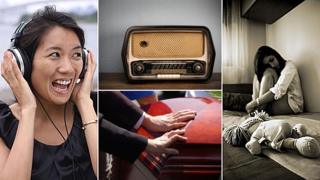 What becomes of the broken-hearted? Often, they turn to music. Charles Nevin ponders whether the remedy is best found in cheery tunes or soothing sad songs.
Music, as we know, has the most powerful influence on us. Genius has been demonstrated and fortunes made in its provision and performance. It pervades every part of our culture.
Much of abstract art, for example, is a response to music. And then there is Justin Bieber.
Music is delivered more and more widely, through headphones or in the background, as muzak (which some people affect to despise, although I quite enjoy the reassuring familiarity of Raindrops Keep Falling On My Head - for the first two times, at least).
Music follows us to the grave, and beyond, as we were lately reminded by Baroness Thatcher and Ding Dong! The Witch is Dead. The Co-operative Funeralcare, too, has just reported that a fifth of British funerals are interrupted by mobile ring tones, including, in one case, If You're Happy and You Know It, Clap Your Hands.
The Co-op also publishes a list of popular funeral music, with pop music now featuring twice as much as hymns. Frank Sinatra's My Way has been the unchallenged favourite for many years, and is now requested at 15% of services.
Changing attitudes are also reflected by the appearance at number 13, among contemporary songs, of Eric Idle's Always Look On The Bright Side of Life (most popular on the eastern side of the UK, for some reason). Less requested than formerly is I Will Always Love You by Whitney Houston, which has been replaced in the top 10, rather delightfully, by Dame Vera Lynn and We'll Meet Again.
Even so, I note that an American Airlines flight was diverted to Kansas City last week to remove a woman who had repeatedly been belting out IWALY.
Other funeral choices include Ave Maria and Abide With Me, as well as specialised crematoria selections such as Smoke Gets In Your Eyes and the ticking clock theme tune from the popular UK daytime quiz show Countdown marking the seconds as the curtain closes.
I also recall that at the funeral of Derek Greenwood, who had an ice cream business in Rochdale, the cortege consisted of ice cream vans, with Mr Greenwood's playing its chimes: We're Off To See The Wizard.
This unequalled ability of music to provide an instant, direct and deep solace, solemn and less so, was also reflected in two academic surveys that recently made the news. One, conducted by the University of Missouri, shows that people can help cheer themselves up... by playing cheery music.
The other, conducted by three august bodies including the University of California, Berkeley, finds that sad songs can soothe a breaking heart. Or, as they put it: "Under certain circumstances, consumers in negative moods might choose aesthetic experiences consistent with their mood (sad music; tear-jerking dramas) even when more pleasant alternatives are also available."
You may well choose to discuss whether these findings advance our knowledge a great deal, or whether they rely on earlier work at IBO (The Institute of the Blinkin' Obvious). I would rather try to make some helpful suggestions for, depending on your mood and situation, Top Happy Tunes and Top Sad Tunes (links here to YouTube).
Happy
The Laughing Policeman - Charles Penrose (although I should be careful where you sing, "So if you chance to meet him, when walking round the town, Just shake him by his fat old hand and give him half a crown")
The Lancashire Toreador - George Formby
The Best of Rambling Syd Rumpo - Kenneth Williams. Affecting folk songs: "Joe, he was a young cordwangler... And he loved a bogler's daughter, By the name of Chiswick Flo."
Jumpin' At The Woodside - Count Basie Orchestra
Grieg's Piano Concerto - Eric Morecambe, London Symphony Orchestra (conductor, Andre Previn)
Sad
Nothing, not Leonard Cohen, not even Keith Harris and Orville the Duck, better conveys the pain of a sundered heart than country music. Here, from a melancholy and crowded field, are the best:
I'll Be Over You When The Green Grass Grows Over Me - George Jones
Walk Out Backwards - Bill Anderson
Here's A Quarter (Call Someone Who Cares) - Travis Tritt
Did I Shave my Legs for This? - Deana Carter
I'm So Miserable - Billy Ray Cyrus
Finally, to demonstrate music's uncanny power to provoke mirth and tears at the same time, I recommend Led Zeppelin's Stairway to Heaven and Robert Plant's plaintive cry, "Remember laughter?". It would take a heart of stone not to snigger but that might just be sad me.
Charles Nevin is a journalist, humorist and author.
Here is a selection of readers' music choices for banishing the blues.