How many birds are killed by windows?
By Charlotte McDonald
BBC News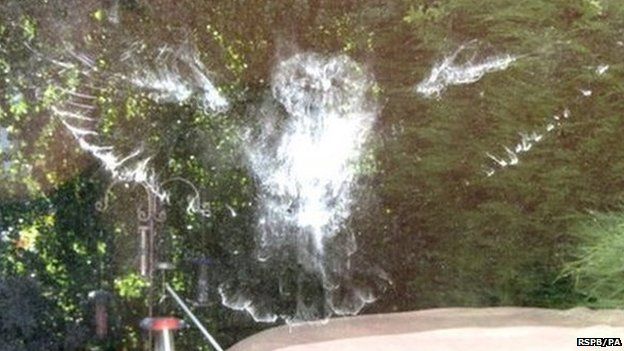 Spring has arrived in the northern hemisphere, the sun is shining, the birds are migrating back from warmer climes. But do they face a deadly foe on their return - the pane of glass?
The figures reported for bird strikes against windows are astonishing. It is often said that between 100 million and a billion birds die in the US each year after striking windows.
But are the numbers accurate?
You might expect there to have been a large scale quantitative study, involving a team of ornithologists, using a rigorous scientific methodology and accumulating swarms of data. Not so.
The American figures originate in a paper from 1990 written by biologist Professor Daniel Klem in the Journal of Field Ornithology. He stated that there were no hard facts available on the subject and that it was difficult to do a comprehensive study, so he set out to make an educated guess.
There are a lot of buildings in the US, he reasoned, and most of them have windows. So, using US Bureau of Census data, he first calculated the number of buildings in the whole country.
He continued by assuming that, in any year, between one and 10 birds will be killed hitting windows on every building in the country, and multiplying the number of houses by one and 10.
The range came out at between 97.6 million and 975.6 million.
Frequently rounded up to 100 to a billion deaths a year, this figure is still being quoted today.
"I don't believe that anyone should take those figures as facts," says Klem.
But he adds: "It wasn't completely speculative. It was based on data gathered over at least 10 years on individual buildings ranging from one bird a year being killed to several hundred in an hour.
"But clearly no quantitative survey was done in a stratified fashion to look at different threats at different sized buildings, and window area and so on.
"So there was a quantitative basis behind it but it wasn't at the level to consider those figures to be facts."
And they do serve a useful purpose, he says.
"They were designed to inform anyone interested that this conservation issue about birds flying into windows was a serious one."
In 1990 he estimated that there were 20 billion birds in the continental US (excluding Hawaii and Alaska) after the breeding season each year, so his upper estimate would represent 5% of that population.
The question therefore arises whether windows are causing the bird population to decline.
"It may well be correct but we don't have confirming evidence that that attrition is occurring," Klem says.
"It's probably likely but I don't think any reasonable person should be using those figures as facts until we have more supportive evidence."
The same team is expecting to publish a more comprehensive study on bird strikes soon.
Firm figures are also hard to come by in the UK.
In 2004 the British Trust for Ornithology (BTO) said up to 100 million birds strike windows each year in the UK, and that a third of them die - a calculation based on the number of ringed birds found dead near windows.
"These were initial estimates," says Mike Toms, the BTO's Head of Garden Ecology.
"If you then turn round and say that is fact - that is not taking the full context.
"When communicating science, there is this tension between work in academic journals which is peer-reviewed - you have the nuances and the caveats listed - but when you present that information to a wider audience, what they are really interested in is the bottom line numbers."
In 2004, Toms told the BBC the three major causes or bird deaths were: "Cats, collisions with cars, and collisions with garden windows."
By contrast, the UK's biggest bird charity, the RSPB, does not see windows as a major threat.
"Although there are some species, such as woodcock, which seem to be prone to flying into windows," an RSPB spokesman says, "there is little evidence of the issue affecting the conservation status of any species."