Mandela death: Who next as the world's elder statesman?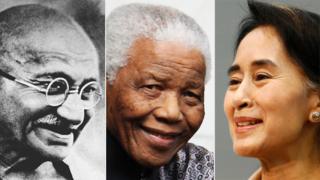 Nelson Mandela was often described as the "world's elder statesman", a father figure tackling global problems. His moral authority made him, in some people's eyes, a successor to Gandhi. Who might play a similar role now?
Lockerbie, Burundi, DR Congo, Lesotho, Indonesia, Israel-Palestine, Kashmir, Stephen Lawrence murder, HIV awareness and World Cup football.
The list of subjects addressed in some way by Nelson Mandela is long and varied.
In some disputes, like Burundi's long-running conflict, he was a mediator. On other intractable issues, like the stigma of HIV, he was the campaigner and bereaved father who tried to address prejudice.
Not all his contributions were successful or universally welcomed. He opposed intervention in Kosovo in 1999 and often strongly criticised US foreign policy, while his warm relations with Colonel Gaddafi and President Suharto raised eyebrows. Many thought he spoke out too late about the HIV crisis.
But even his critics would concede that he became a figure with unequalled status on the global stage.
"It seems to me that uniquely he negotiated his transformation from prisoner of conscience and iconic human rights leader to practical political leader who became in every single way the father of modern South Africa and then transformed again into elder statesman," says Simon Marks, global affairs correspondent at Feature Story News based in Washington.
He had unquestioned legitimacy, someone that a very broad array of people looked up to, including pop singers and supermodels, says Marks.
Mandela had the capacity to operate as an honest broker in situations where others might not have been able to, says Christopher Alden of the London School of Economics, who points to Indonesia as an example. In 1997, Mandela's two-hour visit to the imprisoned East Timorese politician Gusmao in Jakarta, against Suharto's wishes, paved the way for a referendum and Gusmao's release two years later.
"He accrued a moral authority that transcended the ordinary politics that guide the worst conduct of political actors."
The unique feature of Mandela is that he was someone whose moral stature was truly worldwide, says Alden - a reflection of the globalised nature of the anti-apartheid struggle by the 1980s.
There have been other elder statesmen and women in recent years, he says, but they are generally figures whose activities are focused on internal politics or they are asked to act on behalf of a state.
"Jimmy Carter has been 'deployed' to North Korea to hold discussions on sensitive issues and has played an important role in democratisation efforts in Africa through the monitoring/training of elections but these are more functional - he lacks the emotive power that Mandela generates.
"Blair's involvement in the Middle East was an attempt, I suppose, at this - and to burnish his post-Iraq reputation - but notably a failure."
Possibly Mandela's most noteworthy intervention came early in 2005, following the death of his son, Makgatho. With the Aids epidemic still a taboo subject in parts of Africa, Mandela urged South Africans to be more open about the illness.
Biographer David James Smith believes Mandela's personality was a key factor in his rise to international father figure - a quality few can match.
"There was a purity about Mandela, a simplicity about him like a farm boy looking after sheep, although he was capable of achieving things in immensely complex situations.
"He talked to commoners and kings in the same way. Everyone loves that he remembered names and took time to talk to everyone. He had all those great human qualities that people admire."
You could go anywhere in the world and show his face and people would know his name, says Smith, and there's not anyone alive now who you could say that for.
"I can't think of anyone else who will set the same example. Aung San Suu Kyi embodies some of the values that he had but you can't say that she would be recognised in the same way."
The Burmese prisoner turned politician is a really interesting character, says Marks. "Could she become that person? Maybe, except we don't yet know how the political story will turn out. She has this amazing moral authority because of her experience as a prisoner of conscience but now playing an active political role and there are a lot of things putting her in a tough position.
"And when you take a leadership role you inevitably rub people up the wrong way. Therefore it's not axiomatic that she fills those shoes, once the brutal world of politics has finished with her."
Gandhi, Mandela and Suu Kyi were all political prisoners and this personal sacrifice is an important part of the role, says Marks, but there are other prisoners of conscience, in places like China and North Korea, who are not household names.
"They might at some point emerge as the agent of change in these countries. It requires a combination of personal sacrifice and - cynical though it is to say so - personal sacrifice at the right moment, because when the right moment is there politically, and you can capitalise on it as a result of personal sacrifice, you have more of a chance to effect change."
But it may be that these extraordinary figures only emerge from time to time, says Marks. In the age of social media, it is perhaps more difficult to establish a long-term reputation because judgments are cast so quickly.
On his 89th birthday, Mandela formed The Elders, a group of leading world figures, to offer their expertise and guidance to - according to their website - "tackle some of the world's toughest problems".
"It remains to be seen whether an organisation of senior statesmen and women will be able to do what an individual like this has," says Alden. "It is a one-in-a-generation person. It may work but it's a novel experiment.
"Humankind needs this kind of person. Without them, the possibility of descending into brutish conflict we are capable of is accentuated. Hopefully there's cometh the hour, cometh the man or woman. But I scan the horizon and I don't see anyone of his ilk."
Follow @BBCNewsMagazine on Twitter and on Facebook