The rise of Turkish soap power
By Nathan Williams
BBC News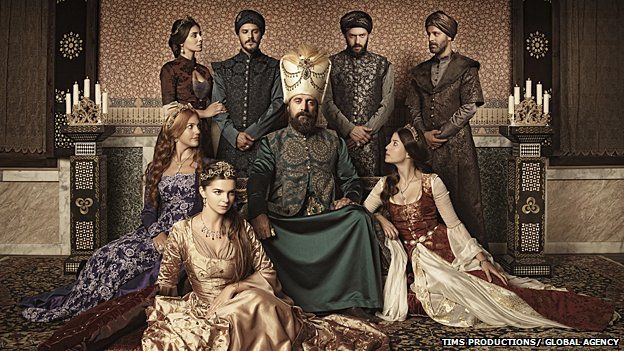 As Turkish soap operas reach increasing numbers of viewers in the Arab world, the sight on TV screens of Muslims drinking alcohol or conducting adulterous relationships is becoming commonplace - and the shows have presented a new image of relations between man and woman.
At the start of the protests that recently swept Turkey, journalists picked out one man with a luxuriant beard among the youthful crowds in Istanbul's Taksim Square.
Later he met the Turkish PM as part of a group hoping to mediate between the government and demonstrators.
That man is Halit Ergenc and he is internationally famous largely because of his role as a Sultan - hence the beard - in a Turkish TV costume drama, Magnificent Century (Muhtesem Yuzyil), that has been sold to dozens of countries.
Set in the Ottoman world, it spins the yarn of Suleiman the Magnificent, the longest reigning Sultan, and his love for a Western woman in his harem, with whom he becomes obsessed, and eventually marries.
About to film its fourth season, it is one of the shows that earned Turkey $130m in foreign sales last year - up from a mere $1m in 2007.
That it looks back 500 years to the era when Turkish Sultans ruled much of the Balkans and the Middle East is perhaps appropriate, as it has been seen in 47 countries mostly from this region.
The exported shows rely on a heady mix of slick production, storylines full of passion and intrigue (there was plenty of that in Suleiman's court), beautiful actors and actresses, and iconic Turkish locations.
Take Forbidden Love (Ask-i Memnu). It is set in a mansion on the Bosphorus and tells the story of the forbidden passion between a handsome young man, Behlul, and a beautiful young woman, Bihter, who is married to his uncle.
They live under the same roof. You know this is not going to turn out well.
Behlul is played by Kivanc Tatlitug, who has become a heartthrob in the region and, due to his light-coloured good looks, even been dubbed the "Halal Brad Pitt".
Like Magnificent Century, it has its fair dose of love scenes, which may seem tame to a Western audience, but are eye-catching by the standards of Arab countries.
Some 85 million people in the Arab world were glued to the final episode of breakthrough show Gumus (Silver) in 2008, and the audience for Turkish dramas has grown year by year.
It's partly because they fill a gap in the market.
"There is definitely a shortage of good scripts and high production values in Arab television," says Habib Battah, a Beirut-based media critic and author of The Beirut Report blog.
"It's one thing if there were a couple of popular Turkish series, but they are on every single major Arab channel."
Previous imports had included soaps from Latin America, but these had less impact, Battah says.
One reason for this is that they were dubbed into classical Arabic, while the Turkish dramas began in 2007 to be dubbed into a Syrian dialect.
This made the stories "more engaging" and "the voice actors more believable", Habib says.
Another reason is that the Arab audience feels so much closer to Turkish culture than, say, Brazil's.
Fatma Sapci, head of acquisitions at production company Ay Yapim, which was behind Forbidden Love, says this makes it easy for audiences across the region to consider the show's actors as "part of their family".
And these soaps explore family dynamics in challenging ways.
"Turkish serials deal with many issues that Arab television is afraid of dealing with such as gender equality, treason and love affairs, and discussing the subject of illegitimate children born outside of marriage," says Professor Asli Tunc, head of the Media School at Istanbul Bilgi University.
But possibly the biggest talking point among the audience has been the topic of male-female relations.
Some of these shows speak to female viewers by featuring unorthodox male leads, who are romantic instead of being macho, Tunc says.
Silver/Gumus, for example, depicts a romantic love between the heroine Gumus (called Noor in the Arab world) and her husband Mehmet (Muhannad).
Women would remark to their husbands on how well the lead character treated his wife - it set a romantic ideal where "women are valued, appreciated and adored," says Mazen Hayek, spokesman for the Saudi-backed Middle East Broadcasting Centre (MBC).
The impact of the show was such that Arab women "started talking to their husbands through Turkish drama", he says.
The story was thought-provoking for conservative societies where expressions of love are usually private, adds Abdallah Alsalmi, Middle East media analyst at BBC Monitoring.
And because the characters on screen had plenty in common with Arab audiences, it was more controversial as well as easier to relate to, he says.
But Dr Dina Matar from the Centre for Media and Film at the School of Oriental and African Studies in London cautions against the idea that the dramas have led to a "fundamental shift" in attitudes toward women in the region.
Instead they have fed into a debate that had already begun, in various shows produced by Arabs and aired on Arab television, she says, as the media space in the Middle East has expanded.
The export of these dramas has occurred in parallel with a push by Turkey's foreign minister, Ahmet Davutoglu, to boost Turkish cultural power - a policy sometimes described as neo-Ottoman.
While the government has created Yunus Emre Cultural Centres - akin to the British Council or the Alliance Francaise - in a number of countries, the shows have also played their part in presenting a positive image of Turkey.
The Culture Ministry directly links the dramas with a rise in the number of tourists to Turkey from Arab countries in the last five years.
Izzet Pinto, CEO of Turkey's Global Agency - which distributes Magnificent Century and other top titles - puts it like this: "We are showing our country to millions of viewers. We are showing the beautiful scenery, our lifestyle and traditions.
"So we have a great influence on people through soft power."
Related Internet Links
The BBC is not responsible for the content of external sites.