Luis Suarez: Does anger management actually work?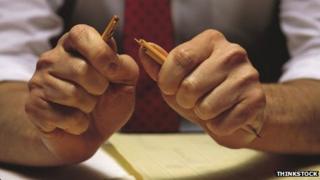 Footballer Luis Suarez - who has twice bitten other players - has been offered an anger management course. But does such treatment work?
After Liverpool striker Luis Suarez's bite on Chelsea's Branislav Ivanovic and the outrage it provoked, the Professional Footballers Association offered Suarez anger management treatment.
Today it is a common step to take in cases of uncontrollable tempers.
There have been plenty of cases of high-profile people struggling to control their tempers. In 2007 Naomi Campbell attended anger management classes on the orders of a New York court after pleading guilty to assaulting her housekeeper.
But it's not just a celebrity phenomenon.
Many ordinary people attend anger management courses. They may be referred by the police, courts or a doctor, or simply sign up themselves, fed up by embarrassing meltdowns.
The theory of anger management developed in the 1970s. The first reference to the term cited by the Oxford English Dictionary comes in 1975, in the work of US psychologist Raymond Novaco.
Today anger management is based on cognitive behaviour therapy, says Isabel Clarke, who for 12 years ran anger management courses for the UK's National Health Service in Southampton. "What convinced me is seeing people change. For people who use anger and bullying - to change that is a big ask."
It doesn't work for everyone. About 30% of people dropped out. But for those who stuck it out, it led them to change their behaviour, says Clarke.
It wasn't until the 1990s that the term "anger management" filtered into everyday life. It was often treated with suspicion. Criminals in the 1990s began receiving anger management courses as punishment, which often led to public scepticism.
In 1994 a man who had already been convicted of killing his wife was put on probation and ordered to attend an anger management course. There was outrage at the lenient sentence but also doubt cast on whether such a course could work.
In 2006 controversy returned. The UK Home Office sent instructions to the probation service axing anger management courses. It followed the stabbing of city financier John Monckton.
The killer Damien Hanson had been on a course of 24 anger management sessions, which the official enquiry found had the "potential to equip the offender with additional control mechanisms and increase his/her capacity to manipulate a situation their advantage".
The case shows the limitations of anger management. It might be appropriate for people with temper problems. But it is not suitable for violent criminals.
An anger management course starts by looking at why an individual gets angry, says Mike Fisher, director of the British Association of Anger Management. It is often about shame or an inability to realise one's goals. It is only by facing up to the cause that the programme can work, he says.
A six-step approach is used to tackle this anger when it arises - looking at the big picture, accepting that different opinions are acceptable, listening to people, using a support network, keeping an anger management journal, and not taking anything personally.
It takes time. Fisher estimates that picking up each point will take 10 weeks to three months.
It is hard to find independent evaluation of anger management classes.
A survey completed by 500 of 2,000 people Fisher has worked with suggested that 82% of people said the programme was still working 18 months after doing the course. A further 3% said it was a waste of money and 15% were ambivalent.
Many will wonder whether learning something in a classroom can really help in the heat of an argument.
Clarke accepts that you can't change someone's instincts. But you can alter the way that they react to the first signs of anger. The key thing is being aware of how the body reacts to the perception of threat, she says.
For those with a short fuse, it can be a debilitating problem, as Suarez appeared to accept in December 2012: "Off the pitch I am nothing like the way I am on it. The passion I have for football, it's very different, I've always expressed it like that, that's the way I play, but I also understand that I need to change."
He didn't change then and some doubt whether he can change now. Liverpool have not yet said whether they intend to take up the PFA's offer. But is anger management even the right treatment for him?
"For people with anger issues, everything [annoys] them," says Fisher. And yet if Suarez is to be believed his bad behaviour is only expressed in the heat of battle on the pitch when the adrenaline is flowing.
Some people's anger could be exacerbated by the presence of what's been called the "warrior" gene, Monoamine oxidase A, says Fisher. In reality it is not a gene but an enzyme and people have different levels of it. Those with low-activity MAOA are thought to display higher levels of aggression. It is common in sportsmen and people in the military, making them far more aggressive at times of stress, Fisher says.
But the real question is whether Suarez deep down, away from the soundbites, wants to change. He earns millions every year and doesn't need to work again.
There's a danger that he would go along to a course but not take it seriously, Fisher believes. "What emphasis is there for him to be cured? He'll probably tick all the boxes set by the manager. But if he doesn't take the programme seriously he'll act out again within four to eight months."
Control used to be seen as repression. But these days letting it all out, ranting and raving, is viewed as destructive behaviour, says Antonia Macaro, who writes for the Financial Times' Shrink and the Sage column.
She believes that anger management courses are generally useful. But there's a danger they can be a bureaucratic step rather than a real solution. "The idea that sending someone on a course automatically resolves things is dangerous. People can see it as a treatment, that they're cured. They've got to acknowledge they've got a problem."