Justin Bieber on Anne Frank: Five interpretations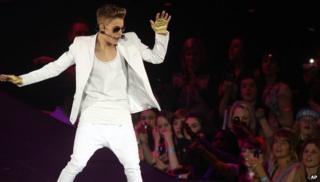 "Truly inspiring to be able to come here. Anne was a great girl. Hopefully she would have been a belieber."
That's what pop singer Justin Bieber wrote in the guestbook at the Anne Frank museum in Amsterdam, after touring the house where the Jewish teenager hid from the Nazis with her family during World War II.
What does this tell us about the pop singer? Critics in the media, and on social media, have drawn a number of conclusions.
Interpretation 1: He is self-centred
Many are infuriated that the singer could not write about Anne Frank without mentioning himself, and imagining her as one of his fans.
"How does he manage to think about his own fame and success attending a historical place of such tragedy and injustice," cries Camille Chatelain on Anne Frank House's Facebook wall.
This is echoed by co-founder of the Anne Frank Trust UK. Gillian Walnes says in the Jewish Chronicle that Justin Bieber is "trying to hijack" Anne Frank "for his own self-aggrandisement".
"It says a lot about what his ego is turning in to," she says.
Interpretation 2: He is young
The singer is 19-years-old. And teens can sometimes be insensitive, points out Shannan Younger, in Chicago Now's Parenting blog.
She suggests they "need to be reminded of what is truly significant in the world".
The best way to do this is by reading Anne Frank's diary, she says.
Charlotte Louise Claydon makes a plea on the Anne Frank House Facebook wall for Bieber to visit the museum when he is older "and hopefully wiser" so that he can "understand the messages of peacefulness, humility and respect that are wound within those walls".
But Jake Wallis Simons argues in the Telegraph that Justin Bieber shouldn't be excused because of his age. He says we should be expecting more from the singer.
"Let the singer off the hook, and we are doing him a disservice, suggesting that because he is young, he is therefore incapable of behaving responsibly. We will be limiting his horizons, and showing that we have little faith in both him and human nature."
Interpretation 3: He is ignorant
"Did Bieber, in his hour-long visit, miss out on the poignancy of the fact that Anne did not have the chance to live the life of a normal teenager?" asks Diana Reese in the Washington Post. She says she is cringing at the insensitivity of his remark.
"So maybe Bieber didn't think through that message so much," proposes Adam Clark Estes in the Atlantic Wire. But he gives the singer some credit for visiting the museum in the first place, in preference to some of the city's seedier attractions.
"At least he went to the Anne Frank Museum, though. We can think of a lot more trouble-making things he could've been doing in the land of coffee shops and fun."
Interpretation 4: He is misunderstood
It may be that the singer just couldn't express himself very well.
This is the angle taken by Kevin Fallon in the Daily Beast. He says Bieber, like many, was probably touched and moved by the experience and actually intended his note to be a homage to Anne Frank.
"Perhaps, then," he says, "it may be fitting to remember in this situation Anne Frank's own inspiring words: 'Despite everything, I believe people are really good at heart.'"
Could the message have been a failed attempt to bring home that Anne Frank was also a teenager? Comedian Simon Evans makes fun of this idea.
"I think Justin Bieber has humanised Anne Frank. Made us realise she was just a girl, young, perhaps capable of terrible errors of judgement," he tweeted.
Interpretation 5: He has raised awareness
Some don't attempt to understand what Justin Bieber was thinking when he penned his comment, and focus instead on the effect it has had.
The editor of the Jewish Chronicle, Stephen Pollard, tweeted that he has been bombarded by people wanting to know his reaction. But for him, the most important thing is that the singer raised awareness.
"There [are] 10,000 more newsworthy issues to do with race hate," he tweeted. "And at least Bieber has ensured his kid followers will have heard of Anne Frank."
Two days after their first post which alerted the world to the singer's comment, the Anne Frank House posted another Facebook update insisting his visit was a positive move.
It says: "We hope that his visit will inspire his fans to learn more about her life and hopefully read the diary."
Compiled by Clare Spencer