The peril of 'showrooming'
By Alex Campbell
BBC News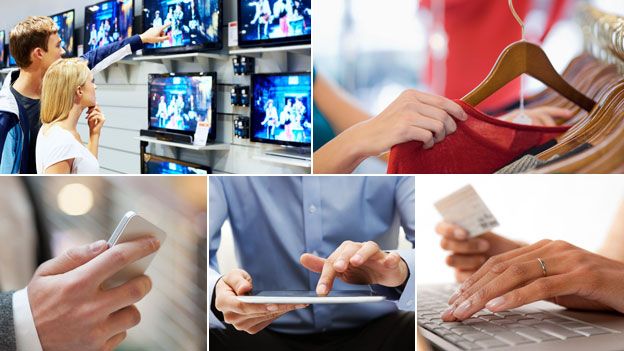 Have you ever seen something you wanted in a shop, tried it, checked the price online on your smartphone, found it was cheaper, and walked out? Welcome to the world of "showrooming".
"The staff at Jessops would like to thank you for shopping with Amazon" read the sign in a shop window shortly after the British camera chain went into administration.
It was a dry reaction to a growing problem for "bricks and mortar"-focused retailers. Showrooming is said to have exacerbated the decline of high-profile brands like Comet.
Gadget stores, bookshops and the cosmetics industry are all losing sales to showroomers, but solutions have proved hard to find.
Kelly Buckle, 23, of Birmingham, sometimes spends more than £200 in a single shopping trip - but never actually gets as far as the checkout.
"I can go in and smell a perfume and then find it online for £30 less," she says.
Research by design agency Foolproof found that 24% of people showroomed while Christmas shopping - and 40% of them took their business elsewhere.
Showroomers are not doing anything illegal. But the process can still be embarrassing.
"I feel bad about it, especially when the staff have been helpful, but it's my money," says Buckle.
Bricks and mortar shops have to pay rent, bills and staff salaries. Online retailers can offer cheaper prices because they don't.
But the online giants get a benefit from the very existence of bricks and mortar shops. It leaves physical retailers in a quandary.
An Australian speciality food shop recently raised eyebrows by charging $5 (£3.37) just for browsing. And some shoe and clothes stores in America and Australia have also tried a "fitting fee". In all instances the fee is taken off the bill when someone buys something.
Victoria Barnsley, chief executive of HarperCollins, recently suggested the idea of charging a fee for browsing bookshops is "not that insane".
Steve Pritchard, 61, who runs an independent book store in Crosby, Merseyside, and has worked in the trade for more than 36 years, is not convinced.
"We see them in the corner with their mobile phones, scanning the barcode on a book and finding it cheaper. I can't blame them," he says.
"I can't see a way to stop it. Charging people to browse has been suggested but it's a daft idea because you still want people to come in.
"You've just got to make your retail environment pleasant, have people here who know what they're talking about and try to embarrass them out of doing it."
If you take a specialist running chain like Run and Become or Runner's Need you can see this process in action. Staff analyse a customer's running gait, often on a treadmill and "diagnose" a pair of shoes that will avoid injury.
Those £100 shoes might be markedly cheaper online, but the would-be showroomer has to have a very high embarrassment threshold to walk out with a straight face.
This approach may seem more realistic than either charging a fee for advice or placing other obstacles in the way of showroomers. There have been suggestions that resistance from retailers has included asking suppliers to subtly change the names of products to thwart internet searches.
Coaxing the customer into being willing to pay more is the way, says retail consultant Martin Philpott.
"Shops like Jessops need to become centres of excellence with a limited number of showroom stores in high profile areas, selling high end products.
"I'm a passionate cyclist and I go to a shop that is much more expensive than the internet. But they will build a cycle for you, watch you ride up and down the street or even ride out with you.
"By the time you've been there for an hour, their enthusiasm is so overwhelming that you really don't want to go elsewhere."
Strangely, online retailers have an interest in the survival of bricks and mortar shops. If web-based retailers lure so many showroomers, what will they do if there are no showrooms left?
Philip Beeching, 53, a web consultant and self-confessed showroomer, thinks online retailers may themselves turn to bricks and mortar - but not necessarily staff and checkouts.
"Online retailers do well out of showrooming and companies like Amazon may well decide that they need to open up showrooms," he says.
Retailer-turned-author Bill Grimsey, former chief executive of Wickes and Iceland, agrees. He believes the future lies in purpose-built showrooms in major shopping centres.
"Things are going to change a lot, the whole thing is about to explode," he says. "People won't pay to browse. It may start but it will die quickly. People will expect the service."
Grimsey believes that even out-of-town retail parks will quickly become redundant, with 20 or 30 huge shopping malls dominating retail by making use of showrooms.
A growing number of retailers allow customers to order online and check or collect their goods in store - avoiding the inevitable missed delivery cards and increasing the chances of them buying something else while they are there.
But for many, the most important factor is still the price.
"My wife asked me to get a new celebrity cookbook which I found in Waterstones for £27. Using my smartphone I was able to search for it and I instantly found it on Amazon for £15," Beeching says.
"If the price had been closer maybe I'd have done the right thing. But especially in times where a lot of people are strapped for cash - what do you expect them to do?"