Sheep on roundabouts. Why?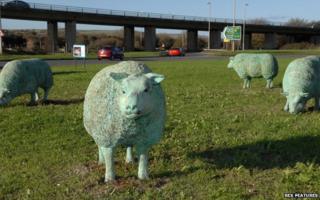 Roundabouts could just be blank patches of green around which we rotate, but sometimes the powers that be feel the need to decorate them, writes Charles Nevin.
Those of us who keep a watch on the often disregarded byways of social and cultural phenomena in Britain have been much taken with the latest news from Shoreham-by-Sea - the sheep are back on that roundabout by the flyover on the A283.
They arrived in 2011, but immediately met with problems.
Passing drivers were worried they might be sheep that had lost their way, even if they were green, and plastic. West Sussex County Council then sanctioned the installation of a fence so that the sheep would appear to be safely grazing.
To no avail. Drivers still worried. So now, after a temporary absence, they are guarded by an impressionistic life-size steel shepherd.
There is much to admire and note in this episode, not least the perhaps unexpected flexibility, ingenuity and doggedness of the council and its contractors, plus the commendable attention to health and safety displayed by the drivers.
I also like the dual functionality of the sheep - they are there to promote the beauties of the nearby South Downs and are also sponsored by a local tandoori house.
They also point up the explosion of sponsored roundabout art that has been taking place over the last decade or so - barely a circular traffic facility survives unadorned by some striking image, figurative or symbolic, inspiring or playful.
You will have your own favourites, but I always liked the Traffic Light Tree in London's Docklands, a bewildering display of red, amber and green which kept me waiting, transfixed and tense, for really quite some time when I first encountered it. The good news is that it's poised for a triumphant return to a roundabout near Billingsgate.
There are some fine art pieces as well, including The Rise in Belfast, two steel meshed spheres symbolising "the rising of the sun and new hope for Belfast's future", or, as it's more popularly known, due to its location, The Balls in the Falls.
Then there's Cardiff's wonderfully crazed homage to all manner of our traffic signage, inevitably known as the Magic Roundabout. And how could you not smile at the 10ft (3.04m) high, two-tonne cockerel welcoming you to Dorking?
Legends are already attaching themselves: the copy of Piccadilly's Eros (once roundabout art itself) in Fleetwood, Lancs, is confidently claimed to surmount the roundabout mausoleum which will be the final resting place of Mrs Dorothy Lofthouse, matriarch of Fisherman's Friend lozenges, made in the town.
This, duty sadly compels me to inform you, is completely untrue.
These ubiquitous spirited installations also underline the importance of the roundabout in our national psyche. Although, whisper it, the roundabout is a French invention (the Arc de Triomphe, marvellously, is the world's first), the British have taken it to their hearts as an expression of that high civilisation and deference similarly demonstrated by the queue (French again, of course, though they're not slavish about it).
But we have gone further, devising that concentrated marvel calling for yet more courtesy and extremes of patience, the mini-roundabout, which achieves its apogee in Swindon, where five minis majestically form a larger one to the awe of most drivers.
What is not yet explained, though, is the popularity of sheep. According to my preliminary researches, they also feature on roundabouts in Shepton Mallet in Somerset, Reighton in North Yorkshire, and Newport in Shropshire.
Is this some wistfully lingering bucolic dream, or an ironic comment on our lives as we dutifully follow the car in front (you might remember that large piece of graffiti greeting London commuters, "Good Morning Lemmings")?
In the meantime, I have to report life imitating art in that confusing way earlier this year in Leeds, where a flock of live sheep invaded a roundabout near Ikea after travelling a mile from their farm.
Their owner was at a loss to explain the expedition - there didn't seem to be a sale on - although he was proud of the way they had negotiated the M62 slip road. More reports, please.