Former army chief in Afghan interpreters asylum appeal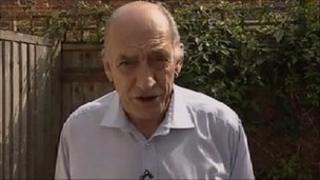 Former army chief Gen Sir Mike Jackson has appealed to the government to not abandon Afghan interpreters who have helped the British army.
Sir Mike and others, including former Liberal Democrat leader Lord Ashdown, said Britain has a "moral obligation" to offer the interpreters asylum.
They said the 600 interpreters who have served British forces in Afghanistan live in fear of Taliban reprisals.
Britain is the only Nato country yet to offer its Afghan interpreters asylum.
The open letter in The Times newspaper was also signed by the director of the think tank The Royal United Services Institute, Michael Clarke; author and ex-army officer Patrick Hennessey; and veteran Jake Wood, who wrote Among You: The Extraordinary True Story of a Soldier Broken By War.
'Extraordinary sacrifices'
It said the current system of dealing with asylum claims by Afghans is "slow, not transparent and offers no guarantee of success".
Around 20 interpreters have been killed in action, dozens more have been injured, and five others have been killed while off duty.
The letter detailed how last week an interpreter and his family had gone into hiding after receiving a call from the Taliban threatening to punish him for helping the British.
The letter said: "Afghan interpreters who've stood shoulder to shoulder with our armed forces in Afghanistan are in danger of being abandoned by Britain.
"The British military's job would have been impossible without local interpreters, who risked their lives and made extraordinary sacrifices."
Britain's current position differs from its Nato allies, in "shamefully" being the only country to not offer the interpreters asylum, the letter says.
After the Iraq war, Britain gave Iraqi interpreters the offer of asylum or a one-off financial payment.
There has been a growing campaign for Afghan interpreters to be offered the same.
An online petition launched by one interpreter has received 60,000 signatures.
The letter said: "The Ministry of Defence's argument against an Iraqi-style scheme has been that it was 'expensive, complex to administer and took little account of any individual need for protection.'
"Our argument is that Britain has a moral obligation to support this small number of brave men who put themselves in grave danger so that British soldiers could do their job."