Why evacuate for an earthquake no-one can feel?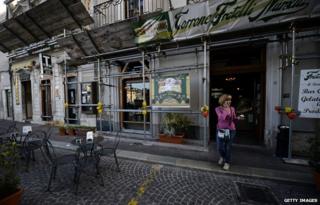 It's four years since the deadly earthquake in L'Aquila, Italy, and six months since scientists were convicted of manslaughter for failing to communicate the danger. Today, evacuation orders are issued much more readily - too readily, some say.
"Everyone knows, you can't predict an earthquake."
Anne Thornley-Bennett, who lives in the Italian town of Barga, categorically believes this. So why, on 31 January, did she decide to evacuate when the local council sent out warnings of a major quake?
"We received dozens of phone calls and text messages, one of which just said, 'Evacuate'. We just went along with the mania," she sighs.
"If it had only been my husband and me, I don't think we'd have taken the advice. We'd have just stayed on the bottom floor in our sleeping bags as we'd done the previous nights. But when you've got little ones... well, if anything did happen, you'd never forgive yourself."
Barga is situated in the picturesque but seismically shaky Garfagnana region of Tuscany. For a week they had been experiencing constant tremors and aftershocks.
"It was pretty scary because you could hear the earth groan. One day the kids were even evacuated from school without their coats." She laughs, implying that only a real emergency would see Italian children being sent outside coatless in winter.
Garfagnana experienced a huge 6.5 magnitude quake in 1920, yet the local authorities and population have never panicked like this before.
One mayor's decision to evacuate a town centre on 31 January spread fear to the surrounding municipalities, where thousands of residents ended up being advised to sleep in their cars or in schools transformed into emergency shelters. Hospitals and care homes were emptied. In the end, nothing happened. The following day, everyone went home.
Italy never used to worry quite so much about little tremors.
The change appears to be the direct result of last year's conviction of seven members of Italy's High Risk Commission - six of whom were scientists - for manslaughter. They were found guilty of failing to properly communicate the risk of a major earthquake in L'Aquila.
The case has produced its own kind of aftershock.
"Alarmism? It's the poisoned fruit of the L'Aquila sentence," says Franco Gabrielli, the head of the Civil Protection Department, the day after the Garfagnana evacuations.
His spokesperson Francesca Maffini says it's inevitable that scientists are now erring on the side of caution.
"It's not the verdict itself, it's the very fact they were put on trial," she says. "If the risk is between zero and 40%, today they'll tell us it's 40, even if they think it's closer to zero. They're protecting themselves, which is perfectly understandable."
Prof Stefano Gresta, president of the National Institute of Geophysics and Vulcanology (INGV), acknowledges the convictions had a big impact.
"We are more aware that our role as scientists must be exclusively limited to our results and interpretations," he says.
But he also thinks something went wrong on 31 January in Barga with the way the scientific tremor prognosis was communicated between the various levels of decision-makers. The escalation of events that night stemmed from a single tweet sent by a council, advising residents to "sleep away from home".
In the past, information was interpreted and filtered by the likes of the High Risk Commission, the Civil Protection Department and local and regional councils. Today you can get it directly from source through smartphone apps with names like Terremoti Italia (Italy Earthquakes) and Hai sentito il terremoto? (Translation: did you feel the earthquake?)
Keane, an Irish expat artist and journalist (with only one name) who has lived in Barga for 28 years, thinks this is making people obsessive.
"Some apps tell you every time there's a tremor, including the small ones that humans can't even feel. Mine says there were 15 today in Italy, two in this area. You get constant beeps in your pocket and in the end it becomes a psychosis," he says.
It's a phenomenon that worries Gresta. He does not consider alarmism and sleeping in cars to be the solution, and would prefer to see changes in construction.
"There needs to be greater awareness of the vulnerability of the houses we live in and the buildings we work in and, where appropriate, they should be made safer," he says.
But this will cost councils and homeowners money.
And Thornley-Bennett says people in Barga who chose to evacuate did not really mind.
"We met lots of people we knew and the kids played with their friends. At about 2am, council staff turned up with hundreds of white plastic chairs so we could all sit around and chat. In the morning, we took the children off for breakfast in their pyjamas and then we went home."
Although frightened by the tremors themselves, on that particular night her children had the time of their lives.