Online dating for people with sexually transmitted infections
By Tom Heyden
BBC News Magazine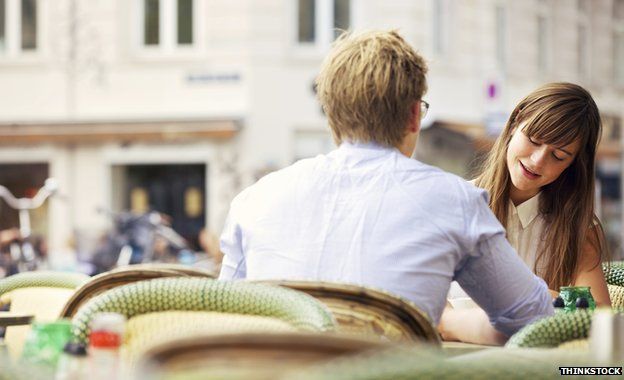 Some names have been changed. Picture posed by models
Dating can often be fraught with uncertainty and self-consciousness. For those with incurable sexually transmitted infections (STIs), are tailored websites the answer for people nervous of telling potential partners about their condition?
The past decade has witnessed the growth of niche dating websites - from Amish to Zombie enthusiasts - but a particularly burgeoning sector has been the proliferation of STI dating websites.
Now there are so many, there are Top 10 lists.
Many have taglines such as "Stay positive! Find Love, Support and Happiness" or "Plenty of Positive Fish". Some sites, such as H-YPE or H-Date, are aimed specifically at people with the most common types of incurable STIs, such as herpes and HPV, which causes genital warts.
"If you have just been told you have herpes or HPV and you feel like your life is over, well, we are here to prove to you that it's not. In fact, it's a whole new start," it says on H-YPE.
Others, such as PositiveSingles - which has 30,000 members in the UK, accumulating 100,000 new members last year worldwide - and DatePositive, which has more than 6,000 profiles, allow users to search for people with almost any sexually transmitted infection.
Typically you enter your age and sexual preference, details you'd add on any mainstream dating site. Then you can search for people with a specific sexually transmitted infection.
The rise in these dating sites coincides with increasing rates of STIs. There was a 2% UK rise in new cases from 2010-2011, according to the Health Protection Agency's latest statistics. More than 100,000 people in the UK are diagnosed with genital herpes or HPV every year.
Meanwhile, there are about 20 million new STI cases each year in the US, and about 110 million in total, says the Centers for Disease Control and Prevention (CDC).
Although some infections such as chlamydia are curable, others including herpes, HPV and HIV are not.
It means that entering the dating world with an STI is a reality for many. And the stigma can make it a daunting prospect.
"[Some people] feel like freaks, like lepers," says Max, 44, who set up dating site H-YPE.
Kate, 36, from Manchester, who has herpes, thinks the stigma attached to STIs also means "people assume you've slept around".
It belies the fact that many people contract STIs from long-term partners - with some people only discovering they've contracted one at the same time they find out their partner has been unfaithful.
For many, the thought of telling a new partner about their STI is terrifying.
Many feel there's no "right time" to have the talk. Too late, and there's the risk of incurring anger or losing trust. Too early, and the person may cut their losses before even getting to know you.
Kate recalls how a promising relationship was ruined by the disclosure of her herpes. "It came up in conversation and I was petrified. It broke us. He didn't want to take any chances."
For others, the fear of rejection can lead to a withdrawal from dating altogether.
"I've had the chat with people before and they've not wanted to know, and whatever anyone says, it knocks you back, knocks your confidence. Even when you're let down politely, it affects you. It makes you realise that you are a bit different," says 50-year-old Londoner Mark, who has had both herpes and HPV for more than 20 years.
Against this backdrop, it's easy to understand the success of STI dating websites. On most sites, users can write as much or as little about their condition as they like.
Putting all the information upfront "brings it back to the basics of a relationship... do you like each other?" says Kate. "For some people it's a life saver."
As with any relationship, shared experiences can also lead to shared understanding.
And there is a feeling that some provide more than a mainstream dating site, offering support networks and a sense of community. There are often online counsellors, people can share their experiences in blog posts and some have events.
"It's like a herpetic Facebook," says Max.
However, some people are wary of the message STI dating websites could send.
HVA director Marian Nicholson believes that some sites perpetuate the negative stigma surrounding herpes.
This is completely out of touch with the reality of living with a condition like herpes, she says. For most people, it barely affects their lives, while many others do not even know they have it.
Similarly HPV often only causes one outbreak of genital warts despite technically being incurable, says sexual health physician Dr Mark Pakianathan.
"These sites can make people think 'now I am a leper I need to find a leper to date'," says Nicholson. "People shouldn't narrow their pool of potential partners."
It's a view shared by sexual health charity Family Planning Association. "We wouldn't endorse [these sites]", says director of information Nakita Halil says. "The reality is that you can have a happy, healthy sex life without transmitting [an STI]".
Even H-YPE founder Max agrees that the sites contribute to the stigma, although he calls it a "necessary evil" because the stigma exists regardless.
There's also the suggestion that these sites can give the false impression that just because you have the same STI, unprotected sex is safe.
"Just because you have the same STI as someone else, it doesn't mean they're the same as you in other respects," says Dr Pakianathan. "One STI doesn't preclude the presence of others."
For HIV sufferers, there's the risk of a "super infection" from a drug-resistant strain carried by someone else, he says. And there are more 100 strains of HPV, of which more than 30 affect the genital area.
Of course plenty of people with STIs find love with non-infected partners.
Despite joining an STI dating site, Kate says she kept her profiles on mainstream dating websites, clearly stating her herpes condition. Although she received the odd abusive message, it's where she met her current partner.
"People will either talk to you or they won't. If they have a problem they can self-select out," she says.
Even face-to-face talks need not be the source of anxiety.
"Close to 90% [of the time], it depends on how you tell them. It's about re-educating people [and] making it normalised," Max says. "If you are crying, telling them like it's a life destroyer, they will it treat it like one."
Ultimately, it seems to depend on the type of person and their willingness to face possible rejection.
As long as there is stigma in mainstream society, STI dating websites will seemingly continue to serve a purpose to those who wish to avoid such scenarios.