How Apocalypse Now inspired Filipino surfers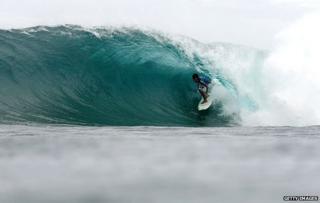 When a scene from Apocalypse Now was shot on an obscure beach in the Philippines in the late 70s, little did the film-makers know they were giving birth to the country's surfing culture.
"Charlie don't surf," says the reckless and irrepressible Colonel Kilgore, in one of the most memorable lines of the Vietnam War film Apocalypse Now.
Charlie is the American soldiers' derogatory nickname for their enemy, the Viet Cong, and the surf-mad colonel is trying to persuade his troops to ride the waves, despite the bombs falling all around them.
Apocalypse Now, released in 1979, depicts the madness and mayhem of conflict, and is widely regarded as one of the most powerful war films ever made.
But it also has another legacy - something that the director, Francis Ford Coppola, could not possibly have intended.
Apocalypse Now was not actually filmed in Vietnam, but in the little fishing town of Baler in the northern Philippines.
As the cameras rolled, local Filipinos like Edwin Nomoro watched from the sidelines.
Nomoro was 10 at the time, and he came down to the beach every day to see it transformed into a battle scene, complete with an entirely fake Vietnamese village and helicopters swooping overhead.
But what excited him most was the sight of the actors surfing - something he'd never seen before.
"When the filming finished, some of the crew left their surfboards behind, and my friend and I picked up the boards and taught ourselves how to surf," he says. "We've been surfing ever since."
At first, Nomoro and his friends found it difficult because there was no-one around to teach them.
"But we studied it, and learned, and now - no-one can explain what it feels like. Only a surfer knows the feeling," he says, smiling.
Once they got the hang of it, the boys started teaching others, and as word spread, tourists began coming to the little town to learn to ride the waves at Charlie's Point, as it became known.
Nomoro was able to turn his passion into a way of making a living, and more than 30 years on, he still earns money from the industry he helped to create.
"I have several rooms to rent. I also have some surfboards for hire," he says. "It's really improved my life. It helps me feed my family."
Baler is now very different from the sleepy fishing town where Martin Sheen, Robert Duvall and Marlon Brando stayed decades ago.
Several big hotels line the seafront, and more are being constructed. According to the local tourism office, at least 50,000 people came here in 2012.
Most visitors are Filipinos - Manila residents who just want a weekend of surfing - but an increasing number are foreigners.
One of the earliest arrivals was Donny Cope, who turned up in Baler in 1997 with "a surfboard, a backpack and a sense of adventure".
He has stayed at the beach on and off ever since, and now runs a small guesthouse.
"Last year we had surfers from the Czech Republic, Switzerland and a bunch from France," he says.
Baler's success as a surfing centre has rippled out to other parts of the Philippines, such as Surigao, La Union and Pagudpud.
"Baler is the birthplace of Philippine surfing," says Mac Ritual, a local tour guide.
"Other places saw a lot of good things here in Baler, and they also wanted to be popular because of surfing."
Ritual often takes his tour groups to see the main sites featured in Apocalypse Now.
The most famous is a headland where a major attack on the Viet Cong was staged. It was nicknamed Charlie's Point in the film, and now even local Filipinos use this name.
Going there now, it's quite difficult to recognise anything from the film.
The fake Vietnamese village was blown up at the time, and the trees which were burnt down as part of a simulated napalm attack have all regrown.
But there's no chance of the beach nearby going back to the way it once was.
All the way along it, people are surfing - beginners screaming excitedly as the waves crash over them, and seasoned professionals perfecting their technique on the breakers.
This town has come a long way since the days of Apocalypse Now.
Perhaps the best way to sum up its changing fortunes is a little shop on the seafront.
Its name? Charlie Does.