Brunello di Montalcino: How a Tuscan wine kept growing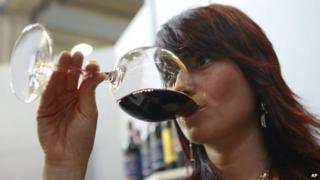 The Italian economy has been shrinking for the last six quarters, but there remain bright spots, and Italian vineyards - which have produced more wine than their French counterparts for four of the past five years - are one. The story of Brunello di Montalcino shows how a fine wine can shrug off a downturn.
Offer a glass of dark red Brunello di Montalcino to most Italians and their faces will light up with impressed enthusiasm - it is considered one of Italy's top red wines, alongside the likes of Barolo, Barbaresco and Amarone.
Outside Italy it has not achieved the same wide renown, even though 65% of it is exported and a typical price upwards of 35 euros (£30, or $45) indicates both high quality and high demand.
The people quaffing it must be keeping the secret to themselves - but annual production is fast increasing, so it's likely to become better known before long.
Brunello is produced from vines grown on the slopes of the tiny Tuscan hill town of Montalcino, some 40km (25 miles) south of Siena.
It is made from 100% Sangiovese grapes, in contrast to its better-known neighbours, Chianti Classico and Vino Nobile di Montepulciano, which are blends of Sangiovese with other grape varieties.
Once produced principally for personal consumption, in the 1950s a handful of local winemakers decided to actively promote Brunello di Montalcino as a fine wine. When they set up their consortium in 1967 there were just 16 producers, now there are 250.
"My grandfather was one of the Brunello pioneers. They were the first to believe in quality at a time when it was not easy to do so. The problem was having enough food to eat, not making fine wine," says 26-year-old Francesco Ripaccioli, who owns and runs his family estate, Canalicchio di Sopra, together with his brother and sister.
"The consortium wasn't for rich landowners, it was for the farmers. After World War II, the population here went from 10,000 to 2,000 as people left to earn a living in the cities. Brunello was their solution to the challenge of staying."
Two generations later, there are many parallels.
Many of the second generation of local wine-making families chose what was then considered a less risky profession, like becoming a doctor.
But their children are now taking up the reins. For one thing, they don't want to leave. And for another, Brunello seems like a sure bet. It's been dubbed "the red wine that knows no recession".
"I think we live in one of the most beautiful places in the world. There are no industries in the surrounding 20km so it's very clean... We just know what we have and we want to keep it," says Ripaccioli.
"My family used to sell 5,000 bottles abroad and now we are selling 40,000. The young are faster and able to exploit market potential better. The older generation are also realising that they've done their job in making the brand famous but now it's time to let the new generation have their chance."
Riccardo Talenti, whose grandfather founded his wine estate in 1981, agrees with Francesco. Now 34, he took over the business when he was barely 20, just after his grandfather died.
Like Ripaccioli, Talenti's love of Brunello began when he was a little boy, playing hide and seek behind the barrels and crushing grapes with his feet.
"It started off as a game for me but then transformed into a real passion… It's fun, while my dad's world [as a doctor] seemed miserable: fevers, coughs, sore throats. Our work is much more joyful!"
Today Talenti is a medium-sized winery producing 100,000 bottles a year, 85% of which are exported. Riccardo, who studied agriculture and specialised in oenology, runs it single-handedly.
Brunello is aged for five years, at least three of them in oak barrels, before being bottled. So this year's vintage is from the 2008 harvest. For the first time it will be presented in eight countries, including China, Russia, Brazil, Canada and Japan.
Annual production has risen from six million bottles in 2007 to more than nine million last year, while the quantity exported has risen from 3.6 million to 5.8 million in the same period.
Riccardo Talenti says Brunello is "a little island of happiness in Italian agriculture".
"There have been some fluctuations in recent years but Montalcino has come out of this with its head held high," he says.
One of the wine's less glorious moments was the "Brunellopoli" (Brunellogate) scandal in 2008 - when several producers were found to have been breaking the rules blending Sangiovese with other grape varieties.
Another came last December, when the entire production of Brunello from 2007 to 2012 at the Case Basse estate - 60,000 litres - was destroyed in an act of vandalism, apparently committed by a disgruntled former employee.
But an air of buoyant optimism marked the presentation of this year's vintage in Montalcino a couple of weeks ago.
"Chianti Classico is far better known in terms of production numbers and history, but Brunello is growing to become the real feather in Tuscany's cap," says Talenti.
Canadian wine appraiser Dan Hertz says Brunello is a wine with "immersive" aromas - "earth, mushrooms, cherries, plums, flowers, coffee, liquorice and chocolate". It's a scent, he says, that "makes you stop to ponder".
"It's the best expression of Sangiovese in the world," says Ripaccioli, who took his first sip when he was three.
"When you taste the wine, the flavour stays in your mouth for two minutes and the sensation doesn't disappear. That's because the tannins come from the grapes, not from the wood in the barrels.
"For me the best characteristic is the relationship between the big structure of the wine and its elegance. This combination of full-body with elegance is very rare."