What is it like for politicians in prison?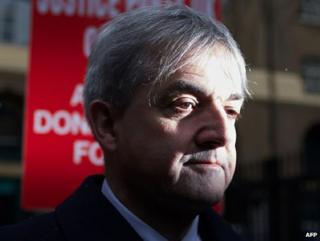 Former energy secretary Chris Huhne is starting an eight-month prison sentence. What happens to a politician in prison?
Since a fellow Liberal, Tamworth MP Jabez Balfour, was found guilty of fraud and sentenced to 14 years of penal servitude at the turn of the 20th Century, there have been a line of politicians - of all shades - brought low by the hand of justice.
For those more used to holding the reins of power, to quote newspaper magnate-turned-convict Conrad Black, Baron Black of Crossharbour: "It's a jumping into the unknown, you know. You just, well, look forward to the end of it."
According to former Conservative minister, and prisoner, Jonathan Aitken, from the moment you are sentenced you are suddenly a convicted criminal "and life changes in minutes".
Aitken was jailed for 18 months in 1999 for perjury and perverting the course of justice.
"Apart from filling in lots of forms, you're in a cell for the first time, you'll be put in handcuffs for the first time, taken out to a van, which prisoners call the 'sweat box'," he told the BBC.
"There's a moment when you're in the reception cell of the prison, which is known as the 'cage', and prisoners are piling in from courts all over London and south-east England and I remember, for example, some people going almost berserk inside the cage."
When someone arrives at prison for the first time there are more shocks in store. They are strip searched and have their fingerprints and mugshots taken.
Lord Taylor of Warwick - a member of the House of Lords who spent three months in 2011 in HMP Wandsworth and Standford Hill for expenses fraud - advises Chris Huhne to adopt the "right mental attitude".
"It's very important you go in without airs and graces - and take one day at a time. Remember, in prison everyone is on the same level."
The lowest point is definitely the first night, says Taylor, because you're new to it, you realise where you are and you see yourself on the news and them "pontificating" about you.
As a high-profile person, Taylor was offered "rule 43", where he could be kept separate from other prisoners. He advises Huhne against it.
"I got a lot of compassion from other prisoners," he says. "I didn't go into an isolation wing and that's respected by other prisoners."
He tells the story of how when he arrived on the wing, he heard other inmates arguing over whether he would "go on rule 43".
"I said 'he's not', and they said, 'how do you know' and I replied: 'Because I'm him.' It was an icebreaker."
Another former inmate, Martin (not his real name), says Huhne and Vicky Pryce will be hoping to be "categorised" - most likely sent to an open prison - quickly.
"I was arrested in the Midlands, so I first went to Lincoln, which is a local category B prison.
"In his case he could go to Wandsworth, or possibly Belmarsh, maybe [Wormwood] Scrubs, depends of how full the prisons are at the moment. They will be prisons that hold some pretty scary people.
"Waiting to be assessed is a tough time. Usually you're just kept in a cell with someone - you don't know who they are, what they've done, what they might do.
"You come off the van from court and are put in holding cells.
"You hand over your clothes which are put in a box. Then in my case I was put in an old robe and checked out by a doctor. You are searched wearing no clothes. Then you're given clothes, a bit of bedding, a plastic cup, plastic knife, fork, spoon, bowl and plate. Then you are taken up to the wing, and put in a cell."
A key to surviving prison is a sense of humour, says Taylor. Huhne should expect a few jokes - like will he have champagne or claret with his dinner - the peer warns.
And then there's the food. "Dreadful. Tonnes of bread, tasteless."
But by the second month prison life almost becomes the norm.
"I got used to it," says Taylor. "And I probably made more friends in prison than I have ever done in Parliament."