Canberra: Why the Australian city is far from 'boring'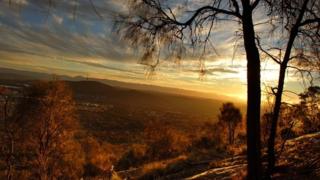 A Magazine article describing Canberra on its 100th birthday as a city struggling to convince outsiders that it has more to offer than political hot air, prompted many Canberra fans to sing its praises.
Sydney is often thought of as brash and bold, Melbourne cool and classy, but Canberra, at least in the Australian public imagination, is "dull and devoid of soul", the article explained. But many readers argued this was not a description they recognised, while others nominated other cities that they thought should hold the title of "most boring".
Lakes in the summertime, mountains at sunset...
Alice Dawkins, Canberra: The inherent issue with the city is its transient population - the commute of its politicians and, owing to the growth of the Australian National University, the students who travel from all over the country to this peculiar outpost of a city. This means that in sitting weeks and university periods, parts of the city are exploding with activity. During holiday time, sure, the mood comes close to anaesthetising. But just because Canberra doesn't reach out to you like Melbourne does with its alluring, winding lanes and street art, or Sydney with its stunning harbour views, there's certainly no absence of charm - sitting by Lake Burley Griffin in the summertime, sunset from Mt Ainslie (pictured), Lonsdale Street, the incongruity of French patisseries in the heavily industrialised suburb of Fyshwick, the Botanic Gardens, Telopea Park.
Seek and ye shall find.
Neighbours
Jack Bowres, Canberra: I've lived in four different countries, including England, and in several cities within Australia. I fell in love with Canberra from the moment I arrived and, after 15 years, my love has only grown.
It's not its fantastic amenities, like art galleries and bicycle paths, it's not the beautiful blue skies and the clean air, nor is it that feeling you have of being at the centre of political, cultural and intellectual life.
It gives me all of those things, but it's the sense of community that I love. I chat with the local senator, whose child is in my child's class. My neighbours drop around with vegetables from their gardens and feed my chooks [chickens] while I'm away. Whenever I go to the local swimming pool or the supermarket, I'm sure to bump into friends and locals and we share time together.
Xavier, Canberra: I moved to Canberra from Auckland, New Zealand, to start a PhD, and for the first year I loathed it - I couldn't wait to leave. Now I love the city. I definitely want to leave at some point for The Big Smoke, but as a place to live, play and work, it's actually pretty fantastic - access to open space, easy to get around, high wages, friendly people who are smart and left-of-centre. Sure the night life is pretty quiet in terms of established bars and clubs, but there's always a party on at someone's house.
Dr Chris Grant, Sacramento, California: In 1973 I won a Queen Elizabeth Fellowship and so my young family upped and moved from Surrey, UK to the John Curtin School at the Australian National University. With three kids aged three to seven, that was not a lightweight undertaking. The university, however, provided subsidised housing in several communities. Our neighbours came from everywhere - next door were Brits, across the street Canadians, just to each side were Chinese and Russians, and we all had young families.
We had house parties almost every weekend, a continuous volley-ball game on the central green - you simply came, played and left again, no-one had a clue about the score. We had Christmas in June, and we almost believed it.
It is true that some unmarried students and post-docs did find Canberra a little quiet, but I remind readers that - more often than not - it is single people who write these travel monologues, and by no means everyone going somewhere new is single.
I don't think a single resident of the Australian National University community in Hughes in the last 35 years would agree with Canberra being described as "deathly dull", for it most certainly never got close to even being quiet.
Never far from anywhere
Chris Hadon, Canberra: We moved to Canberra from Bedfordshire three years ago and we love it. The sun shines almost every day. The drive to work takes 20 minutes. We are surrounded by lakes, rivers and bush. I pass kangaroos every day on my way to work. We go to the beach to surf every second weekend in summer, as it's only a 90-minute drive. Crime is very low, as is unemployment. It is Australia's best-kept secret.
Edwina Evans, Canberra: I grew up in Canberra but have lived all over the world, including 10 years in Sydney and six years in Melbourne. Yes, they are definitely more vibrant cities, but what you fail to mention is that Canberrans have the highest median income in Australia, and the highest percentage of home ownership. We are two hours from some of the most picturesque beaches in the country and two hours from the ski resorts. No matter where you live in Canberra, the city centre is no more than 30-minutes' drive. After commuting in Sydney for four hours a day, this is a big plus.
Taff Thomas, Canberra: I am an expat Welshman living in Canberra. Like all cities, some will love it, some will hate it. I personally love it. It has all the amenities you would expect of a major city, without being overcrowded, too large and totally impersonal. The weather is great, I can be in the skiing areas/ mountains within an hour-and-a-half's drive, down at the coast in two, or - should I want a big city experience - in Sydney in three hours. All this without having to put up with the noise, pollution and crime of a major city. I can be out in the open countryside from any point within Canberra, in a 15-minute drive. Sure, we may miss out on a few gigs, but Sydney is an easy day out for that sort of thing. We also have world-renowned galleries (I saw an exhibition of Lautrec paintings/posters this very weekend), museums, sports facilities, and events. Canberra is perfect if you want an easy, laid-back lifestyle.
They're clever in Canberra
Nick Reddan, Canberra: Canberra is one of the best-educated and informed places in Australia. About 20% of people in Canberra have post-graduate degrees or diplomas, and 33% bachelor degrees compared with about 9% and 24% for the rest of Australia.
Frances Cameron, Canberra: I am an ex-UK resident. I have lived in Essex, London and Sydney. Without a doubt, Canberra is the most beautiful place to call home, have a family, buy a house and live out the rest of my life. It might be a little less dazzling than Sydney, less sophisticated than London, but it's got space, sun, great roads, intelligent people, higher salaries than almost anywhere else in Australia, three universities, of which one is regularly in the top-10 of the world's institutions, and much more. It's a city on the cusp of being truly great.
It keeps getting better
Marina, Sydney: I lived in Canberra from 1981 to 1986 and hated it. But I've been going back regularly. Canberra has changed enormously since 1986. It's full of young people (including my 19-year-old son who studies there), there are lots of places for young people to go, there are great sporting facilities and generally the standard of living is much higher than, say, Sydney or the rest of Australia. Now I do believe I could live in Canberra - though 27 years ago I left and vowed I would never return. The only thing that would make Canberra more vibrant and cosmopolitan would be an influx of migrants.
Neil Bombardier, Bathurst, New South Wales, Australia: I grew up in Canberra and still consider it my home, despite having lived in many cities around the world. The point is that Canberra struggles with the transient nature of its population. I once heard a demographer state that on average people live in Canberra for 15 years. It makes it more challenging for a city to develop a "soul" when there is little generational understanding of its past.
Having spent some years living in the rapidly growing communities of the Western US, Phoenix Arizona and Colorado Springs, I have seen a similar pattern emerge. I found that the really interesting parts of those cities were the local hangouts, where generations of people have had experiences.
Canberra is developing that with a growing community of second, third and even fourth-generation families who will provide some of the colour and humanity that makes a city interesting.
It's dull in...
Ottawa, or Bytown as it was once known, was another capital selected specifically for the job. It sits right on the border of Ontario and Quebec, chosen in an effort to appease both English and French Canadians. I lived in Ottawa for a year and got out as soon as I could. It's not that the politics are boring - I'd say they're the most interesting bit - but the rest of the city is devoid of most amusement besides staring at concrete walls. I find there's a lot of grey and it takes some work to get a good view of the lovely Parliament Buildings (pictured with the Duke and Duchess of Cambridge) without it being marred by some beastly thing erected in the 1980s. It's still a small city, and there are nice places, but my general experience was not a positive one. I was far too bored. There's skating on the Rideau Canal, which plenty of people seem to enjoy, but that's just when it's frozen.
In an antique shop, I found a print of the city sometime shortly after Confederation. It's grown since then, but in my opinion it has also grown uglier. But that's just poor planning. Erastus Karallus, Toronto, Canada
Abuja, Nigeria's planned capital, has to rank among the world's most boring cities/capitals. Started more than 20 years ago, it still has no soul. It is effectively an example of economic apartheid - the haves (politicians, civil servants and expats) spend their weekdays within the city boundaries, often escaping back to Lagos at weekends, while the have-nots are mostly banished to the satellite cities. With no real centre, social events revolve around two major Western hotels, two cinemas and a few Western-style shopping malls. Julia West, Freetown, Sierra Leone
Brasilia, Brazil's planned capital, was built to serve exclusively as the nexus of Brazilian bureaucracy. It may have quite an interesting concept - it was planned in a shape of an airplane, with the National Congress and Supreme Court located in what would be the "cockpit", and the residences of public servants and other inhabitants located in what would be the "wings". The city's buildings and monuments, with their blocky shapes, clean lines, and apparent concrete, were supposed to have a futuristic appeal and portray egalitarianism. The Utopia proved to be a bland and soulless set of blocks organised in myriad sectors, lacking any kind of human warmth or naturalness. Ricardo Leal, Brasilia
Phoenix, Arizona, is possibly the most soulless, cookie-cutter city I have visited. The city is designed on a neat grid with numbered streets, strip malls are found everywhere and, like many American towns, you must drive on highways to reach anywhere. It is also a bit of a cultural wasteland. The city is incredibly homogenous - you would think that being next to Mexico it would have a stronger Latino flair. Joseph Ho, Phoenix, Arizona