Keep Calm and Carry On: Are the parodies still funny?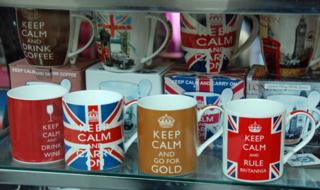 There was outrage when T-shirts went on sale printed with offensive variations of the Keep Calm and Carry On slogan. But has the endless parodying of this wartime slogan now become tedious?
Keep Calm and Carry On.
But people haven't kept calm. This wartime slogan was first resold as a poster in 2001. Then it made its way on to mugs, T-shirts, tea towels, mouse mats, aprons, and all manner of other items.
It soon started to be parodied. One of the first - Now Panic and Freak Out - had at least a vague whiff of originality in 2008.
But five years on and the variants are in the thousands.
Keep Calm And Have a Cupcake. Keep Calm And Have a Beer. Keep Calm And Do the Dishes. For Star Wars fans, the Yoda-inspired Calm You Shall Keep and Carry On You Must.
Amazon lists 442,000 items with "Keep Calm and" in the title.
You can dress your dog in a Keep Calm and Marry Kate T-shirt for pets. There's a Keep Calm and Have a Cupcake light switch.
People can decorate their nails with Keep Calm and Gangnam Style stickers, in a mish-mash of internet memes. Amazon lists 74 items with this phrase alone.
Football clubs from Brighton to Aberdeen have their own versions.
It all began with Northumbrian booksellers Stuart and Mary Manley, who found the old WWII poster in a box and only began selling copies in 2001 after numerous requests from customers.
The original Keep Calm and Carry On is a simple, short phrase that encapsulates a nation's self-image.
The poster was created by the government in 1939, to be published in the case of invasion.
There's something about the understated tone, set against the seriousness of war, that creates a humorous juxtaposition.
But the parodies have become wearing to some. Satirist Charlie Brooker complained about variants as hideous as Keep Calm and LOL Kittens!!!!
And Stuart Manley thinks the endless parodies have gone too far. "You almost get sick of it," he suggests, saying he was even reluctant to make copies of the original because he thought it would trivialise it.
"Very few are genuinely funny," he states, while struggling to recall even one such example.
People have resorted to using the format to highlight how tired the joke has become.
Run Out Of Ideas and Make A Parody. Change Words and Be Hilarious. Keep Calm and This Poster is Getting Old.
Others fighting the meme are a little more profane. And there's even an Anti-Keep Calm compilation poster.
But visitors to the UK apparently love it. No tourist shop seems to be without some variant.
"When you turn over a Keep Calm and Carry On mug and it says 'Made in China' then you know it's gone truly international," says Manley.
The subversion and continuation of the form is a classic comedy technique, suggests Dr Oliver Double, an expert in comedy at the University of Kent.
"When I see someone wearing a parody T-shirt I think 'Oh look, there's that Keep Calm and Carry On poster we're killing'."
But who is to judge when the meme has become boring?
"Humour is subjective," says Double, "How can you ever be intellectually justified saying something is cool and something else is not?"
Although the parodies "may be reaching saturation point", he argues: "We'll only know it's stale when people stop making them."
The fact that it is so easy to parody, with a clearly recognisable format and cultural reference point, has added to its longevity, says Double. Parodies can be ad hoc and lo-fi.
Fulham striker Dimitar Berbatov recently revealed a scribbled Keep Calm and Pass Me the Ball on his vest after scoring.
Even the crown logo at the top of the original poster can be altered. One parody has a hammer and sickle above the words Keep Quiet and Continue Working.
People use it to make a statement, Double says. "You wear a comedy shirt because you want to say 'This is my humour'."