Who, What, Why: Does shooting goats save soldiers' lives?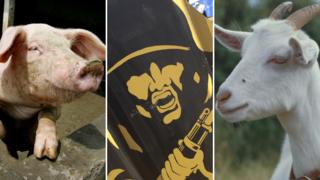 The Pentagon must come up with plans to phase out maiming animals during military instruction. Does shooting pigs and goats really save lives on the battlefield?
The official term is "live tissue training" - a euphemism for mutilating animals so that combat medics can learn how to treat gunshot wounds and other injuries on the battlefield.
Thousands of creatures - mostly goats and pigs - have perished in such sessions. Now, however, the National Defense Authorization Act of 2013 compels American service chiefs to tell Congress how they plan to end the practice.
The Department of Defense says such exercises "prepare medics for the time-critical wounds they will encounter on today's battlefield".
But groups such as People for the Ethical Treatment of Animals (Peta) say they are "barbaric" and unnecessary.
According to Peta, around 10,000 creatures a year are used in operations by the US military. "Primarily the animal model is the goat," a Pentagon spokeswoman says.
Live tissue training, which dates back to the Vietnam War, has proved controversial since 1983, when it was revealed that military personnel planned to shoot dozens of anesthetised dogs strung on nylon mesh slings in an indoor firing range.
The ensuing uproar forced the then Secretary of Defense Caspar Weinberger to decree that no more canines would be used.
However, the military has continued to wound non-domestic creatures in such sessions. Its use of animals was the focus of Jon Ronson's book The Men Who Stare at Goats, which was later turned into a film starring George Clooney and Ewan McGregor.
During a typical week-long US military training course, combat medics attend lectures and are shown videos before practising on mannequins, simulators which mimic human physiology - known as partial task trainers - and sometimes cadavers, according the the Pentagon.
The course culminates with the "live animal exercise, where students must show that they are competent to provide these life-saving procedures", the Pentagon says. Often this takes place in a wooded area or an open field to mimic combat conditions.
According to the Department of Defense, the animals are treated humanely. The spokeswoman says they are under general anaesthetic, do not feel pain and are cared for by a vet at all times.
The Pentagon says the current survival rate for its personnel wounded in combat is above 90% - the highest in recorded history - and argues this proves the training is effective.
"There is no current, validated alternative that provides the realism, immediate feedback, and depth of training that the live animal model provides," the spokeswoman adds.
Animal rights activists and some US lawmakers have been highly critical of the practice, however.
Peta focused attention on the issue in 2012 when it released a leaked video showing an instructor breaking and sawing off the limbs of live goats with tree trimmers.
Now the Pentagon must find way to rely less on animals and more on simulators that mimic the human body.
Opponents of the practice cite evidence that these are more effective than goats or pigs as an instructional tool.
A 2012 study by the Israeli Defence Force found that training with mannequins had a positive effect on the self-confidence of medics, but researchers were "not able to demonstrate a clear benefit" of using live animals to the same ends.
"Most people agree that if there's a more effective alternative it should be used," says Justin Goodman, Peta's director of laboratory investigations.
"Not only are the simulators available, they are effective - and not only are they effective, they are better."
Additionally, he argues that the difference between human and animal physiology means such training sessions will only ever be of limited value.
"You wouldn't train a veterinarian to treat dogs by running people over," Goodman adds.
Out of 28 Nato countries, 22 do not use animals in combat medical training, according to a 2012 paper published in the journal Military Medicine. Other than the US, the exceptions within the alliance are Canada, Denmark, Norway, Poland and the UK, which sends its personnel to Denmark's animal laboratories.
In 2012, following adverse publicity about the twice-yearly Danish training sessions, the Ministry of Defence said they gave surgeons "invaluable experience" and "helped save lives on operations".
UK ministers suspended the practice in 1998 after it was brought to their attention, but a government-commissioned study found there to be "no equally effective alternative", and that it was "entirely appropriate and, indeed, necessary".
The RSPCA, however, condemned it as "abhorrent and shocking".